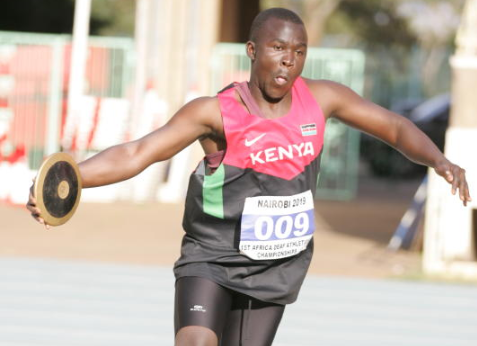 Kenyan team continued their good shows at the inaugural Africa Deaflympics Championships at Kasarani Stadium.
Yesterday, world junior 200m record holder Beryl Wamira anchored the 200m women's team of Linet Wanjala and Ruth Awuor to the finals.
SEE ALSO: Livewire Lukaku leads Inter Milan to Europa League semi-finals
Wamira, who won posted an impressive 24.46 seconds to win the gold medal at the 22nd Deaflympics Games in Sofia, Bulgaria, in 2013, was in pure class.
She won her semi-final race in 27:02 seconds ahead of Wanjala who finished second in 28.02 seconds. Ruth Awuor finished second in her semi-final in 27.43 seconds.
SEE ALSO: Jesus prays for one more miracle in Lisbon
On Tuesday, Isaac Atima struck gold in men's 400m men huddles in 56.4 seconds ahead of Mohammed Naseur of Algeria who finished in 57.1 seconds and Kenya's Dennis Kiprop who settled for bronze in 59.3 seconds.
Kimetei Benjamin gave put smiles on the faces of Kenyans on Tuesday night as he won gold in men's discus after posting a 25.80m while Onyango Bernard bagged silver with a 24.97m throw.
SEE ALSO: Liverpool sign Greece defender Tsimikas from Olympiakos
By last evening, Kenya topped the medal standings with 10 medals –four gold, two silver and four bronze.
Nigeria trailed with two silver medals while Ethiopia stood third with silver and bronze medals.
The Kenyan team finished fourth out of the 32 participating countries, with 11 medals –four gold, four silver and three bronze in the 2013 Deaflympics outing where Beryl Wamira and her brother David were in the team.