Cheruiyot, Keitany set for battle in London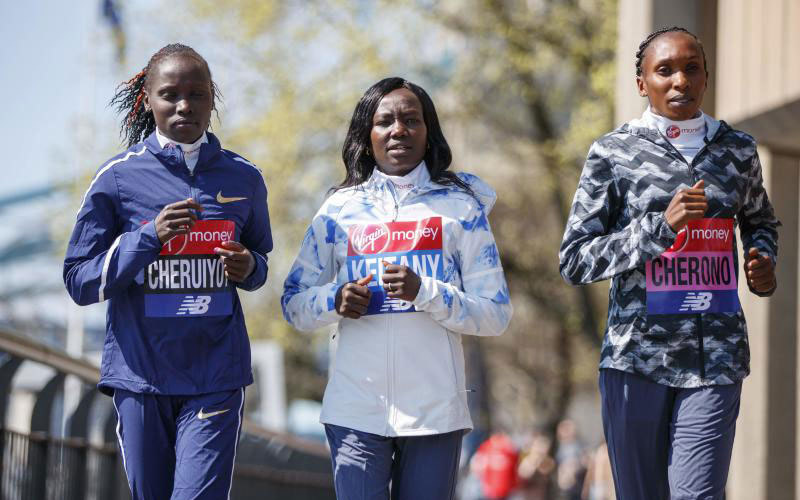 The defending champion Vivian Cheruiyot and 2018 New York City Marathon winner Mary Keitany will return to the Virgin Money London Marathon, to set up mouthwatering encounter on Sunday.
Apart from the duo of Cheruiyot and Keitany, the lineup also includes other current champions of World Marathon Majors races: Gladys Cherono (2018 Berlin Marathon champion) and Brigid Kosgei (Chicago Marathon champion).
The two women to watch are Ethiopians Roza Dereje and Birhane Diba. All the six women have deep under 2:20 for the marathon careers.
Though ranked slightly outside, Linet Masai having made her full marathon debut at the 2018 Amsterdam marathon where she clocked 2:23:4 to finish fifth. The 29-year-old Masai who won the 2009 World Championships 10,000 metres race will be out looking for her first podium finish in the marathon.
Cheruiyot, who is also the Olympic 5000m champion and the runner-up behind Keitany in New York last November, said: "It was a great moment for me winning last year's Virgin Money London Marathon and I am very much looking forward to returning in April.
"The line-up for this year's race is, once again, incredibly strong so I know I will need to be at my very best to repeat last year's victory but it is a challenge that I'm really looking forward to."
Cheruiyot, who competed at the 2000 Sydney Olympics aged just 16 has also said; "I'm hoping to go to my fifth Olympics."
After winning her fourth New York City Marathon title, Keitany, heads to London seeking another fourth London title.
Keitany, 37, one of the most decorated distance runner set a new world record (women only) at 2:17:01 hours at the 2017 London marathon. She bettered Radcliffe's record by 41 seconds, which she set at the 2005 London Marathon. Her other previous victory was in 2011 and 2012.
The reigning Chicago Marathon Kosgei returns to London for the second time having second behind Cheruiyot last year and will be out to better her previous performance.
Cherono who smashed her personal best and course record to win her Berlin title in 2 hours, 18 minutes and 11 seconds last year is another woman who poised to take the London crown on Sunday.
Meanwhile, Tirunesh Dibaba has pulled out of Sunday's race. The Ethiopian announced over the weekend that she and her husband are expecting their second child and that she won't be racing for the remainder of the year.
"I am very excited to announce that my husband and I are expecting our 2nd child. This means that I won't be competing for the rest of the year but I hope with God's help that I will return to competition next year. I want to thank my family, Nike and my fans for their support" Dibaba who boost of a marathon personal best of 2:17:56 from the London Marathon two years ago posted on her social media pages.
Women's leading lineup
Mary Keitany Kenya 2:17:01
Gladys Cherono Kenya 2:18:11
Vivian Cheruiyot Kenya 2:18:31
Brigid Kosgei Kenya 2:18:35
Roza Dereje Ethiopia 2:19:17
Birhane Dibaba Ethiopia 2:19:51
Haftamnesh Tesfay Ethiopia 2:20:13
Tadelech Bekele Ethiopia 2:21:40
Linet Masai Kenya 2:23:46