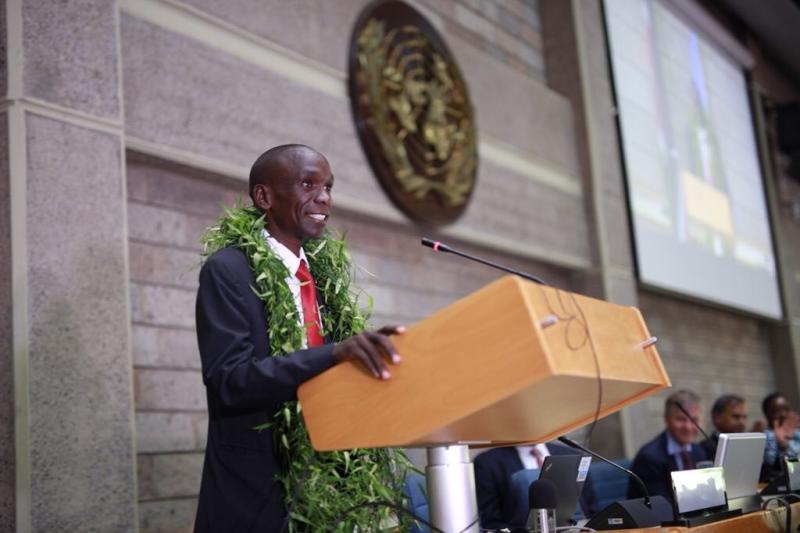 Eliud Kipchoge, the world marathon record holder, was yesterday named UN in Kenya Person of the Year at the United Nations headquarters in Gigiri, Nairobi.
Siddharth Chatterjee, the UN Resident Coordinator, said Kipchoge exhibited extraordinary accomplishment that involves initiative, integrity and courage.
"Your marathon victory in Berlin 2018, is an example of dedication, commitment, sheer perseverance and it demonstrates the heights to which human endurance can be taken to.
"You have employed your good name and celebrity to meet the challenges surrounding the transmission of HIV/Aids in Kenya and the difficulties 65 per cent of Kenya's population — the youth — face in their quest to be productive and responsible citizens."
In his acceptance speech, Kipchoge promised to use his celebrity status to inspire youths across the globe.
"I will use my success to sensitise the whole population about HIV/Aids in conjunction with USA embassy.
"I will also inspire youth on how to believe in themselves and being productive and responsible in the society.
"With the help of Lewa Wildlife Conservancy, I will be involved in conservation of animals for the better future of our generation. I will continue to work hard, being productive, responsible, in the bid to inspire billions of youths in the world," he said.
Kipchoge won London Marathon in April and managed the biggest improvement on a men's marathon world record since 1967 — at the Berlin Marathon last month.
He is an avid reader and loves quoting from John Mason, the author of The Impossible is Possible and Imitation is Limitation.
For this reason, he exhibited his oratory skills during the United Nations birthday yesterday. "The conception, gestation and birthday of this moment is miraculous and the word 'acknowledgement' does not even begin to do justice to the supporting roles played by many people.
"My deepest appreciation goes to UN, to my colleagues, friends, unnamed, unremembered, but not unremembered, who have contributed to my success and helped to form positive ideas at the heart of my sporting career," Kipchoge said.
He has also been named as nominee for IAAF Athlete of the Year awards alongside world 3,000m steeplechase record holder Beatrice Chepkoech, world 800m champion Emmanuel Korir and IAAF Diamond League Trophy winner Timothy Cheruiyot.
They were selected by an international panel of athletics experts.
Chepkoech won world steeplechase record by eight seconds, backed up by the third-quickest time. She won seven out of eight steeplechase finals. She won Africa Senior Championships, Continental Championships, IAAF Diamond League Trophy and silver in 1,500m at the Commonwealth Games.
Korir set a world leading time of 1:42.05, which is the fastest in 800m since David Rudisha's set the the world record of 1:40.91 in East London.