Needy students to benefit from Kabarak race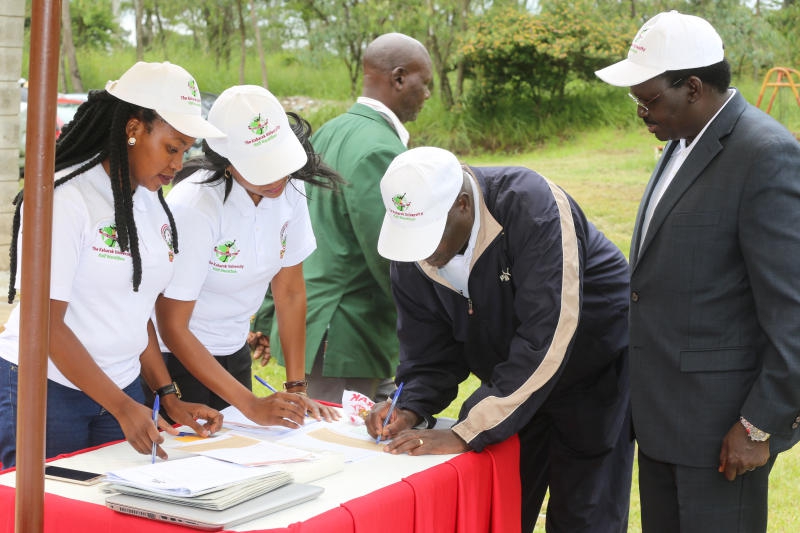 The second edition of Kabarak university half marathon will be staged on July 14.
The 21km race dubbed 'The Equator Run' and bearing the theme 'Running from the northern to the southern hemisphere to develop and nature talents' starts from Mogotio Equator in Baringo County and the finish at Kabarak University.
Speaking during the launch, Kabarak University vice chancellor Professor Henry Kiplagat said this year's event will be a unique marathon as it will enable athletes to run across two counties from Mogotio, which is in the northern hemisphere in Baringo county to the south hemisphere -making it an exciting experience.
Kiplagat said the event has been certified by Athletics Kenya and adheres IAAF road running and marathon regulations.
"This will be a popular and elite local road race in the Athletics Kenya calendar," said Kiplagat.
The marathon, whose patron is Baringo senator Gideon Moi will see winners in men and women's 21 km events pocket Sh200,000 iced with a heifer. Runner up take home Sh150,000 while second runner up receive Sh100,000.
Reigning London Marathon winners Vivian Cheruiyot, Eliud Kipchoge and three-time London Marathon winner Mary Keitany are the race ambassadors.
Five kilometre corporate winners will pocket Sh50,000 while the second and the third finishers receive Sh30,000 and Sh20,000 respectively.
In 10km university and Individual race in men and women, the winner gets Sh50,000 while second and third finishers pocket Sh40,000 and Sh30,000 respectively.
Five Kilometre community race receives Sh50,000 while second and third finishers receive Sh30,000 and Sh20,000. No prize money in children's races.
Lt General Lazarus Sumbeiywo, the chairman Kabarak university governing council and resource mobilization committee, said funds raised in the race will be used to sponsor needy students in the university.