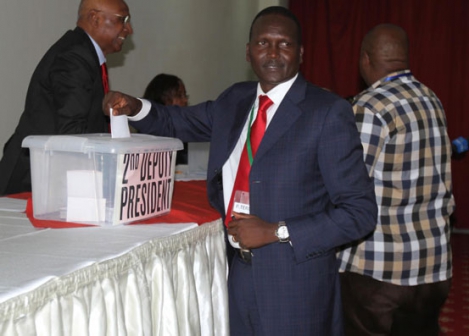 As Paul Tergat starts his tenure as head of the National Olympic Committee of Kenya (Nock) he faces a daunting task.
Key among them will be to restore confidence in Nock especially after the Rio Olympic games scandal.
But the Kenyan legend was confident after been elected the new president saying he was equal to the task ahead of him at Nock's helm.
"It is a new beginning and we promise to change the way sports is run in this country," he said.
The greatest priority will be improve the welfare of players, something he said is close to his heart.
"General welfare of athletes will be top priority. We we will work with all partners to ensure they are given proper preparation before major games," he said.
He also promised to revive the sports lottery and ensure that it starts working to finance sports.
"My team will make sports a business for that is what it is. We must convince our youth to look at sports as a livelihood. Some of us made a living out of sports," he added.
Tergat also promised to honour retired athletes by allowing them to attend major sports events such as the Olympic and Commonwealth Games.
Doping is another area that Tergat's office has to deal with and on this he promised zero tolerance.
"We will work with relevant bodies to keep our athletes clean and also protect those who are clean," he concluded.
Barnabas Korir, the chairman of Athletics Kenya Nairobi branch, said the Nock boss must work hard to restore the committee's ading image.
"He must ensure that the integrity of Nock is restored especially after the recent scandals. Furthermore, he must also ensure that sports federations are functioning in a professional manner," he said.
Korir has, however, warned Tergat to be careful with those he surrounds himself with.
"He has what it takes to turn around Nock. He has the goodwill both locally and internationally.
However, whether he succeeds or not will depend on the people he surrounds himself with. He must do what needs to be done quickly before the cartels entrench themselves," he added.
Principal Secretary of Sports Peter Kaberia said the government will work closely with the new office to ensure they succeed.
"We are delighted that this process has finally come to an end. We did not have a hand in it and promise to give them all the support needed so that they can succeed," he said.
He thanked outgoing president Kipchoge Keino for giving his all to Kenyan sport.
The election of Tergat means it is a new era at Nock.
The five-time World Cross Country champion was elected unopposed after Patrick Muya's candidature was dismissed by the general assembly.
Tergat replaces another athletics legend Kipchoge Keino who took over the reigns of the Olympic Committee in 1996.
In his parting shot, Keino said his reign had brought a successful era for Kenyan sports.
"I leave Nock with my head held high. It is time for new people to take over and I want to ask them to protect sports in the country," he said in his final speech to the general assembly before the elections.
Many have, however, criticised the reign of Kip Keino as it is during his time that athletes have complained of mistreatment while doing duty for the country.
The biggest news in yesterday's polls was the return of FK Paul as Secretary General. He beat favourite Andrew Mudibo by one vote after he garnered nine votes against Mudibo's 8.