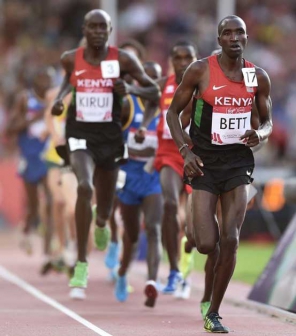 At exactly 11am next Sunday, the world's attention will be on the 42nd IAAF World Cross Country Championships at the Kololo Independence Grounds in Kampala, Uganda.
Elite and upcoming athletes will be hankering after top prizes as they battle for honour, victory and, of course, disappointments.
But a village in Nakuru County would come to a standstill –thanks to their sons and daughters in the national team.
Keringet, which simply means a hole in Kalenjin language, boasts six out of the 28 athletes lining up at the World Cross Country championships in the heart of Kampala.
The village has emerged as a cross country fort, with Olympic 1,500m champion Faith Chepng'etich, 2014 world junior 10,000m bronze medalist, Africa cross country junior silver medalist Ronald Kirui, Amos Kirui, Nicholas Kosimbei, Leonard Lagat and Joyline Cherotich in the team for global showpiece.
Chepng'etich, a two-time world cross country junior champion and Africa cross country champion, said the high altitude and team spirit enabled them to pick team spots.
"We have a very cooperative team there. We help each other and advise one another on best mode of training. Our coach and the entire community are also supportive.
"You know there is nothing good in sport than having the right environment and right people around you. That's what we enjoy back home in Keringet," said Chepng'etich, who will make her maiden appearance as a senior at the IAAF World Cross Country Championships.
She has however made the national team to World Cross Country three times –Bydgoscscz, Poland in 2010 where she ran barefoot and finished fourth and two junior victories in Punta Umbria, Spain (2011) and Bydgoscscz, Poland in 2013.
The village also boasts of 2013 world 5,000m bronze medalist Isaiah Koech and Commonwealth Games 10,000m silver medalist Josphat Bett and his younger brother Emmanuel Bett, a member of the World Cross Country team to Guiyang, China, in 2015. Kosimbei, the 2014 world junior 10,000m bronze medalist, said they use one athletics training programme.
"We have a group of 40 athletes and keep encouraging each other. The high altitude in the area is a big boost for us, especially with the talents in our region. Right now, all of us are in great shape," said Kosimbei, who boasts of 10km world leading time this season.
Ronald Kirui, the Africa Cross Country junior silver medalist, said motivation and team has helped Keringet production chains.
"We motivate each other so well. In fact, we have high hopes as we head to the world cross country the six of us," Kirui said.