Tergat launches legacy project during visit to Kampala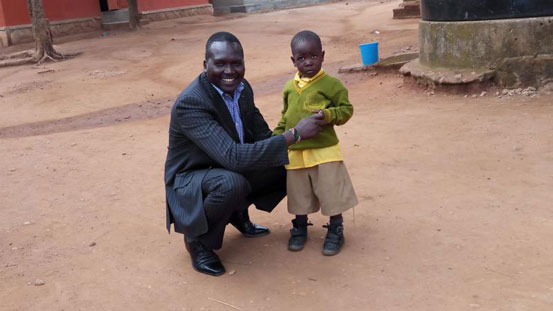 Five-time world cross country champion Paul Tergat launched and promoted a series of projects ahead of the IAAF World Cross Country Championships Kampala 2017.
On the first full day of a busy two-day visit to Kampala on Wednesday, Tergat, an IAAF Ambassador for the championships, toured the course and facilities of the Kololo Independence Grounds, the venue for the March 26 event, launched an environmental legacy initiative, and also spent the afternoon with students at a regional community school.
Tergat's visit began with a tour of the host venue, an inspection that impressed the Kenyan distance running legend.
"This is very fine," Tergat said after a tour of the course with local organisers and dignitaries. "It is a good challenging course with so many obstacles that will give a great scene to the spectators and a great run to the athletes."
Tergat said the was also impressed with the level of preparations 25 days before the gun will sound the start of the first race.
"What is remaining is the few general things that are always completed in the last days. I am impressed with it. We are ready to go," he said.
While at the Kololo Independence Grounds, Tergat also helped launch the Kampala 2017 Greening project, one of the championships' legacy initiatives whose aim is to promote environmental sustainability both in the host country and elsewhere around the world.
"We are in a world that is fast developing and thus more forests and trees are being depleted," Tergat said, speaking to students from 15 local schools who attended the project launch.
"What we would like to tell you is that planting a tree will help you keep the world greener and healthier."
Tergat then helped distribute tree seedlings to the students, asking them to plant and nurture them.
"This is not a one-off," he told the students. "I will be coming back to Uganda to see how far this project is going during the World Cross Country championships. Its success depends on how we cater for the trees we have just got."