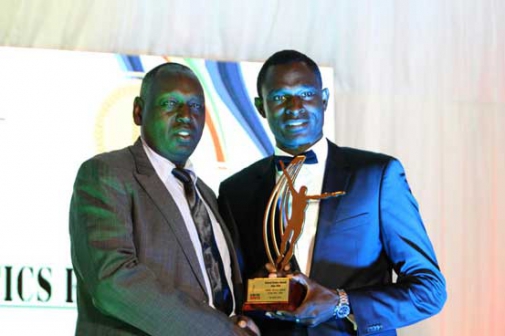 The idea of David Lekuta Rudisha, the two-time Olympics and world 800m champion and the record holder at the distance heading Athletics Kenya (AK) in the foreseeable future is gaining currency within and outside Kenya's borders.
FeverPitch can reveal Rudisha, 27, is being viewed along the high level corridors of the sport as the man who can restore the lost credibility of the local federation that is still embroiled in a corruption scandal that has seen four top officials suspended by the ethics board of the international athletics governing body, IAAF, in the past year.
"At the moment, Rudisha is the only athlete capable of gaining support among fellow athletes and other stakeholders to run AK.
"He has matured as a leader who cuts across many regions and could benefit the federation by boosting its earning power and credibility among sponsors," an AK official said.
"Rudisha would be welcomed as an AK President by the public, fellow athletes locally and internationally. His understanding of the sport and the way he has modelled his career and his personal life are good examples for other athletes," another AK official added.
Both wished to remain anonymous due to the risk of being viewed as going against their colleagues at a federation where political patronage runs deep.
Speaking to a local media outlet last month, Lord Seb Coe, the IAAF President who professes to be a great friend of the two-time African title holder, tipped the Chief Inspector at Kenya Police and father of two as a fine bet to run AK among his peers.
"David is a fantastic athlete and a great leader who could one day lead his country's federation because his understanding of the sport is enormous.
"I often wonder why great Kenyan athletes I competed against such as Henry Rono have not moved on to seek leadership positions in their local federation because I want to see a sport where athletes have a greater say in managing their affairs," Coe, himself a former 800m record holder and world champion asserted.
"It's they who understand better the issues affecting them since they have been involved in it as a profession, not to mention they are the most affected by any decisions made for them by officials acting on their behalf and therefore, should have a greater say in management," he added.
Earlier, Coe took the unprecedented decision to throw his weight firmly behind the candidature of Ethiopian legend, Haile Gebrselassie, as the president of their governing body, in a powerful message to African federations mostly headed by aging leaders who have been at the helm for decades.
Immediately after Haile's election as EAF boss, the question whether eternal rivals Kenya would follow suit and see such a reputed exponent and ambassador of the sport run AK cropped up.
"There would be no Kenya without Ethiopia and no Ethiopia without Kenya. We bring the best out of each other in athletics," Haile told the IAAF in Monaco when asked about their age-old rivalry.
"It would be my wish to see a retired athlete lead the Kenyan federation but they have their own ways of choosing their leaders," he diplomatically answered.
Inwardly and off the cameras, recorders and notebooks, Haile is known to clamour for former world marathon record holder, Paul Kibii Tergat, ranked as his greatest challenger, to run for the top AK office.
Often, Haile has asked Kenyan journalists why his best friend off competition has declined the opportunity to follow in his footsteps and vie for leadership of the local governing body.
The ready answer is Tergat, who is an International Olympics Committee member and National Olympics Committee-Kenya (Nock) official, has opted to focus on his career in the Kenyan Defence Forces (KDF) and that is why he shelved the pursuit of his talent in athletics when he was already an established soldier.
Tergat, who was among the first to congratulate Haile through a phone call and later in the media, is now a Major in the KDF. He also runs the annual Soya Awards through his Paul Tergat Foundation and is also a World Food Programme ambassador among other post-career duties.
Although his interest in running AK remains a remote possibility, Tergat termed Haile's election as "a wake up call" for Kenyan athletes to run for AK leadership at all levels.
"We still have people playing pure politics and it is not for the love of sports they are in charge," Tergat was quoted as saying in local and international press a day after Haile was voted in. "They try to push aspiring athletes away from leadership positions. We need to make things more open and transparent."
With the Kenyan legend, who was known as "The Gentleman of athletics" during his epic rivalry with Haile seemingly out of the running for the top AK post, Rudisha who is eyeing a tilt at Olympics glory in 2020, stands out as the candidate who would salvage AK's battered reputation if he were to be elected.
While dislodging the incumbency at Riadha House is a daunting task under the current Constitution, the passage of the Coe reforms at the Special Congress paved way for affiliate federations to restructure their voting to accommodate more athletes in leadership.
The spill-over effect of one of the four key pillars in Coe's reforms, which were adopted with a majority of 182-10 among the 213-member strong IAAF where Kenya voted yes, will see local federations being compelled to open up leadership positions to athletes.
At the moment, an Athlete's Representative who sits in the AK Executive, Milcah Chemos, is the only visible direct voice the exponents of track, field and road have at Riadha House. She is a two-time world women steeplechase champion.
As appointees and not elected officials, these athletes lack the political capital to push through their agenda at Riadha House.
A few other former athletes hold offices at regional levels. Helsinki Worlds gold medalist, Benjamin Limo, is an official of North Rift branch and sprinter Rose Tata-Muya is an official in Nairobi but they cannot hold sway in a federation mostly run by retired or active members of disciplined forces, teachers, education officials and coaches.
This is all set to change with AK attempting to push through a new Constitution.
Either way, following the adoption of the Coe reforms that among other things trimmed the powers of the IAAF (and in effect, affiliate federations) president and established a term limit of 12 years for members of the Executive and Council at the world body, the age of long-serving and despotic leaders is up.
Rudisha fits the bill to usher AK to a new age because he has transcended the sport to become an international icon, and a recent poll by a research firm ranked him as the most recognisable Kenyan sportsperson.
His global appeal has also broken the barrier of showmanship that attracts masses to sporting stars such as Jamaican Usain Bolt or closer home, two-time Olympics and four-time world champion, Ezekiel Kemboi.
"People like Bolt are born that way. Even in Kenya we have Kemboi who likes to entertain but for me, I'm reserved because I keep focused.
Despite Coe's administration going to great lengths to cut down the budget of the annual fest that resumed a year after the spiraling corruption scandal at IAAF saw it shelved, Rudisha was invited even though he missed out on the final shortlist owing to his stature as one of the poster boys of clean sport, a huge honour in itself.
He was the only other Kenyan athlete besides fellow Rio 2016 Olympics winner, Conseslus Kipruto, 22, who was one of the breakout stars of 2016 in ending Kemboi's dynasty in Brazil.
Rudisha took the opportunity to launch a scathing attack on NOCK officials who masterminded the Rio Olympics shambles, reserving most of his vitriol for chef de mission (CDM), Stephen Soi, who is facing charges in court over the fiasco.
It was the most outspoken Rudisha has been in matters related to the management of athletes in the country.
It caused a buzz among his peers on social media and they said that "King David had finally spoken.
"I was the captain of London 2012 and I saw the suffering we were put through by Soi (then Team Kenya CEO). We had problems with our facilities where he was involved and we complained.
"Imagine my surprise when he was promoted to CDM! I decided to keep quiet because I read ill-will as it seems these things are being done deliberately considering they are done every year," Rudisha, who was among the seven athletes who bought their own tickets to Rio, bemoaned.
Apart from that, he was forced seek a kit of his own size after Nock officials gave gear that could not fit his 6' 4" frame.
For weeks, he had made known his anger about the treatment of athletes at the hands of Nock officials but on that cold Thursday afternoon in Monaco, he let rip as he lauded efforts to bring the culprits to justice.
When asked whether he would emulate the Biblical King David and slay the Goliath of mismanagement, corruption and oppression of athletes at AK, Rudisha gave a veiled response.
"Haile winning is great indication that athletes can run themselves. We have Coe as our president at IAAF and he was a great runner meaning we can manage these federations since we have deeper understanding of the sport.
"We have our own elections next year and I expect to see many changes," he said.
While 2017, when he will bid for a third world title after Daegu 2011 and Beijing 2015 successes in London, may come too soon for him to turn his running vest and spikes into an AK suit, there is no doubt he is grooming himself, and being groomed as a future leader of the sport.
It would be a fitting way to give back to the sport that catapulted him from the backwaters of Ol Tanki Village, Trans Mara County, into a global superstar.