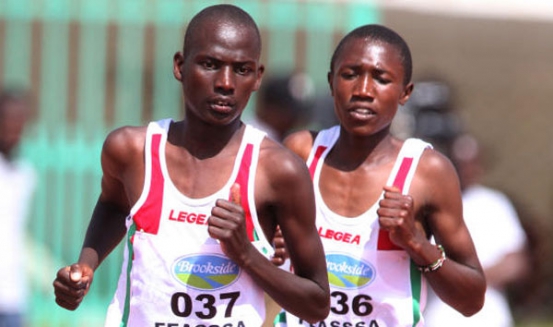 Richard Kimunyan is the new Brookside East Africa Secondary Schools boys 10,000m champion. Kimunyan cut the tape in a time of 29:47.5 to reclaim the gold medal Kenyan boys lost to Burundi's Oneshpore Nzikininkunda last year in Huye, Rwanda.
Rhonex Kipruto clocked 30:25.3 to grab silver for Kenya while Uganda's Boniface Sikowo came in 16.7 seconds later to complete the podium. Kimunyan the 2015 World Youth 3000m champion told Feverpitch that he has been training hard in preparation for his transition to the senior category.
"I have to do the longer races because I am exiting the junior events. I entered the long distance as part of my transition from youth to senior events," Kimunyan said.
Kimunyan, a Form Four student at Kirobon Secondary School was the strongest of them all dominating the race creating a 50m gap between him and second-placed Kipruto with about six laps to go.
Confident of victory, Kimunyan then increased his tempo stretching his lead to approximately 85m perhaps seeking to break Alfred Barakach's East Africa 2014 record of 29:24.7 set in Dar es Salaam, Tanzania.
Gideon Kipng'etich and Kamar Etiang added more gold and silver in Kenya's basket topping the boys' 1500m race. Kipng'etich brushed off stiff competition from compatriot Etyang and Burundi's Patrick Nibafasha who was threatening to spoil the Kenyan party to cross the finishing line in a time of 3:48.2 with Etyang overpowering Nibafasha to take silver a second later. The Burundian settled for bronze in a time of 3:49.6.
Mark Kipng'etich of Kabarak High School ensured that Kenya defended the boys 100m title won last year by Moffat Ngari. Kipng'etich clocked an impressive time of 10.2 seconds to win gold while another Kenyan Elijah Matayo took silver in 10.3 seconds; Uganda's Richard Olinga took bronze in a time of 10.7.
Hesbon Kipchumba of Kenya did not only win the boys long jump gold medal but also broke the East African six-year record set by Rwanda's Jean Kanyangara in 2010.
Kipchumba jumped 7.27m scrapping Kanyangara's 7.07 record. Mwendwa Mutati of Kenya took silver for his 7.16 jump while Uganda's Robert Okumu bagged bronze for his 7.10m.
Lilian Kasait won the girls 5000m gold in a time of 16:29.1 breaking fellow Kenyan Valentine Mateiko's record of 16:30.2 set during the 2014 championships in Dar es Salaam. Everlyne Chelangat took silver for Kenya 16:30.3 while Rwanda's Celine Iranzi took bronze 16:55.2.