Sprints coach Anzrah thrown out of Rio Kenya camp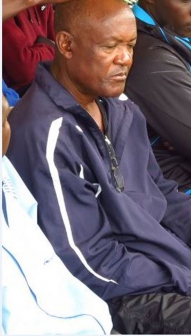 Sprints coach John Anzrah has been expelled from Kenya's Rio Olympics camp for indiscipline.
Whereas earlier reports indicated that Anzrah had been expelled over switching urine test sample with an athlete, Feverpitch has authoritatively learnt that Anzrah had an athlete's accreditation badge in the Athletes' Village.
When Doping Control Officers asked him whether he was the athlete indicated on the badge, he panicked and admitted on the spur of the moment upon which he was taken to provide the urine sample, which he did.
When he realised that he had gone too far, he called the owner of the badge and it was at this point when it was thought he was trying to provide his urine for the athlete. A javelin coach also intervened, but the doping officers would have none of it.
Team Kenya Chef de Mission, Stephen Arap Soi, was later informed of the incident upon which he kicked Anzrah out of the Athletes' Village.
"That is an issue of indiscipline and as a senior official or coach in the team, he should have known better," Soi said. "So we have asked him to go home."
Anzrah, who is living outside the Athletes' Village, is said to have been invited by Kenyan runners to share a meal as he does not have an accreditation badge for coaches and therefore cannot access the camp's catering facilities. One of the athletes had offered him his.
Unfortunately, the colour-coded badge meant for athletes drew the attention of Doping Control Officers.
According to a Kenyan athlete in Rio, exchanging samples is implausible because of the stringent testing procedures.
"It was a case of confusion rather than exchanging urine samples," the Kenyan athlete who requested anonymity, said.
Contacted for comment, Athletics Kenya Executive member Barnabas Korir said it was an exaggeration.
"It has been blown out of proportion otherwise it was a minor incident.
"This would not have arisen if the coaches had accreditation. They went there only to access catering services because living expenses out there are prohibitive."
Anzrah's tribulations come in the wake of the expulsion of the Team Kenya General Manager Maj (Rtd) Michael Rotich for allegedly soliciting a bribe in exchange for advance warning on testing dates.
Rotich is currently in custody pending investigations.
TEAMS TO SETTLE SCORES AT Kabeberi
Fresh from their cup winning exploits at the Prinsloo Sevens in Nakuru, Homeboyz RFC have been seeded first for this weekend's (August 13-14) National Sevens Series second round, the George Mwangi Kabeberi Memorial Sevens at the RFUEA Grounds