Brimin Kipruto out to shrug off 2012 London Olympics ghosts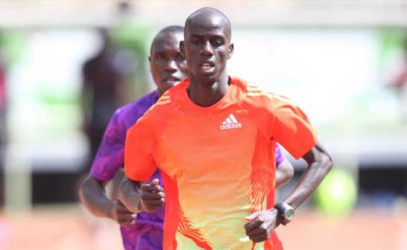 He is the second fastest steeplechaser in history, having bagged the greatest prize of all in athletics — winning the IAAF World Championships and Olympic 3,000m steeplechase gold medals.
And basking in crowns from the 2007 Osaka World Championships and the 2008 Beijing Olympics, 3,000m steeplechase maestro Brimin Kipruto has huge dreams in the water and barriers race as he heads to his fourth stab at the Olympic Games in Rio de Janeiro, Brazil, next month.
Kipruto was tripped at the 2012 London Olympic Games 3,000m steeplechase final and he now longs to go one better at the Olympics. "I am prepared well. My first hurdle was to qualify for the Olympics. I have the experience and hope to do better this time round," said Kipruto.
Kipruto fell with 700 metres to the finish and did not recover –once again denying Kenyans another podium sweep.
French man Mahiedine Mekhissi-Benabbad often ruins Kenya's podium sweep bid and did not take part in Beijing World Championships where Kipruto won bronze.
"This man has squeezed between us (Kenyans) for a long time. We must relegate him to his right place. I feel good for the big battle. He has not competed this season so I can't know his shape," he said.
He now wants to remain the unrivalled steeplechase superstar as Kenyans look up for another podium sweep in the Samba nation.
Amos Biwott laid the red carpet to Kenya's steeplechase triumphs with gold in the 1968 Olympics in Mexico and Kipruto, Olympic champion Ezekiel Kemboi and 2000 Olympics steeplechase winner Reuben Kosgei have all bagged World and Olympic titles.
Kipruto hails from the same area as Kemboi and Kenya's first World Junior champion, Gladys Kemboi, who were all in the team to the 2009 Berlin Worlds.
This region boasts a collection of jewels with the highest number of Olympic, World, Commonwealth and Africa champions in the 3,000m steeplechase ever.
Kipruto, who started running while in Standard Seven at Korkitony Primary School in Kerio Valley, has one request to Kenyans as he prepares for this year's world championships: "I ask Kenyans to pray for us as we compete in the Olympics."
Although he lost it all at the 2009 Berlin Worlds and Olympic Games in London, Kipruto promises to brush aside the past and go one better.
"I lost in Berlin, London Olympics and won Bronze in Beijing but that was not my day. You know, athletics depends on your shape. I lacked the energy to match my friend Kemboi and others in Berlin and I was tripped in London. I now long to become a two-time Olympic champion," said Kipruto, winner at the trials in Eldoret.