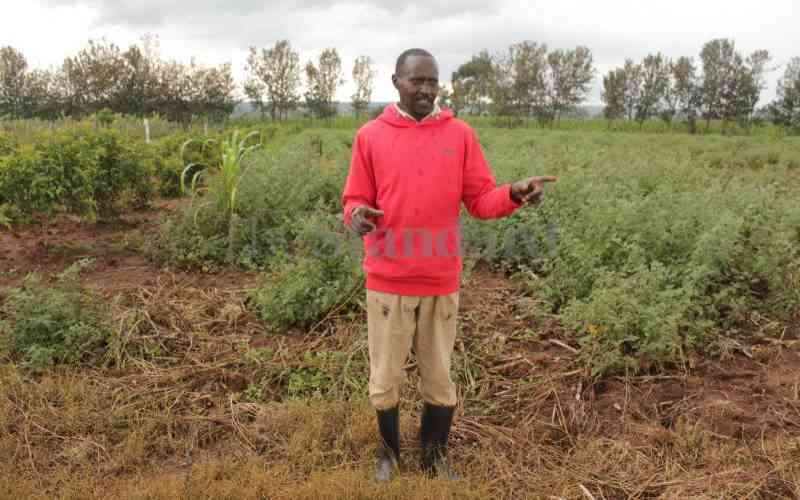 Growing up in Turbo near Eldoret town in Uasin Gishu County, Salim Maina, an agricultural engineering technician, knew gooseberry as just another wild fruit.
But in 2020, as the Covid-19 pandemic hit, Mr Maina, 52, learnt that the wild fruit that grew naturally in thickets in his Kaboi village, and which he often savoured as a young boy, was a high-value crop.
Previously, Mr Maina had worked at agricultural machinery Autospares outlets in Nairobi and Eldoret for 20 years then he decided to quit and try gooseberry fruit farming at his farm in Kiplombe.
To begin, he hived off half an acre of his 94-acre farm roll out the gooseberry fruit farm as a pilot project.
Slowly he started. He sourced his first seeds from Kenya Agricultural and Livestock Research Organisation (KALRO) and was also given a few tips on propagating the fruit. He choose to grow the cape variety which was adaptable to the local climate.
"Everything was new. There are not many agricultural experts with knowledge about gooseberry growing in Uasin Gishu. I came to learn that it was not right to uproot the first crop. After training by an expert from KALRO, I learnt that I had to cut the crop and maintain practices such as pruning and weeding," explains Mr Maina.
Hits and Misses
Being a greenhorn, his only reference point was his sister who was among the pioneers of growing the fruit on a commercial basis.
"I first heard about gooseberry farming as a commercial project from my sister Viola who had secured a market and needed producers because demand for the fruit was high. I decided to give it a try on my farm. I was lucky I had inherited a large farm from my father," Mr Maina says.
As he tried to stabilise the project, he encountered many thorns along the way.
He encountered a serious challenge with the cape variety after yields dropped in the first season. It takes one to three years for the plants to produce berries but for some reason, his yields were significantly low. It was a big blow to him.
"I had to uproot the entire crop a few months after my first harvest and replaced it with the Columbia variety. It was discouraging because I was unable to supply enough fruits to the market but I had to increase the acreage from half an acre to 2.5. Later, the new variety flourished and my earnings improved.
After doing more research, he learnt that the cape variety produces higher yields, and he had to go back to the same variety. He learned that he was doing the wrong spacing and how to prepare and plant gooseberry seedlings.
"At first, my spacing was off. I started with two by two metres but later when I discovered that there was a big space between the rows, I reduced the spacing to 1.5m by 1m. For the planting, I dig 1.5 feet deep hole, with a diameter of 1.5 feet one month before planting and mix the soil in the hole with animal manure because there is high demand for organic produce in the export market," he explains.
He has mastered the art of growing the fruit by networking with other gooseberry farmers and attending trainings by KALRO.
Proper crop husbandry
He now appreciates the importance of proper spacing, use of quality manure and when to uproot the crop.
The agricultural engineer uses animal manure and occasionally, foliar fertiliser. The export market he says prefers crops grown organically. He also borrows alot of info from Google. With time, the gooseberry thrived and he is now enjoying its sweet returns. Mr Maina sells a kilo of gooseberry at Sh50.
On average, Mr Maina harvests an average of 300kg of gooseberry fruits per week from the 2.5 acres and hopes to double the acreage from early next year.
"There is a small number of farmers in Uasin Gishu and we can't meet the market demand," he adds.
Mr Maina's sister Viola who is an established gooseberry farmer with wide network that buys and sells gooseberries in Eldoret, has been Maina's sole buyer.
Viola, makes hot and sweet sauce, yoghurt, jam and dried fruit from gooseberry and has set up a processing plant in Ilula, on the outskirts of Eldoret town.
"Gooseberry farming has come a long way. There was no value chain when I started. KALRO had started a campaign to promote underutilised high-value crops but there was no market and farmers uprooted the crop. I started by supplying the fruit in supermarkets in Eldoret and at first, customers didn't believe that a fruit that grows naturally in rural areas can have any value. But after some time, they started buying and the demand grew. That is when I started adding value," she explains. The fruit, she says, has many health benefits.
"Gooseberries are low in calories and fat, yet packed with nutrients. People came to appreciate gooseberry sweetness and nutritional values and today, I get several phone calls to supply the fruit."
Viola says to satisfy the production of gooseberry jam, sauce and yoghurt among other products, she requires 500 acres of land under the crop, which is far from being achieved.
She says there are countable smallholder farmers in Uasin Gishu County who grow gooseberry fruits.
"Seeing that many people were not warming up to the idea, I decided to introduce gooseberry farming to my relatives. I am glad that they are my biggest suppliers," says Viola.