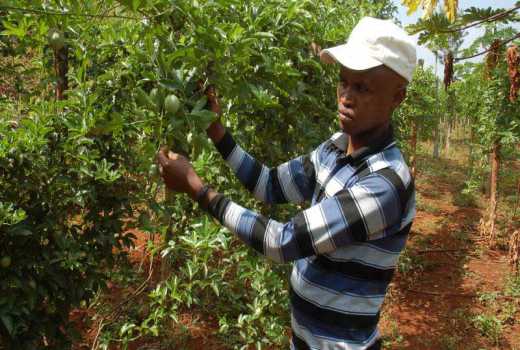 On the slopes of 78 Hills in Meru County, along the Meru-Embu highway, is an ever-green fruit orchard. On this farm, 50-year-old Eric Muthuri grows passion fruits. He opted for this after ditching coffee.
In the three-acre farm, three quarters is under passion fruit trees, which are inter-cropped with pawpaw.
"I ventured into passion fruits farming in 2002 with close to 200 plants, however, the crops dried up at the fruiting stage due to lack of adequate water. It was a horrible experience but l had to soldier on. When l became a member of a community water project I decided to revive this farming in 2016," Muthuri says.
The farmer uses water from Gitine Water Project, which is given in small rations. "One needs to smartly plan how to utilise such amount of water. l am always on standby when it is my turn to get water and ensure l water the fruits well," he says.
Given that the area is water scarce, farmers hope that when Iraru Water Project, which is also supported by the Meru County government, is complete, things will get better.
Read More
Muthuri has 800 grafted passion fruit trees which are at the harvesting stage and 600 pawpaw trees.
He also intends to venture into tree-tomato production, and has procured about 3,000 plants.
"I have enough land to practise all this farming but my greatest challenge is water," he says.
Muthuri says he opted for passion fruits because he was frustrated as a coffee farmer when his children were frequently sent out of school over fees.
In his farm, he has nurseries for passion fruits and pawpaw. He grafts the seedlings when they are three months old before transplanting them.
He grafts the stems of yellow passion with the scion of purple passion.
Passion fruits takes close to nine months to mature. Flowering starts after three months of transplanting the seedlings.
Muthuri advises farmers not to use older scions for grafting as this may lower the productivity due to stunted growth.
He says passion fruit trees must be regularly pruned, especially at the fruiting stage and during spraying.
Other than water, his other challenge is mites, which infest the flowers, leading to deformed fruits. He says he sprays every week to deter the insects.
Muthuri harvests close to 300kg weekly and sells to brokers at Sh120 per kilo. However, when he expands his production, Muthuri says he will be transporting his fruits to supermarkets and juice industries in Nairobi where prices are at Sh180-Sh200 per kilo.
Prof Peter Masinde, the head of Department of Agriculture at Meru University of Science and Technology says passion fruits do well on sandy loam soils with a PH of 6.5 to 7.5, well drained with high organic matter and low on salts.
Passion fruits are both open and field crops and can also be grown in a greenhouse.