Farmers cautioned against using unauthorized fertiliser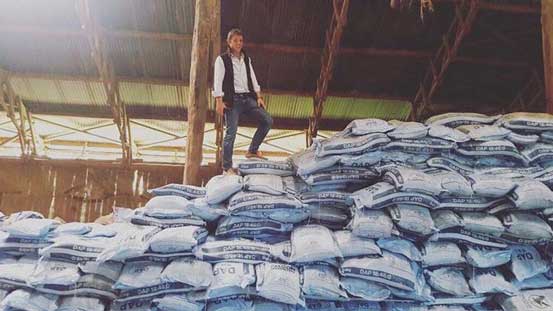 KERICHO, KENYA: As the planting season nears, farmers are being urged to use the right type of fertilisers in their fields to increase production.
With the right kind of fertilisers for different types of crops applied during planting and top-dressing seasons, experts say Kenya may never experience food shortages in the near future.
Speaking to the press in Kericho during a farmers' exhibition, Export Trading Group (ETG) Country Director Lewis Giles noted that farmers need to be trained on fertiliser use if they are to get value for their investments.
"The global discourse is not only on whether farmers use fertilisers or not; it is also on the quality, quantity and the timing of the application of fertilisers. This calls for policies and programmes that would realise the potential benefits of fertilisers in Kenyan agriculture," said Mr Giles.
Analysts say farmers in sub-Saharan Africa use little fertiliser, accounting for just 1.5 per cent of the world's consumption of nitrogen, a crucial nutrient.
To address this gap, the ETG Country Director says that they have erected a modern fertiliser blending plant in Mombasa that churns out crop specific, soil specific fertilisers.
The blending plant, according to Mr Giles, uses the most current technology in the industry, and, therefore, able to produce the amount of fertilisers farmers would require for both planting and top-dressing.
"The prime idea behind this technology is to feed our soils with the nutrients that they require. We have been carrying out soil analysis and tests for different regions in preparation for this year's high season and soil analysis and tests for different regions are already in progress. As such, all farmers would now be able to access the high quality blended fertilisers," observed Mr Giles.
If properly applied, Mustan Taibali, the firm's head of fertiliser said, the blended fertiliser is able to increase yields by more than 30 per cent. "Ultimately, this is a technology that would address the perpetual food crisis in Kenya, besides empowering millions of our farmers economically," Mr Taibali said, adding that the plant would not only serve Kenya but also Uganda, Rwanda, Burundi, Tanzania and the Democratic Republic of Congo.
Kenya has been encouraging local production and blending of fertilisers to help cut import costs and reduce subsidies needed to make fertilisers affordable for peasant farmers.
The government spends up to Sh3 billion annually to provide farmers with low cost imported fertiliser.