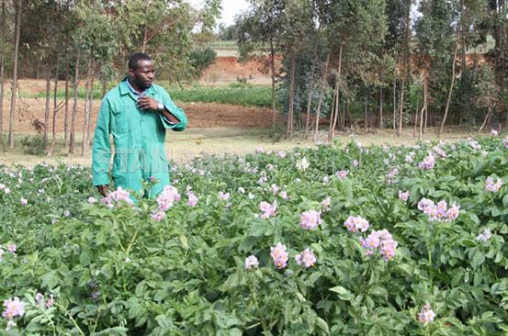 Boniface Bundi earned his first million from the soil. The University of Nairobi graduate says he put his marketing degree papers aside, picked up a shovel, and started digging for money, metaphorically.
He decided to pursue farming, and has never looked back.
"I started by growing French beans (michiri). I had my fingers crossed that all will go well," he says.
That was in 2011, right after he had graduated from the university. He asked his parents for a parcel of land to try his hand at farming. He was broke, and his only hope was the farming passion and marketing skills he had gathered from his course.
His love for farming was cultivated by his father, Stephen M'kuura who he describes as a role model and pacesetter.
Read More
He grew up watching his father, a Class Seven drop out, till the land and use the proceeds to educate him and two siblings.
His father never had the opportunity to explore further education, but he endeavoured to see all his children attain higher education.
By the time Bundi, 26, was a teenager, the love for farming had been inculcated in him and he was sure he will become a farmer, no matter the direction his education took him.
"Even though I got a marketing job in the motor industry, I still went home after work and took care of the crops I was growing," he says.
Five years since he started, Bundi says he earns an average of Sh 200,000 per month from his farm. He has expanded his michiri farm and now grows it for export.
On an average, he harvests 800 kgs of michiri a week, and sells it to an export company. He also has two dairy cows from which he gets about 40 litres of milk daily. He sells the milk to hotels in Meru. His recent addition to the farm include potatoes and tomatoes.
Setbacks
His fortunes were however been interrupted by the drought and he had to outsource water from boreholes in the neighbourhood.
"The reality of drought hit me when I saw my crops starting to wilt. I knew I had to act fast, or I lose everything," he says.
The prolonged dry season brought a streak of hopelessness to him and the farmers around him, as they were not sure if their farms would flourish.
"Cows need a lot of food and the price of feeds has gone up, so we have to dig deep into our pockets to keep them alive. It is worrying, because we don't know how long it will last," he says.
The drought has also brought with it pest crops, especially on his michiri. With the drought, has come pests which are a challenge to contain. His desire to step up and do more than his father ever did in his heyday when he managed the farm has also had some setbacks.
Bundi was enthusiastic when he set up a greenhouse last year. He thought it would yield great profits, and catapult him to the Millionaires' Club, and probably earn him fame as one of the most successful farmers in Meru.
Sadly, his dreams were crashed. Within a few weeks, the crops he had planted wilted and died.
He was left wallowing in losses he had not foreseen, and was almost thrown into a mire of hopelessness. He attributes the losses to not conducting research before embarking on the greenhouse project.
"I did not have enough knowledge of what is needed to run a greenhouse. I thought I needed the same skills I had used in my farm," he says.
He has not given up on the project. He wants to start afresh. He has been consulting experts who know what it takes to be a successful greenhouse farmer.
"Farming is learning. You can never know it all, so you have to be ready to ask," he says. His eyes light up when he talks about his other passion – music. Besides farming, he also dedicates his time composing songs and performing in functions to earn money.
He is a gospel musician who draws inspiration from his father who was a church instrumentalist. His childhood was defined by the sound of his father strumming a guitar, and humming along to gospel songs while encouraging them to join in.
"I would watch him passionately playing his instruments and creating good music. I knew I have to be a musician," Bundi says.
Every beat he plays, every song he sings; he says is an ode to his father who taught him to crash through barriers and follow through everything his mind conceives.
"My father may not have had a good education, but he did his best to encourage us to follow our dreams," he says.
It has been five years sweating in the farm, falling and rising again. He has made profits, much more than he anticipated when he started.
He still believes farming is the best employer. He has now partnered with his friend, and they have bought land. The duo hopes to take farming to a higher level by growing more crops for export.
And to his fellow youth still waiting for white-collar jobs he says: "If only young people knew how much they can get from farming, they would not spend most of their days worrying about where to get jobs."