I make cool cash from my watermelon ice cream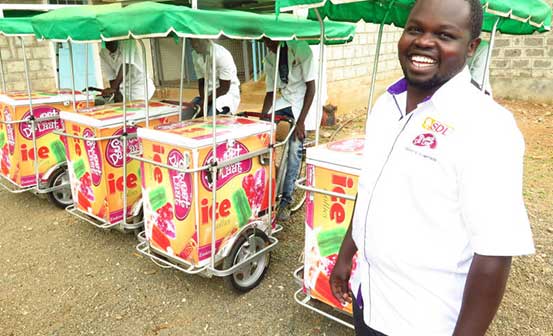 If there is one farmer who has tasted the sweet and bitter returns of farming, it is one Larry Keya.
To be where he is — a mixed fruit ice cream maker in Uasin Gishu — he made several costly blunders.
In his journey to finding his footing in agri-business, Keya says he has grown it all — from tomatoes to capsicum to watermelons and cucumber.
And most of the crops failed miserably prompting him to think harder.
"I was growing tomatoes and capsicum in 2010, but there were too many challenges. The biggest problem was the pest and diseases that damaged my entire crop yield year after year," says the 30-year-old farmer as he shares with Smart Harvest his story of resilience.
The most shattering blow was one particular incident in 2012.
"If there was once incident that would have made me close shop and return to the job market, it was when my pili pili hohos failed," he says.
Keya holds a Bachelor of Arts Degree in Agricultural Economics from Moi University.
He says he harvested an impressive 500kg of cucumber from a single greenhouse. But little did he know that bad news was waiting for him at the market.
Poor quality yield
When he took his harvest to Eldoret town, it was rejected because it was of poor quality.
That was devastating.
"I was told the cucumbers were bent so they had lost value. I was so disappointed because nobody had told me that bent fruits had no market value.
"I lost Sh150,000 worth of produce. The sad bit is that money was a loan from the Youth Fund," he says.
Not one to be discouraged, the young farmer picked up the pieces fast and moved on.
"I decided I will not cry over spilled milk. I took the episode as a learning experience. To avoid such costly blunders in future, I vowed to research well in journals and the Internet before picking up a new venture," Keya says.
It was in this period of reflection and self discovery that a brilliant idea came to his mind: making and selling watermelon and cucumber juice as he had been taught by a friend who is an expert on the same.
"I consulted an ice cream maker friend who was doing the water-based flavour which requires water, milk, sugar and food colouring. He taught me how to do it step by step until I perfected it. But for me, I chose frozen fruit as the core ingredient," he says.
The first step
And that is how he started Sweet De Laat Company that is based in Eldoret.
To roll off the project, he bought the juice-making machine at Sh300,000 at a machinery dealer in Nairobi.
He made the juices as he had been taught and started selling to his friends, family and neighbours.
Secure market
With the drinks ready for sale, he says the challenge was finding a secure market.
"At first, things were slow as customers took their time to embrace the drink.
"I became more aggressive with my marketing strategy by going from vendor to vendor in Eldoret town and convincing them to sell the dessert," he says.
Along the way, he discovered that the cucumber and watermelon-flavoured ice creams were more popular compared to the juices.
That is how he decided to concentrate on ice cream. And with that discovery, he went full throttle with value-addition.
He bought a machine for making popsicles (ice cream on a stick) which cost him Sh120,000.
Making ice cream
"Making ice cream is easy provided you have the right equipment and ingredients.
"What you need is to extract juice from the fruits and make a syrup, which you flavour with a few additives and food colour then freeze on the sticks," he explains.
The initial process of making the fruit popsicle ice cream involves cleaning the fruits, slicing them before blending them and mixing them with water, milk and sugar.
"After blending the fruit of the flavour required, we mix with sugar, milk and water without any additives. We then pour it in the molds (cups) and insert the sticks and put it in the popsicle machine for 15 minutes," he says.
He adds that the freezer can be used in the process but takes longer than the special machine.
So far, he says Kenya Bureau of Standards has certified the vanilla and mango flavours which he sells on large scale.
The strawberry, cucumber and blueberry flavours are still in the research and development stage awaiting certification.
The business is gradually growing g and he now makes 700 pieces of ice cream sticks a day and sells at least 500 pieces to vendors at Sh5 per stick.
"I make 2,000 pieces at most. Because of the legal requirements, I cannot do more until KEBS approves the brand.
"The process has taken long because previously ice cream was mainly milk-based but my invention of fruit needs additional tests," he says.
The demand for the ice cream has been growing by the day, he says.
"It has grown significantly and when vendors started coming for more orders, I had to get a larger capacity processing machine which cost me Sh380,000.
"The machine can make 7,800 pieces of popsicles in 20 hours," he says.
He adds that he has 10 vendors who buy the ice creams at a wholesale price of Sh7 and sell them at between Sh10 and Sh15. "to fully utilise the high capacity machine."
The new machine he says, is more efficient, since it moulds ice creams in attractive compact shapes.
With an average daily sales of 900 pieces, Keya makes Sh6,300 per day.
Keya, who comes from Kapseret in Uasin Gishu, says the demand for ice cream is now so high, he has to source for watermelons from other farmers in other parts of Uasin Gishu.
Opportunity
He says he buys fruits directly from farmers, and not through middle men.
Before he pays for them, he tests them in his laboratory to ensure that the product is of good quality and safe for human consumption.
"We agree with the farmers and being a crop grower myself, we monitor the calendar of pests and diseases control and observe the withdrawal period before the fruits are processed to avoid intoxication," he says.
Business is looking up for this graduate, there is no limit.
As a way to give back to society, he has developed literature from his farming experience for the benefit of greenhorns and also trains young farmers on how to start agri-business.
"I make farm visits besides hosting farmers in farm. I charge between Sh1,500 and Sh3,000 per session," he says.
Though his ice cream project is thriving, he has not given up on his horticulture dream which was his first love.
"I still have tomatoes in the greenhouse but that is a side venture now that the popsicles are very popular in the market," he says.