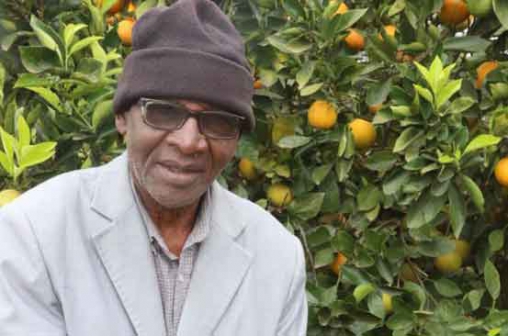 When one thinks of oranges in Mahiga village, Kieni Constituency, one man comes to mind. Cyrpriano Mugo has been growing oranges in his five-acre farm since 1980 and it has been a long and arduous journey to keep the venture alive.
"When my wife and I first moved to this piece of land, we noticed everyone was planting traditional crops such as bananas, sweet potatoes, sugarcane, cabbages, onions and tomatoes," Mugo says.
But poor rains are a big problem for farmers in the semi-arid region and harvests are poor for most crops. But unwilling to take a lead from his neighbours, Mugo decided to try something different, oranges.
"I didn't know I could succeed in orange farming, but I wanted to try it out of curiosity," he tells Smart Harvest. One of the key challenges was the climate, which is arid and dry most of the year and this is a problem to young orange seedlings.
"I harvested water at various vantage points in my home to have enough to irrigate my farm in preparation for theorange seedlings," he says.
Read More
Unfavourable soil
After going through several challenges, including the unfavourable black cotton soil, he was finally able enjoy the fruits of his labour and earn a fortune from oranges.
It would take him three years of waiting to harvest. "I was selling each fruit for Sh5 and in 1984 I harvested close to 200 fruits per tree which earned me Sh750,000. It was a lot of money then and considering I was able to harvest throughout the year, it was a great time," Mugo reminisces.
When he started the venture, the black cotton soil was too harsh for the young seedlings, especially during the dry seasons. The soil does not retain water, which hardens them and lead to cracking.
"I began sourcing for red soils from other parts of Nyeri County, which I would then put in the holes I dug for the seedlings," Mugo says.
Each plant requires about 3kg of red top soil for necessary nutrients and moisture content.
In 1982, he bought his first 100 orange tree seedlings of the Washington Navel variety because they are seedless and highly productive.
"It takes three years for the trees to mature, but for the first year they require constant supervision and at least three bags of manure every year. Each tree also needs 3kg of DAP and 1kg of CAN fertiliser to thrive each year it is on the farm," he explains.
Mugo gradually added to his orchard and eventually he had three acres of land under oranges.
"Each acre can hold 300 trees and I had three and half acres of land and cultivated 750 orange trees," he says.
In the second year, the trees begin to flower and can produce as little as 10 fruits per tree. However, by the third year, each tree can produce as many as 150 to 200 fruits.
Using proceeds from the farm, Mugo built a good house and comfortably raise his seven children. Orange trees are, however, susceptible to citrus greening disease, which is a viral condition that destroys the fruits.
County agricultural extension officer David Kariuki says greening can only be controlled by getting clean seedlings from low altitude areas.
"Farmers should consult the Kenya Agricultural and Livestock Research Organisation (KALRO) to get seedlings and cuttings that are free from greening disease," Kariuki says.
Oranges are also affected by brown and white scales, which are insects that destroy the leaves and fruits.
"You must spray a broad spectrum insecticide to prevent and treat the brown and white scales," Kariuki advises.
Marauding elephants
However, things took a down turn a few years ago and Mugo started to give up his passion for oranges. He has drastically reduced his orchard from 750 tress to only 100, thanks to marauding elephants that wreak havoc on his farm every year.
"Every year, elephants come into my farm with reckless abandon and break down my trees, and I am at my wits end on what to do," Mugo says nonchalantly.
His wife Nyawira says they can no longer live in peace because of the losses caused by the elephants.
"We have three children still in primary and secondary schools and sometimes we lack school fees for them because the elephants always ruin our only source of income, our farm," she says.
The elephants, which invade the farms at night, have a special preference for fruits such as oranges and bananas, as well as sweet and irish potatoes which they dig up.
"Elephants eat the oranges whole and break down the trees always. They target the most productive trees," Nyawira explains.
Her pain and sentiments are echoed by her husband who is unable to save his once thriving farm.
"I have no words to explain the losses I incur. There was a time I could pocket as much as Sh2.3 million a year, but now I would be too lucky to make Sh250,000," Mugo says.
Attempts to claim compensation have proved slow and painful, as each year they wait for word from the Kenya Wildlife Service.
"The problem is that compensation is currently focused on injury and death caused by the jumbos, but for a farmer like me it will take a while to recover my losses," Mugo says.
But he remains optimistic that he will one day replant the trees, but now he continues to count his losses.