Varsity graduate's determination keeps fish business alive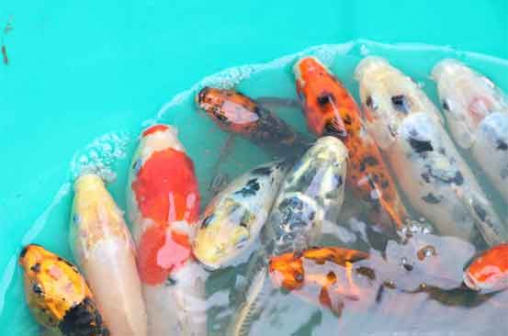 In his second year at the University of Nairobi in 2010, Wilfred Waichigo dreamed of becoming an Information Technology engineer. However, life had other plans for him.
"I was studying Bachelor of Science in Microprocessor Technology and Instrumentation. However, after two years, I had to drop out due to lack of school fees," Waichigo recounts.
With a young family to fend for and little chances of formal employment, he returned home to Ngamwa village in Mukurweini constituency to try his hand at various businesses.
"I worked with various NGOs and as I continued to engage with local farmers, I realised there was untapped potential for a good business venture in ornamental fish farming," Waichigo says.
In 2013, he spent his savings to dig his first two ponds and buy his first batch of gold fish from Sagana Fisheries in Kirinyaga County. It was a good business as goldfish reproduce quickly and are cheaper to maintain.
"Goldfish do not consume a lot of feeds and they don't require too much space to thrive. So I was excited when I realised they were reproducing and ready for the market in just two months," Waichigo says.
However, when he approached potential buyers he was disheartened by the prices offered.
"Goldfish fetch relatively low prices, with most sold at Sh25 to Sh30 per inch. Since they are small in size, most fish end up fetching as little as Sh60, which is a loss to me as a farmer," Waichigo says.
Disappointed with his first attempt, he decided to do more research. He discovered Koi fish, which were fetching as much as Sh1,500 per fish due to their unique and diverse colours.
"Koi fish were first imported from Singapore and because of their variety and large sizes, they are sought after by an exclusive clientele of ornamental fish buyers, hence, the high prices," Waichigo says.
Koi fish are very sensitive to the environment and require that ponds be lined with organic and inorganic manure so plankton can grow for the fish to eat.
For months, Waichigo scouted fish farms in Sagana and its environs looking for Koi fish. He invested Sh60,000 to buy 40 of the most colourful species he could find. Waichigo prepared his pond as instructed, but the following morning, he found all his fish in the pond had died.
"They were floating belly up and my first attempt to start Koi fish farming failed and I lost my investment. It was a very disheartening experience. I later realised I did not prepare the right ingredients for the pond," he recalls.
Not ready to give up, Waichigo made a second attempt to breed the elusive Koi fish and his determination was eventually successful. However, he would later realise that reproducing the highly lucrative fish was not going to be easy.
"I bought one male and two female fish, but it soon dawned on me they do not reproduce easily in captivity so I had to buy reproductive hormones and inject both males and females," Waichigo explains.
Another challenge was that even when the fish were ready to lay eggs, the weather was not conducive for them to hatch, so Waichigo made an artificial hatchery.
"I was very excited when the eggs hatched after three days and the multi-coloured Koi fish finally began to thrive. I immediately started looking for a market to sell the produce," he says.
One of the advantages of fish farming in Ngamwa is the favourable weather conditions. The village is located on the border of Nyeri, Murang'a and Kirinyaga counties and has relatively warm temperatures throughout the year.
Ngamwa's remote location and poor road network made potential buyers wary of travelling to Waichigo's farm to buy the fish.
"Clientele who ask for Koi fish are well informed and willing to pay high prices for the fish. Unfortunately, the Koi niche market is small with very few clients," Waichigo says.
But he was not deterred by the hurdles of seeking market for his fish. He decided to use online shopping platforms to sell his fish.
"I decided to look beyond my current surroundings and look for clients online and so far it has been a good move for the business because I now have steady clients from Uganda and Tanzania," Waichigo says.
He now has clients from as far as Kampala and Dar es Salaam, who make trips to his farm at least twice a month.
So far, most of his clients are home or hotel owners with open ponds, aquarium owners and meditations temples and centres.
Waichigo, however, continues to breed and sell goldfish to supplement his family's income.
He now has six ponds, with five breeding Koi fish and one for goldfish. This is because Koi fish require more space for healthy growth.
Koi fish can grow to up to six to eight inches and competition for space can affect their development. It is therefore recommended that they have adequate room to swim and mate.
"Fish must eat at least twice a day and I feed them ready-made pellets. They also require at least 47 percent protein in their diet to ensure proper growth," Waichigo said.
The price of a mature female koi fish is between Sh700 and Sh800, while the male ones fetch as much as Sh1,500 to Sh2,500.
The goldfish are usually sold for Sh200 per piece and are often priced depending on their size.
"Due to my investment in the hatchery, I now can ensure that out of the 5,000 eggs laid, at least 90 percent hatch successfully within two to three days," Waichigo says.
He believes he is on the right track and does not waiver in his determination to succeed.
He says that since 2013, several neighbours tried taking up the ornamental fish farming, but eventually gave up.
"I continue to breed these fish because on a good week I can make a minimum of Sh40,000 and even when times are hard, Sh10,000 per week is still more than what most farmers make in a month," Waichigo says.
While ornamental fish farming remains a largely untapped market with a few incentives, Waichigo has decided to be a trendsetter and beat his own path in the industry.