The tall shamba of the Facebook farmer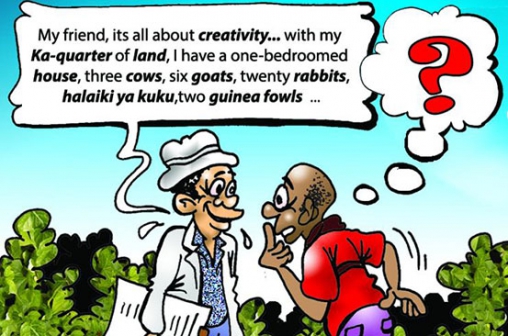 KISUMU: Anyone practising crop or animal husbandry on a piece of land smaller than 100 acres, according to an old lecturer of Agriculture at a prominent Kenyan university, should not consider himself a farmer. The problem with this guy is that he forgets that today you can't claim land ownership by hurling stones to the furthest point or riding a horse from one point to when it will be exhausted.
These are not Delamere's days. Anyway, the modern Facebook farmer in Kenya is not deterred by such crazy claims. They will very easily tell the lecturer, 'hizo ni zako!' and dismiss him on the spot. For the young Kenyan farmer, realising that land is not bought at maziwa na mkate prices at the local kiosk, has adapted by increasing the height of his shamba than buy more area.
The average Facebook farmer owns a ka-quarter somewhere in Kiambu or in Nakuru's Kiamunyi. However, before you pity the guy, you should wait and see how tall their ka-quarter is. On one end is a one-bedroomed shack, made of iron sheets from Mabati Rolling Mills. This is the hallowed residence of our ka-farmer and just outside the house, is a wooden structure that hosts Simba and Fisi, the fiercest mixed race duo of dogs you'll ever encounter, bred from a cross between German shepherd and a local breed.
They have a 360 view of the ka-quarter plus aerial surveillance stances. Immediately across the residence, you will notice a multistory structure which our ka-farmer proudly announces is a multi-million venture. On the 'ground floor' you will find a cowshed hosting a lone zero-grazed Friesian nicknamed 'Israel' which the Facebook farmer hopes will one day, after the 2nd calving, will provide 45 litres of milk like Chris Murungaru's 1st class cows. It lives in a darkened shanty house and pampered with bales of hay, a tin of molasses and jerricans of water.
Just above the cow shed, on the mezzanine floor, are hosted three goats that ostensibly came from Gottenburg in the European Union via Mogotio. Occasionally the goats drop their droppings on the Friesian, which never minds anyway. Above the goats, on the first floor, our prominent Facebook ka-farmer has constructed a cosy home for various rabbits which then prop, on the uppermost floor, an adorable halaiki ya kuku kienyeji which provide yellow-yolk egg and what our ka-farmer claims to be the authentic taste of original chicken. For variety and a taste of the exotic, the kienyeji chickens live peacefully with two noisy guinea fowls, a jaywalking turkey and several pigeons.

Our clever farmer is not finished though, for millions of passion fruit hand from a crop that is well propped against this tall construction. To add variety, the farmer, as if by magic, has created a series of tunnels that channel the manure form his livestock to the adjoining small piece of land that contains a tree-tomato, pears, plums, sukumawiki and a boisterous plantain. On top of the pears tree rests a beehive with about six bees hovering as if trying to make the decision whether or not to live there.
Finally our farmer hosts a solar floodlight to give his farm and energy-saving certification.
It is thus not enough to ask farmers how big their shambas are. Soon, we should consider adding, 'how tall is your farm, Sir?'
Writer is a hobbyist farmer at The Peasant Shamba, Kisumu
When an animal is on heat
Of all living things only man and dolphins use sex for leisure in addition to procreation. The rest mate only at specific times or seasons and purely for procreation or rather reproduction