Get it right with seed variety and fertiliser this planting season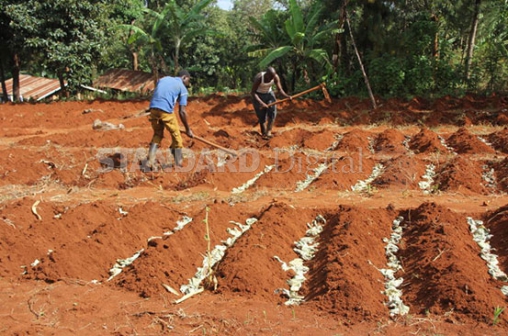 NAIROBI: Planting season is a hopeful time. Everyone is busy preparing their land for planting, gathering farm inputs such as fertiliser and seeds in preparation for the long rain season. Choosing the right seed is important. The process requires good planning and research.
Maize variety choice, if correctly planned, can make a great contribution to risk reduction and should constitute an important part of production planning. Cultivars differ from one another with regard to a variety of characteristics. Therefore, every variety has its own adaptability and yield potential.
These differences between varieties give a farmer numerous alternatives. The farmer should, however, first verify the performance of new or foreign varieties before abandoning proven cultivars. As a result of a wide diversity of conditions under which maize is produced in the country, it is essential that varieties that are eventually planted should be adapted to specific production conditions.
Cultivars with wide adaptability can be used to stabilise yields under variable weather conditions. Together with adaptability, stability of varieties should also be considered. Greater stability of a cultivar, leads to predictability of yield reaction at a specific potential.
Varieties such as H628, H627, H626, H625 and 614 otherwise known as the Highland varieties are recommended for a medium to high altitude areas within a range of 1,500-2,100 m above sea level and a mean annual rainfall of 800-1,500mm.
In areas in a range of 1,000-1,700m above sea level and a mean annual rainfall of 750-1,000mm. H513, H 515 and H 516. These varieties are commonly grown in coffee growing belts maturing in 4 to 5 months.
Transitional Zone is a zone with an altitude of between 1,000-1,700m where the temperatures range from 12C to 30C and has rainfall similar to that of high altitudes.
Hybrid 624 is a typical example in this category. Lowland Agro-Ecozone varieties include PH1 and PH4. These are the Pwani hybrids which are fairly short varieties resistant to lodging and more tolerant to moisture stress. They are best suited for altitude range of 0-1,250 M above sea level with an average of 400mm of rainfall a year. The varieties have good husk cover which reduces crop loss through birds. Katumani Composite B is a fast growing open pollinated variety, which is fairly short and produces short cobs. It is a drought escaping variety flowering within 60-65 days and maturing within 90-120 days. The variety performs well within altitudinal range of 1000-500M above sea level and is a variety for marginal rainfall areas otherwise called 'dryland agro-ecozone'. The variety requires 250-500mm of rain, and has performed extremely well in arid marginal areas in many parts of Africa. DLCI is another open pollinated variety recommended for arid and semi-arid regions.
This variety flowers earlier than Katumani Composite B by about four to seven days and is shorter but more prolific. Under unfavourable conditions the variety performs better that Katumani Composite B. The variety is best suited where rainfall duration is short and amounts to less than 350mm. The variety is a good substitute for Katumani where rainfall is erratic.
Hybrid 528 has been treated for Striga control chemical and therefore suitable for regions like Nyanza and Western which have extensive infestation of Striga weed. HDH04 is most suited in areas with low rainfall.
Plant your seed correctly
To plant maize correctly, make rows 75cm apart, then make holes every 30cm or one foot on the rows. Plant two seeds in each hole to allow for losses due to insect pests, ground squirrels and erratic rainfall at planting. The seed should not be planted directly in contact with fertilisers as this can cause poor germination due to seed scorching. The rule of thumb is mix the fertiliser with the soil, then put the seed. Cover the seed with loose soil for easier germination.
Appropriate fertiliser
What kind of fertiliser is best for planting maize?
Using compost manure is the best way to improve your soil. Compost is a great addition to all types of soils. It improves the drainage in heavy clay soils and helps overly sandy soils retain more moisture. Compost is especially important if you have heavy clay soil, because corn requires well-drained soil to grow healthily.
Use of pre-planting fertilisers is also recommended. Maize requires plenty of nitrogen and phosphorus throughout the growing season. Many soils already contain enough potassium, magnesium and other nutrients for corn to grow healthily.
An all-purpose fertiliser containing more nitrogen and phosphorus than potassium helps to ensure healthy growth when applied to the soil before planting.
Diammonium Phosphate (18-46-0) or commonly known as DAP is the most used fertiliser for planting. It is efficient as the main fertiliser for maize. NPK 23-23-0 and NPK 20-20-0 are other popular pre-planting fertilisers. They are touted as highly efficient complex mineral fertilisers and are suitable for all soil and crop types especially efficient on podzolic soils with low reserves of phosphorous and potassium. It is efficient as either the main fertiliser or extra-nutrition for other crops such as vegetables, legumes, wheat and barley.
NPK 17-17-17 another complex mineral fertiliser that can be used for planting maize. If you know you have soil with less potassium, you can apply a more balanced fertiliser such as NPK 17-17-17.
Post planting side dressing fertilisers are also recommended. For side dressing (top dressing), CAN, 26 per cent N is recommended as it will help maize continue to grow well after it sprouts and uses up some of the soil's nitrogen Calcium Ammonium Nitrate (CAN, 26 per cent N) is a popular straight nitrogen fertiliser and an excellent source of nitrogen, which is readily available to plants due to its excellent solubility. Works well for all types of crops for pre-planting or as a top dressing application. Especially recommended for early application in cereals.
Urea (46 per cent N) is another option that can be used for side dressing. Urea contains an abundance of Nitrogen, which favours plant and stem growth in all plants. It can be applied to soil as a solid or solution or to certain crops as a foliar spray.
Top dressing - in high rainfall areas, the fertiliser should be applied in two splits. First split is done six weeks after sowing and second split is done 10-15 days later or just before tasseling. In low rainfall areas fertiliser is applied once.
Top dressing is done when the soils are moist, apply 1 teaspoonful of fertiliser at the base of each plant in a ring [approximately 15 cm radius] or along the row 15 cm away from the plant. Good farmers are getting over 40 bags per acre by practicing good husbandry, using hybrid seed and fertilisers. However money spent on hybrid seed and fertilisers will be wasted unless you select the right variety, use the right fertiliser and grow the maize properly.
- The writer is an expert/consultant on agricultural solutions and innovations