Curiosity leads farmer into successful strawberry farming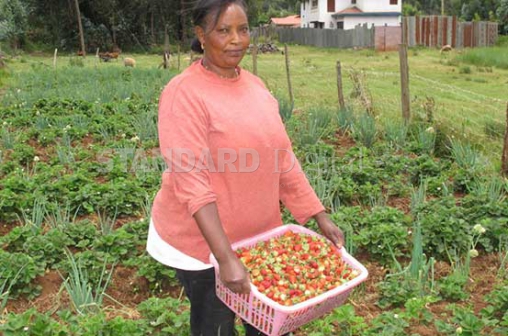 It is said that curiosity killed the cat. For Mary Gathoni, it pushed her into an unknown world of strawberry farming, which is now a successful agribusiness. Gathoni is today laughing all the way to the bank.
It all started in 2008 when Gathoni and her women's group were trained in strawberry farming by officers from the Ministry of Agriculture.
After that, the Ministry gave them Sh100,000 as seed capital to start strawberry farming.
However, only four of the more than 20 women trained accepted to plant strawberries.
"My colleagues declined saying it was a strange crop and they were not sure of its market. For me, it was pure curiosity to see how it would end up," says Gathoni, whom the Smart Harvest found in her quarter farm harvesting the colourful fruits.
Each of the four received 500 seedlings. Many challenges cropped up after planting. She did not know when to weed and harvest and that it was wrong to harvest during the rainy season. She did not even know the colour of ripe berries and that the fruits are not washed.
Started as a greenhorn
The first harvest was meagre, which the family consumed. Gathoni started seeking more information from extension officers and reading from books for over two years.
"In 2011, l had learned a lot on strawberry farming and started harvesting around 60kg a week. Since we could not eat them all, l hawked the surplus in Limuru town and its environs," she says.
But locals did not buy because they were unfamiliar to them.
Those who bought were people from Nairobi who had come to Limuru. It is then that she decided to follow them to the city where she won over several clients in Westlands and City Centre.
After two years of supplying city residents, she learned that her clients were using her berries to process juice and make jam.
"I inquired and was shocked that they made a lot of money from juice and jams. I slowly realised that since l was the producer of the raw material, l could make more money," she says.
Coincidentally, this was at a time the Kiambu County Government and One Village One Product (OVOP), an NGO, were sponsoring farmers to study value addition at the Jomo Kenyatta University of Agriculture and Technology (JKUAT).
Gathoni was among those selected. She attended a three-week training on manufacturing, packaging and marketing fruits.
She terms the training a godsent, as it is then that she ventured fully into value addition using her savings to buy equipment needed.
After processing, she displayed her jam and juice in various exhibitions at the Nairobi International Trade Fair (NITF).
"My products got exposed and the market opened up," says the 50-year-old. She has trained hundreds of farmers from Nairobi, Kericho, Eldoret, Kisumu, Machakos, Thika and Kiambu County, charging Sh15,000 per person to share her knowledge on value addition and Sh7,500 on strawberry farming.
She still sells the fruits, juice, jams and seedlings. A kilogramme of berries sells for between Sh300 and 400. The same kilogramme gives her 10 litres of juice which go for Sh200 per litre. Strawberry seedlings go for Sh30. In a day, she makes 60 litres of juice and 10kg of jam.
Gathoni, who harvests around 150kg of strawberries a week, says those more ripened are good for juice and those fairly ripe are ideal for jam. She cannot satisfy the market, which has now grown to areas around Nairobi. "l help some of the farmers I have trained to sell their produce," she says.
She sells the seeds to farmers from as far as Tanzania, Uganda and Rwanda. She has also bought land to expand her farm.
"Any farmer out there should think of value addition. We can reap more profits in value addition than selling the fruits or raw materials," she advises.
She employs three women to help her weed, harvest and pack. She has also employed one person to help her process juice and jam. Her biggest challenge is erratic weather patterns which interfere with production. During heavy rains, production goes down resulting in losses.
She inter-crops the strawberries with onions, which she says help keep pests away.