Spraying crops in an effective and economical way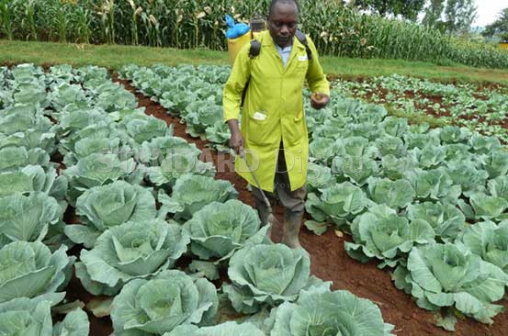 Timely application of herbicides, pesticides and fungicides (collectively called Crop Protection Products - (CPP) at peak periods plays a vital role in ensuring better yields. When you spray, the aim is to deliver an effective, uniform dose of product to a target area in a safe and timely manner.
Under dosing may not give the desired coverage and control needed. Overdosing is expensive as it wastes pesticide. Any product not deposited on the target is wastage. Wastage includes drift (vapour and droplet), run-off and any off-target deposition. Wastage not only costs time and money but may reduce the effectiveness of the application and increase the risk of environmental contamination.
The choice of equipment and the technique of spraying in this particular case is important. This choice, depends on the specific use and the need for a particular pest-weed control measure. Studies indicate that 70 per cent of the success of CPP depend on the effectiveness of its application.
Wrong and ineffective methods of application would result in a tremendous waste of the products. Today's article will highlight practical guidelines to extension workers and farmers on effective application of CPP.
Before selecting the sprayer to use, check the label and the guidelines for the pesticide, the recommended application rate, the type of equipment best suited for the application, the style of nozzle and other information for best results.
Type of crop
Based on the type of crop and its size, select the sprayer that will give a good balance between droplet size and coverage.
The pesticide label is a legal document; do not exceed dose rates. Unless specifically prohibited, lower rates and higher concentrations are allowed.
However, there may be consequences, such as reduced protection and increased potential for pest resistance and phytotoxicity. The registrant is only liable if the operator follows the label exactly. Correct selection of the type and size of spray nozzle for each application is also important. The nozzle determines the amount of spray applied to an area, the uniformity of the application, the coverage of the sprayed surface, and the amount of drift. Although nozzles have been developed for practically every kind of spray application, only a few types - extended range flat-fans, flood jets, are commonly used in the application of CPP.
Pesticide applications can be made using a single nozzle lance, however spraying a straight swath with appropriate overlapping is extremely difficult.
If the single nozzle lance is swung from side to side while walking, the resulting application will have large areas of under- and over-application. To avoid such indiscretion multi-nozzle booms should be preferred.
Using a boom sprayer will increase the uniformity of spray applications. The width of pass may be smaller using a three or four nozzle boom, but each pass will have standardised herbicide distribution. Spray swaths of three metres or more can be obtained by fitting a knapsack with appropriate nozzles and adjusting the spray pressure of the system to provide adequate output.
The right noozle
When a single flat fan nozzle is sprayed, only the middle third of the spray pattern of the nozzle can be considered to have a full rate application.
Calibrating sprayers is also important if you want to obtain good results without applying excess material. Low-volume sprayers can provide more uniform coverage with less spray material.
Where applicable, most labels have recommendations for low-volume equipment.
When making a tank mix, both the dosage and water requirement need to be considered. The dosage, the amount of chemical that should be applied to a given area, is listed on the label. Selection of the rate should be made based on the level of infestation, type and maturity of the crop, past experience and other variables. If this is the first time that the pesticide is being used, a dosage in the middle of the range is a good starting point.
The amount of water needed to cover the growing area depends on the type of equipment used.
With hydraulic sprayers, a rate of 25-50 gal. Per 10,000 sq. ft. is common. Low-volume sprayers use only 1/4-2 gal. Per 10,000 sq. ft.
Most chemical labels indicate the amount of pesticide to be diluted in 100 gallons of water and not the amount of spray concentrate that is to be applied to a given area.
Some labels now list the amount of chemical that should be applied per acre. The instruction manual that comes with each sprayer contains charts or tables that help determine how much spray material to mix with the water. This is usually based on a 10,000-sq. ft. area, so you will need to adjust the rate to fit the growing area to be sprayed.
Spraying technique
The technique you use to spray crops is important to get good coverage. It should be developed to fit the type of equipment you are using. With a hand-held gun, a sweeping motion over the foliage will allow the spray material to penetrate and get to the underside of the leaves.
With fixed-fan type units, an airflow pattern needs to be established so that all the plant canopy receives the pesticide; location of the unit contributes to good air flow.
Another tool that can help promote better technique and coverage is to keep a log of the spraying operations and the results that were obtained. This should include the date, time and location of application; crop and pest; pesticide used; tank mix; and an evaluation of the results obtained.
Adjustments should be made in subsequent applications to try to improve the results. It is simple, proper selection, calibration and operation of spray equipment is key in achieving optimal pest control, as well as in meeting environment and safety requirements
Protective clothes
Body wear overalls made of cotton are the most advised ones but additional protective clothes should also be worn. For wet sprays, large sleeves with cuff buttons and pants with buttons at the bottom deliver good protection.
Waterproof rubber or plastic aprons are effective.
Protective gear
Light weight water resistant chaps could also be used. To protect the head, wide brimmed hats that are water resistant should be adopted to prevent mist and dust settling on hair. Helmets with attachments for face shield and goggles can also be a good alternative.
Goggles should be used to protect eyes from splashes, spills, mists and droplets.
Wide plain goggles covering maximum possible eye area are ideal.
Face shields provide protection to face from splashes and dust and also allow for air circulation and guarantees wider coverage than goggles.
The hands are the most prone to chemicals. Hence gloves dressing while handling chemicals and equipment are advised. The gloves should be made of rubber or some synthetic material like PVC or latex and should cover the arm till little below the elbow.
They should be kept at distance from water bodies, children and animals after use. For foot wear, leather and fabric shoes should never be worn as they absorb chemicals. Damages like leakage should be checked before shoes are worn.
The writer is an expert/consultant on agricultural solutions and sustainable agriculture