Sh1 billion project banks on farmers to protect water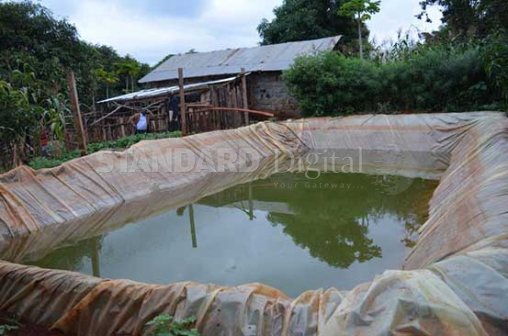 Farmers whose activities touch on the Upper-Tana River Basin are being taught on new ways to conserve the environment.
An NGO that spearheads conservation efforts has invested Sh1 billion raised through a public-private partnership to offer incentives to farmers involved in water and soil saving initiatives.
The project — by Nature Conservancy (TNC) — targets farmers in Murang'a and Nyeri counties that provides 95 per cent of Nairobi's water and half of Kenya's hydropower-generated electricity at Masinga dam.
TNC Nairobi Water Fund manager Fred Kihara tells Smart Harvest that the project is aimed at boosting food security.
"Investing at least US$10 million in environmental management for the Upper Tana River over a decade will reduce sediment concentration in rivers by over 50 per cent, decrease annual sedimentation in the Masinga hydropower reservoir by 18 per cent and increase annual water yields across the priority watersheds by 4 per cent and up to 15 per cent during the dry season in some locations," says Mr Kihara.
The decline of the watershed has undermined food security as it supplies water to a million farms in one of the country's most productive regions.
Research from the International Centre for Tropical Agriculture indicates that quarrying, open dirt roads, deforestation and other upstream farming activities on the unprotected slope lands have led to massive soil erosion.
"In one of the Tana watersheds, quarries account for a quarter of all sedimentation," says Kihara.
Take a quick survey and help us improve our website!
Take a survey
Through an Endowment Fund, the project will ensure protection of watersheds and thousands of tributaries that will see the farmers involved benefit.
So what are some of the conservation agriculture efforts the farmers are being taught as part of the project?
Number one is drip irrigation. To ease erosion that clogs rivers and over-reliance on the rivers, the farmers are being taught drip farming, proper land tilling and water harvesting through water pans.
"With incentives and facilities to farm productively, farmers are being encouraged to cultivate without interfering with the rivers," says Stanley Kaminju, a farmer along Maragua River.
Terracing
The farmers are also given incentives like seedlings, farming tools and other farm inputs, besides being encouraged to plant trees as they farm.
They are also urged to leave portions of their farms bordering rivers to prevent erosion.
George Njugi, a field conservation officer with TNC says the traditional farming methods have threatened the river basin, which is largely the source of water for the capital city.
"We are working on ways of changing the farming methods that will protect the rivers and at the same time have better produce for farmers. We give them incentives to encourage them to participate in conservation efforts," says Njugi.
The initiative they say is critical to millions of farmers, businesses and communities whose livelihoods are directly tied to the basin.
Murang'a is Nairobi's main tap, providing the city with 95 per cent of the daily 500 million litres of water. Already plans are underway to source more 200 million litres of water daily from Murang'a. The Ndakaini dam carries 70 billion litres of water collected from small and big rivers in the county.
Concerted efforts
Laban Kariuki, a farmer along Ndakaini watercourse says they have adopted terracing and harvesting of the runoff water to control soil erosion and siltation in the rivers. He says the approach has proved helpful in managing their farms and getting increased production.
Samuel Mwangi, a farmer along Gura river, Mukurweini admits they are critical to the rivers survival and if they are incorporated well in the projects a lot of conservation will be achieved.
During rains rivers are clogged and soiled and it is estimated the NCWSC spends 30 per cent more on treating the muddy water.
NCWSC Managing Director Philip Gichuki says they hope the initiative will save the company about Sh22.5 million annually through lowering the costs of filtering water and disposing sludge.
Water volumes have drastically fallen over time due to siltation and this has affected the dams where siltation levels have risen.
"We have embraced measures to stop rivers' pollution but this needs more concerted efforts if Nairobi is to meet its water needs and us to continue farming as usual without interfering with the river," says Kaminju.
Grace Muringe, a farmer in Mukurweini, says it has taken much convincing by the conservationists to leave portions of their land so as protect the rivers and their tributaries.
"We have learnt to value these small tributaries stemming from our lands," says Kariuki.
Kihara says the project on a two-year pilot phase has enabled 5,000 farmers adopt the conservation measures. "The fund will initially focus on 3,329 square kilometres that is part of the wider Upper Tana watershed, which itself covers 17,000 square kilometres and is home to 5.3 million people," Kihara says.
He says the revolving fund will be replenished through donor contributions and interest generated re-invested in the upstream conservation projects.
Why cows should not be fed on immature or overgrown grass
The rainy season is here in most parts of the country, hence grass and fodder are growing at a fast pace. However, there are some two problems associated with this scenario unless a farmer has taken strategic planning in managing the feeding of this fast growing grass/fodder.