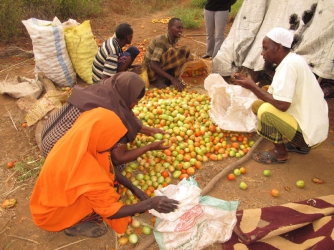 Mention the name Garissa and one of the thoughts that quickly comes to mind is the Garissa University College massacre that saw the senseless death of 148 innocent Kenyans. There is also the drought, famine and images of conflict.
But beyond that cloud of death and terror, positive things are happening in Garissa County especially in agriculture. Being an arid region, cycles of drought caused by adverse weather conditions and climate change are common.
This drought has dealt a big blow to the nomadic pastoralist communities who depend on water and pasture to feed their livestock.
Owing to such realities, more farmers are abandoning pastoralism and embracing crop farming which is stable and predictable.
One of the farmers embracing this is Abdiah Muhamed. Ms Muhamed is one of the members of Nadir Community Group Farm, which solely practises crop farming and their venture is producing abundant fruit.
"After losing 60 goats to drought seven years ago, l felt the best option was to try farming. I joined Nadir Group, which was already producing vegetables," she says.
Nadir Community Group Farm is located in Muthembi location, Fafi sub-county in Garissa County and lies along the Tana River where the soil is fertile and the weather favourable for horticulture production.
When Smart Harvest visited the farm, Muhamed and other members were busy harvesting tomatoes and uprooting weeds from the farm.
The over 120-acre farm has bananas, tomatoes, pawpaws, oranges, lemons, watermelons, mangoes, apples, guavas, beans, onions, pepper and capsicum, scattered in different sections.
So how did this life-changing project start?
Farm chairman Yusuf Nadir says it started in 1986 as a small family farm.
"At first, the shamba belonged to my father. But after farming alone for years and encountering various challenges like loss of crops due to drought and wild animals, he realised it was better if he teamed up with other locals. It is then that he started mobilising neighbours to work together with him. Many locals liked the idea and came on board," he says.
Mr Nadir says his father started with 15 members with each contributing one acre of their farm. They also raised Sh26,000, which they used to buy seeds and water pumps connected to River Tana to supply water.
The first harvest was just a quarter of what they had planted because it coincided with drought. He says, "Although the harvest was little and discouraging, the members soldiered on."
In 1990, the group started registering good profits and the number of members increased to 30.
As time went by, other locals liked the idea and joined the group. The project blossomed and started to attract sponsors.
In 2005, Mr Nadir says Womankind Kenya, a national NGO based in Garissa County and which empowers women and children liked the initiative and started to sponsor them.
He says the NGO started a series of capacity trainings for members.
They taught them skills in land preparation, crop management, seed handling, weed and pest control, environment management and preventing soil erosion along riverbanks.
"The training was to boost their knowledge in crop farming because they were so used to the traditional livestock keeping. The organisation made it clear to them that it was possible to grow crops in the area. The trick was to follow best practice," says the chairman.
After the training, the organisation provided them with banana tubers, grafted apple mangoes, guavas, grafted lemons and oranges, and seeds such as beans, watermelon, capsicum, onion and hot pepper.
The group also got two big engines to pump water from River Tana to the farms.
"This was a great boost which kick-started our crop farming activities all over again," he says.
The group also received five grade cows.
The farm is divided into sections and each farmer is allowed to raise the crop he or she wants.
Today, they produce more than enough food for the members and plenty of surplus which they sell in Garissa, Masalani and other markets within the county.
New members who want to join the group pay a membership fee of Sh11,000 which assists in the administration of the farms.
The markets
Their produce prices vary from market to market.
For instance, a bunch of bananas in Garissa town costs Sh5, while the same goes for Sh10 in Masalani and other areas of Ijara sub-county.
The chairman explains that members can sell their produce as groups or individually. An individual member carries home at least Sh50,000 per month.
And Muhamed confirms that her tomatoes earn her more than Sh50,000 in a month.
"We were so used to rearing livestock we never imagined we would earn a living growing crops. This is a wise move," says the 36-year-old mother of seven. She also has 50 goats.
The group's triumphant crop yields has reduced dependency on food relief aid. It has also improved their economic power.
What helps the group is that they do not depend on erratic weather patterns. Instead, irrigation assures them of harvest all year round.
"Anytime you come here, you will definitely find something you want," says chairman.
Blooming as the venture maybe, they confess that they do face some challenges.
One big problem is wild animals destroying their crops.
At the same time, some farms are far from the water source, and this makes pumping of water from the river costly. Mohamed says pest and disease control is a headache, because pesticides are too expensive and sometimes are not available.
They also lack enough farming equipment, which forces farmers to share what they have. The chairman says storage of their fresh produce is also a setback.
"We produce a lot of crops but lack proper storage facilities so this leads to rotting of produce such as tomatoes, and ripe bananas," he explains. Poor roads cost them a lot of money. Transporting a sack of bananas costs between Sh400 to Sh600, but if the roads were in top condition it would cost Sh100, or less.
The group also says petrol for machines and maintaining machines are expensive.