What makes Israel's dairy farming world-class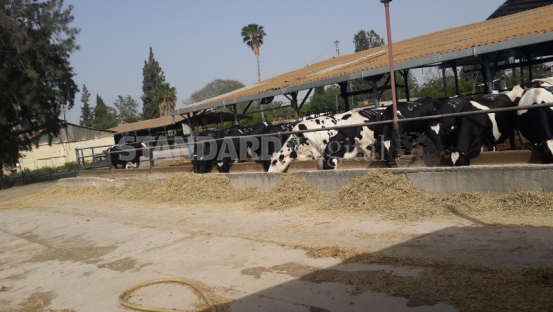 KENYA: It is exactly 4.30pm local time on an extremely sunny Saturday afternoon in Tel Aviv, Israel when we land. The heat is unbearable. The city appears deserted save for a few people driving or riding motorbikes.
A group of close to 120 Kenyans — dairy farmers and a battery of journalists — are in Israel to sample the country's top-edge dairy farming technology, a trip sponsored by New KCC. As we traverse a number of small towns and centres, the desert climate in Israel is evident. After a relaxed night, our morning programme starts on high gear.
Our first destination is Kibbutz — an area nestled in scenic and fertile landscapes, representing a unique, rural way of life whose historic hallmark is sharing. There are historical houses in Kibbutz with their economic mainstay being dairy farming.
The dairy industry here is an important aspect in the growth of the agricultural sector with the creation of optimal integration between the production unit, technologies and equipment, the operator and the production environment.
The increased milk production in Israel, despite the harsh conditions, has made the country an attraction site for many milk producing nations. Nearly everything from feeding to breeding is done differently in Israel. AfiMilk, a local dairy farm in Jordan Valley was one of the farms visited by the Kenyan delegation.
Mr Pinchas Gur, a manager at the farm that hosts over 400 dairy cows took us around the farm, originally built in 1932, on the southern tip of the Sea of Galilee.
From the tours at the farm, the technology has played a crucial role in increased production. The Israeli dairy sector produces 12,000 kilogrammes of milk per cow on average annually against Kenya's 2,500kg.
So what's the magic pill?
Mr Gur tells Smart Harvest that correct feeding and breeding is everything. "Wheat silage, corn silage and fermented poultry manure are some of the famous feeds for dairy animals," says Gur.
Mr Mor Noibart, a manager at Kibbutz Mesilot — one of the farms dealing with feeds — engages farmers on the importance of getting the correct Total Mixed Ration (TMR) for dairy animals.
"It is essential to provide the animal a constant and well-balanced feed ration, which provides all its requirements throughout the year. Based on reliable on-line feed ingredient analysis, cost and benefit calculated feed rations are provided in such a way that the animal can efficiently produce milk."
Correct rations
Mr Oren Ben, a manager at Givat Yoau feed mill, explains that the mill deals with mixing the correct rations of feeds before supplying to various farms.
"Our job is to get the correct Total Mixed Ration by combining corn, barley and wheat to make silage. Interested farmers just order for the rations they require and our job is to deliver," he says.
For Israelis, corn production is important for feeding because of its high nutritional value.
Kibbutz Mesilot has over 600 acres of corn under irrigation.
Noibart explains that Israel has for over 60 years been investing in corn as the main feed for dairy animals.
Close follow up and classification of the animals is also key to milk production.
"We have leg tags on each animal to collect data on their movements. The leg tag can tell whether a cow is standing or lying down. If the animal is lying down for so long, for example, it could be a sign of illness," Gur explains. The tag also helps managers monitor animals that are on heat enabling them to undertake artificial insemination on time.
For Israelis, the health of their animals is a priority. Dr Shuli Cohen, a veterinary care expert, says each farm pays an annual fixed rate per animal and in turn is visited two to three times a week by a Vet.
He says, "Each cow receives several routine visits per lactation to ensure she is producing at maximum potential. Such co-operation creates a less competitive environment where knowledge and best practices are shared among farmers."
Most dairy cows are registered in the Israeli Holstein Friesan Herdbook of the Israel Cattle Breeders Association for record keeping. Much attention, is given to the design and establishment of the production environment adapted to the needs of cows and farmers. Reducing the heat stress on the cow, with active evaporative cooling systems and well-designed animal housing structures, have an enormous positive impact on the production level.
When it comes to breeding, artificial insemination is provided, irrespective of cost and quality of semen and is guided by the database compiled over the years. The Holstein Friesan black and white cow is recognised globally as the most efficient milk producer in terms of yearly milk-production.
New ideas
The Israeli government plays an important role in making the nation a world-class hub for technology and milk production.
Steven Rosen, extension services officer at the Ministry of Agriculture in Israel, says the government provides subsidies for animal imports. "Israel is not bound by agricultural traditions, and Israeli farmers integrate many new ideas into their farming systems. Integration of co-operative ideas has provided even the small farmer in Israel with technological access to modern and to up-to-date know-how, through extension services," Rosen notes.
Fodder farming as a business is also emphasised with companies that deal with exclusively feeds slowly being established.
Areas for partnerships
It is on that background that New KCC seeks crucial partnerships with Israeli farmers to increase milk production.
New KCC Managing Director Nixon Sigey, who accompanied the farmers for the training, says the company is keen on not only improving its relationship with milk farmers but also investing in trainings to boost productivity.
"Our endgame is to increase milk production and stabilise the ever fluctuating milk prices. Farmers are deducted 50 cents from every litre of milk they supply to us.
Trainings
This forms a huge chunk of money spent on extension services and programs including internal and external training and visits," Mr Sigey says. New KCC chair Matu Wamae, who was also present, says there is need to contextualise and implement the lessons learned to enhance Kenyan dairy farming productivity. Farmers are also optimistic that lessons learnt from the tour will transform their daily agricultural activities
"I have learnt that feeding is crucial. It is rare to get someone back in Kenya using the correct rations of food for their animals. I plan to plant corn, wheat and barley for fodder," Njeru Michael a farmer from Embu County says.
New KCC has formed a committee to implement lessons picked from Israel to boost milk production.