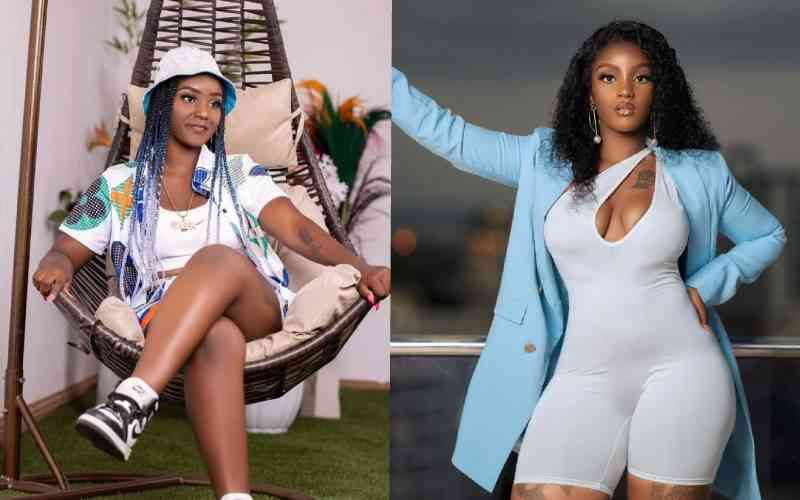 After months of missing in action on social media platforms, Shakilla is back, and she has opened up on what she's been up to. In a sit-down with YouTuber Eve Mungai, Shakilla said she took a break from posting online to focus on her growth and mental state and promised to share with her fans what she's been working on.
To begin with, the rising Kenyan socialite underwent fat freezing (a nonsurgical fat reduction procedure that uses cold temperature to reduce fat deposits) to get rid of her tummy fat. On June 1, Shakilla shared a video of the procedure and told her fans she wanted to 'get my snatched waist back.'
Asked why she opted for the procedure, Shakilla said, "My body is my weapon, my body is my bank account," adding that she wants to "look good even in old age like Kim Kardashian."
Shakilla, who claims she was out of the country a while ago, says she travelled to Nigeria to "meet with the big boys" despite people online saying she was lying.
"I wasn't in the country. Was I supposed to live and die in this country? No, I cannot do that. I have to fly, I was in the land of the big boys," said Shakilla.
Adding: "I came back like a month ago, and I saw people saying a lot of things like 'Oh she wasn't there, she had to change her address,' those are my haters. I'm not like you guys, I will not die in Kenya. I will be buried far far away."
The queen of the streets, as she calls herself, was dressed in a long white shirt dress, and underneath, a matching black spandex biker short and a bralette top. But what caught the eye's attention was the long curly golden wig, which she claimed cost more than Sh100,000.
"My hair can buy your phone," Shakilla told Eve as she spoke about how much money she had in the bank.
Shakilla briefly touched on one of her hustles, where she said she does 'hookups', adding that it's a sex-for-money kind of business. The socialite later talked about her relationships, where she admitted to dating multiple people.
"I'm also in a relationship, but it's just that it's many relationships. Imagine if one guy makes you happy, how will like ten guys make you feel?" said Shakilla.
But when Eve told Shakilla that such relationships don't work in Kenya, the Instagram star said, "I'm not from your country; that's the difference. I'm from Uganda."
Shakilla says her price tag has increased but refused to disclose how she makes her money, nor did she want to share her rate card, saying it's very expensive.
The socialite rose to fame in 2020 during the Covid-19 wave at only 19 years after appearing in media personality Xtian Dela's club covid videos. She went viral thanks to the raunchy videos and became a controversial topic among Kenyans online.
But her videos were just the scratch of the surface as Shakilla was accused of clout chasing after claiming to have slept with several Kenyan celebrities, including celebrated footballer Victor Wanyama and Khaligraph Jones. However, she retracted her statement and apologized after Wanyama threatened to pursue legal action to protect his image, given that Shakilla was still a teenager.
Her fame became even more profound after appearing in Comedian Eric Omondi's reality show Wife Material.