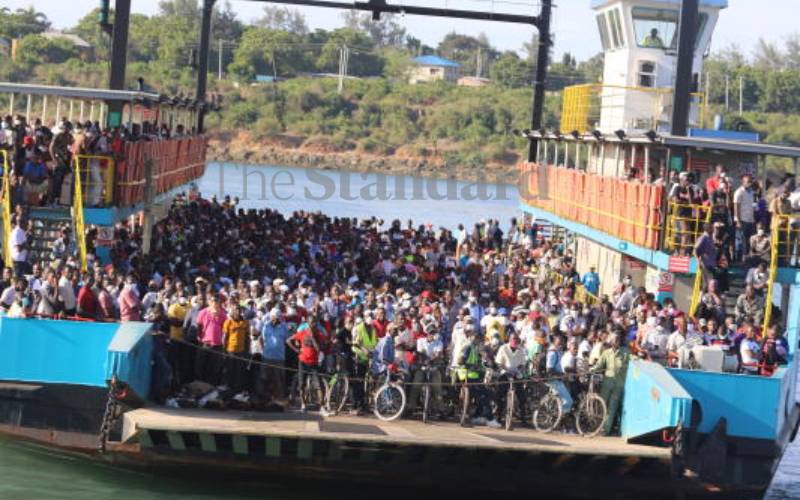 Have you ever wondered how ferries work? What keeps this huge 500- tonne marine vessel loaded with some 1500 persons, 60 to 100 cars and lorries, bicycles and other cargo afloat?
Well, they do that with a little help of the physics principle of density and buoyancy.
Let's start by understanding what ferries are. A ferry is a specially constructed vessel that brings passengers and property from across one shoreline of a waterbody to another, making contact with a thoroughfare at each terminus.
Ferries are mostly used for public transport; a small number are owned privately.
Ferry designs depend on the length of the route, the number of passengers and vehicles to be ferried, speed requirements and the water condition the craft must deal with.
The ferries operated at Mombasa's Likoni Channel are double-ended, which means they have interchangeable bows and sterns, allowing them to shuttle back and forth between two terminals without having to turn around.
The ferry occupies space and causes the water in its place to displace. The displaced water needs to return to its original location, therefore pushing the ferry upwards.
According to Ferry Engineer George Shollo, it would take more than 48 hours for a ferry to sink, and sinking is nearly impossible. The flat base of the ferry makes capsizing very difficult.
"Underneath the ferry are huge tanks of seawater which assist in adding weight to the vessel to enable it submerge to the optimal levels. We are not able to achieve the 500-tonnage required for ultimate buoyancy," he says.
Double engine
Just like cars, ferries have engines that are very thirsty, taking up to 52 litres of diesel every hour. Both engines churn enough power that can transform a normal car into a supercar.
After many hours in the water, ferries need servicing and the kind of service required is referred to as drydocking, which involves taking the ferry off the ocean water to a dry place where mechanics can access the bottom of the vessel and correct any malfunctions. The service can take up to 30 days.
Ferry operations
Ferry operations at Likoni Channel are responsible for crossing an average of 350,000 passengers and 7,000 vehicle units on a daily basis. There are seven operational ferries: MV Jambo, Safari, Likoni, Kwale, Nyayo, Kilindini and Harambee.
Ferry operations on the other hand are dictated by the schedule, customers' requirements, and the demand-driven by the traffic. Most importantly, all the ferries have adequate safety equipment on board including life rings, life jackets and lifebuoys to match the safety needs of every vessel.
Some of the safety issues that passengers ought to observe while using the ferries include avoiding boarding or disembarking while the ferry is in motion, leaning on the safety rails, walking on the wet slippery surfaces, on the ramps and standing on the ferry prows.
Likoni ferry operations
The first ferry trip kicks off at 4am with four ferries made available. The two-suit surging demand. At one point, the operations are separated for passengers and vehicle carriage. It is only when the traffic becomes more intense that additional vessels are considered to cope with the traffic during the day.
Evening operational (peak hours) commences from 4pm up to 8pm. Depending on traffic demand, until 8.30pm. The evening operations (off-peak hours night hours) fall between 8pm and 9pm with two ferries left out to run.
Eventually, the night operations diminish between 10pm and 4am with one ferry plying the channel at an hourly interval.
It is interesting to note that Mtongwe ferry service is not as active as Likoni, with a tiny population base estimated to be 9,000 pedestrians. Only one ferry is noticeable down there during the early morning and late evening.