Climate threats push families to the edge
By MARK OLOO
Letolu ole Kamango shook with anger at the mere mention of climate change talks in Durban, South Africa.
Even with clear skies above Oloibortoto, Kajiado North District, his fury was evident.
The object of his rare anger is the rising temperatures, total crop failure and changes in rainfall patterns that seem to have conspired to make life harder.
The situation, to him, is different from 70 years ago when he first settled in the area as a young herder.
And stung by failed rains, shrinking pastures and livestock deaths, Mr Kamango, 85, is not at his best this Monday afternoon.
"We should all take blame for what is happening," he adds a rider, referring to climate challenges, which he blames for pushing communities to the edge.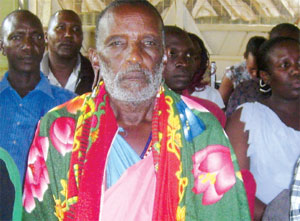 Letole ole Kamango (centre) and Nguruman residents at a climate change training in Kajiado North. [PHOTOS: MARK OLOO/STANDARD]
"We can no longer produce enough food. Animal stocks have reduced and the farmlands are no longer productive. We are running out of options," the former assistant chief says.
Kamango says people's increasing inability to feed their families is a cause for worry, what with chronic droughts and famine that have left more than 50 per cent of the community reliant on relife food from the State and agencies.
He says the grim scenario is why pastoralist communities are putting a case to negotiators at the global climate change talks in South Africa to lay the ground for a deal.
Kamango and members of his pastoralist community are keen to see the global talks yield a just solution.
The old man's experience demonstrates the drastic impact of extreme weather on lifestyles.
But in a distinct break from the past, many residents of arid and semi-arid regions are overcoming scepticism to speak out, thanks to sensitisation.
Carbon-free regime
They now acknowledge that without their intervention, agricultural productivity is at stake. Hounded by poverty linked to climate, rural farmers acknowledge they are on the receiving end, and the solution lies in the realisation of a carbon-free regime.
It is feared poor countries would fail to meet the United Nations Millennium Development Goals. The Intergovernmental Panel on Climate Change warns by mid-century, more than a billion people would face water shortage and hunger, including 600 million in Africa alone.
Locally, Turkana, Wajir and parts of Rift Valley have been hardest hit yet projections have not fallen short of raising the red flag.
Experts say by 2015, those gravely affected each year by climate-related disasters could rise by more than 50 per cent to 375 million, regionally.
And to survive the uncertainties, communities in arid and semi arid regions are embracing climate awareness campaigns, pledging to spread the message far and wide.
In Kajiado North, farmers are taking up climate mitigation, spearheaded by NGOs, ministries and the community.
"We have been up-scaling information at the grassroots. We are also put up an environmental committee to help deepen climate change understanding among farmers," says Kajiado North District Agriculture Officer Henry Siro. He says the Government hopes to use the National Climate Change Response Strategy to initiate adaptation in vulnerable regions.
The strategy enlists action plans Kenya will take towards adapting to climate change, with an annual budget for proposed climate change programmes standing at Sh235 billion nationally.
The blueprint is, however, yet to reach officers of relevant line ministries in several Asal districts for perusal and implementation.
In Nguruman, Kajiado, and Mutomo in Kitui, various organisations have come up to lend impetus to the Government's response strategy by sensitising residents.
Climate Change Development Network and the Arid Lands Information Network (Alin) are holding trainings, premised on the fact that every community member has a key role in mitigating global warming. Besides workshops, the two have rolled out a community newsletter JotoAfrica detailing how various farmers are adapting to the crisis.
Alin' Project Officer Esther Lung'ahi says the initiatives seek to reach out to communities by way of enlightening them on the need for passionate environmental conservation.
They groups distribute free audiovisual materials on livestock production, improved land use, green energy sources such as biogas and water conservation.
These, in addition to Alin's community information centres in Nguruman and Mutomo complete with relevant books and Internet resources, give relevant tips on environmental conservation.
Affected communities have benefited from biogas installations that have eased pressure on wood fuel. Plans are underway to take solar energy and sustainable cooking stoves to a new level.
Response strategies
Chief Elijah Sereu of Olkiramatian Location in Nguruman says the pastoralist community is shunning animal overstocking and diversifying into other economic activities, including poultry, in response to climate change.
"Those rooted in the Maasai culture find it difficult to change eating habits and farming methods. However, we are trying hard through barazas to change the mindset," Sereu told a climate change training facilitated by Alin officers in Kajiado North District.
Alin Programme Manager Noah Lusaka says the trainings are geared towards providing insights to vulnerable communities on climate adaptation.
"The challenge is to use the information to influence change as regards practices that exacerbate climate change," Mr Lusaka says.
He, however, acknowledges that culture is an impediment to adaptation.
"Maasai farmers are yet to acknowledge beekeeping could well give them returns just like livestock," Lusaka adds.
In Mutomo, the community has been trained on water conservation to encourage irrigation in a region where drought has been largely pronounced.
Local district environment officer Pius Kasusia says poverty and illiteracy are key among reasons response to climate change is lukewarm in some parts.
"The State should deploy extension workers to train the community so that in the end, everyone can be a trainer," Mr Kasusia told The Standard On Saturday.
The trainings sought to empower local governance structures to give input into policymaking by enhancing grassroots knowledge of climate adaptation.
The sessions tackled the need for drought resistant crops, sustainable energy options, water sufficiency, ecosystem and environmental stability, security and capacity development.
Residents said Kenya and other developing countries should be assisted to acquire a share of the established global Adaptation Fund and the proposed Green Climate Fund.
The global climate change talks aim at preventing average temperature rise and reduction in green house gas emissions. The talks suffered in Copenhagen, Denmark, Cancun, Mexico, and in Bonn, Germany, after parties said there was no consensus on interests of rich nations against demands by developing countries.
Veteran musician who captured Moi's imagination
He has dined with the high and mighty, has 13 TV episodes to his name, composed over 250 songs, and mentored some of the most successful comedians, yet he cuts the image of an ordinary retiree struggling to get by.