Finally, an environmentally friendly fuel
By Nicholas Anyuor
When Jacob Mlingi from Tanzania came up with the idea of creating a gel from alcoholic waste, he did not know how novel his idea was. He did not know it would win him an award at the recently concluded Kisumu ASK Show.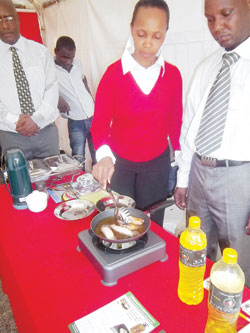 Consumer Choice staff demonstrate how the Moto Poa Stove works with the Gel fuel. Inset: The gel fuel. [PHOTO: TITUS MUNALA/STANDARD]

His stand, the Consumer Choice Ltd, had a unique gel and stove that attracted environmentalists at the showground to witness how the simple technology could be used to conserve the environment.

Kisumu West and North district environmental officer Stella Kamosir says the fuel is environmental friendly and advises the technology could be used across the country.

"This is a noble thing that should be embraced. It is cheaper and safer than ordinary kerosene. It is environmental friendly," says Ms Kamosir, Kisumu West and North Environmental officer, who got attracted to the stand.

The invention is expected to enrich lives of about three billion people globally who use unhealthy biomass fuels such as wood, charcoal, agricultural waste, kerosene and cow-dung, with 90 per cent of rural households in developing countries relying on this kind of fuel.

Bio-Ethanol gel

It is estimated that in Kenya, biomass fuels account for more than 90 per cent of primary energy supply regardless of the adverse effects it has on the environment.

Biomass fuel is one of the dirtiest forms of energy, according to environmentalists, and is the major cause of indoor air pollution in developing countries. It is estimated that IAP is responsible for nearly two million deaths annually in developing countries.

The World Health Organisation estimates that more than 1.5 million people die each year from indoor air pollution generated by cooking with solid fuels in poorly ventilated homes or shelters. It is this understanding that saw Mr Mlingi develop ways of turning waste molasses products into environmental friendly fuel - the Bio-Ethanol gel and its stove. He developed the gel for fuel to reduce cases of people using Biomass fuels, which have also become expensive.

Mr Mlingi says that he came up with the idea since Bio-Ethanol Gel is a renewable cooking energy source made from molasses, which is a sugarcane bi-product.

"It can also be made from sugar beet, maize, wheat and potatoes to produce a clean source of energy," he says. Bio-Ethanol Gel is entirely composed of biological products resulting in a neutral ecological balance that gives completely environmentally clean emissions of heat, steam and carbon dioxide.

"The carbon dioxide emitted is absorbed into plants and processed via photosynthesis to help plants grow. These plants are then harvested and processed to make various products including ethanol," remarks Mr Mlingi.

He adds that to develop Bio-Ethanol Gel, technical ethanol from waste molasses is sourced from Agro-Chemical and Food Company in Muhoroni, Kenya.

He next exports the technical ethanol to Tanzania, where it is combined with other chemicals to form a gel. "The gel's nature allows it to burn slower and give higher heat output, and also makes it difficult for the contents to spill if tipped over accidentally," says Mlingi.

The invention grew up very fast, forcing this innovator to form a company and liaise with other companies to produce the gel.

Spreading wings

"The gel would be supplied to East African countries since many people love it," he says. He adds, "Our principal goal is to gradually replace the use of environment polluting solid fossil fuels such as dung, crop waste, wood, charcoal and also use of liquid kerosene, with bio-ethanol gel because it is environmentally friendly, more efficient, economical and healthier to cook with."

One of the sister companies that Mlingi is partnering with is Poa Moto Company (PMC), which converts technical alcohol to ethanol gel. PMC is also in charge of making the Bio-Ethanol Gel Stove, which has been named Moto Poa Stove. Moto Poa is a high performing stove that comes in the form of a single and double burner. When using the friendly stove, the fuel tank is not pressurised; and therefore the stove cannot explode.

A simple regulator is used to adjust and turn off the stove. The room temperature does not increase much when one is cooking indoors, compared to the heat generated while cooking with firewood. Food cooked with Bio-Ethanol Gel Stove does not taste of wood smoke or kerosene fuel, and the pans and sufurias are easy to clean. The fuel burns for twice as long, making it cost-effective.

"The bio-ethanol stove is simple, safe, lightweight, and portable. Anyone can use the stove quickly and easily, following some very basic instructions," says Julius Ochieng' a Kisumu resident. In the recently concluded Kisumu ASK Show, Consumer's Choice Ltd had the best foreign stand, showcasing the gel and the stove. "We were awarded the best foreign stand," says marketing and distribution officer Andrew King'ori. Currently, Consumer's Choice can supply up to 140,000 litres of ethanol gel per month, but plans are underway to gradually increase that to 300,000 litres starting next year. A litre of the gel goes for Sh120, and can burn for more than four hours.

"This is much better than the ordinary kerosene and should be supported," says George Muluba, a customer.