Giraffe victim of its own success
By HAROLD AYODO
Being the tallest of all land-living animals, it is unusual for giraffes to struggle to get food.
The giraffe, an African even-toed ungulate mammal, browses on the twigs of trees, preferring trees of the genera Acacia, Commiphora and Terminalia, and also eats grass and fruit.
Indeed, the International Union for Conservation of Nature considers the animal as "least concern" from a conservation perspective.
But at Ruma National Park the mammals have found themselves in the unfamiliar situation of competing with each other for food due to a population explosion.
Figures from a recent study by the Kenya Wildlife Service (KWS) the giraffe population is increasing in the park.
Necking
During a game drive with park warden John Wambua and his assistant Stephen Chonga, we came across giraffes more than any other animals. Some were browsing treetops while others strolled with their babies in tow. Some male giraffes engaged in necking (fighting), which researchers say can be fatal.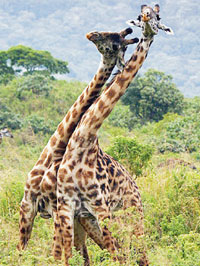 Male giraffes who are successful at necking attract more females . [PHOTO: HAROLD AYODO/STANDARD]

The longer the neck, and the heavier the head at the end of the neck, the greater the force a giraffe is able to deliver in a blow.

KWS researchers say successful males in necking have greater access to oestrous — long period of sexual excitement— females, meaning the length of the neck may be product of sexual selection.

After a necking duel, a giraffe can land a powerful blow with his head — occasionally knocking a male opponent to the ground.

Fortunately, these fights rarely last more than a few minutes or end in physical harm – they end when one giraffe surrenders to the other. "Rothschild giraffes are among the leading in terms of animal population," Wambua says.

Victim to traps

According to park research assistant George Anyona, the population of the giraffes have increased from 26 to 160 in 27 years.

"The giraffes were introduced to Ruma from Soi ranch in Eldoret in 1983, of which 21 were adult males while five were female," Anyona says. Seven others were introduced in 1985 before reproduction further increased them to 41 in 1994. "We have 160 giraffes while the capacity of Ruma is 60…we will relocate slightly over 100 to other conservation areas," Wambua says.

Anyona says the influx has led to increased competition for trees for browsing that, would impact negatively n the ecosystem. The giraffes also fall victim to traps set by poachers targeting game meat.
What is the fate of local authorities?
As we move into the implementation phase of the new Constitution, questions on what to do with the Provincial Administration (PA) have hogged the limelight.