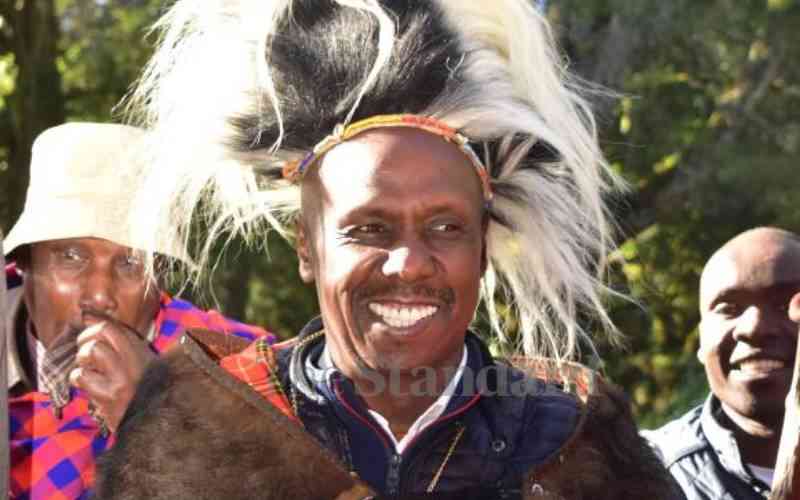 Residents of Tiaty Constituency have vowed to rally behind Kanu chairman Gideon Moi as he seeks re-election as senator for a third term in Tuesday's election.
In what was dubbed the 'Chomolingot Declaration', the voters said they had no other choice for the position, praising the senator for being at the forefront of championing for their rights and addressing the community's needs.
Gideon, who was accompanied by area MP William Kamket and Baringo Woman Representative Gladwell Cheruiyot, received a rousing welcome at the Chomolingot Michuki grounds, where he addressed a rally.
The constituency has 39,000 registered voters, who have over the years rallied behind candidates flying the independence party tickets in the elections.
In the 2017 General Election, the party clinched all the seven ward representative seats and that of the Member of Parliament.
Gideon said his third term in the Senate was a springboard for him as he eyes the top leadership of the country and urged the voters in the region to walk with him in this journey.
Since announcing his bid for a third term as the senator, Gideon has received massive support from Baringo residents.
The senator has campaigned in the county, outlining his agenda for his third term, saying he was keen in ensuring Baringo remains ahead in terms of development.
Last week, Gideon was endorsed by the Lembus Council of Elders at a ceremony in Eldama Ravine.
He has promised to ensure that Baringo has a position in the next government.
Gideon said his priority is to ensure that the youth in the county gain meaningful employment, adding that in his two terms as a senator he has ensured tens of youth from the area have been employed in various government departments.
While outlying his development record, Gideon said he has overseen road projects worth over Sh7.8 billion.
Kamket while addressing the rally urged the residents to vote in all Kanu party candidates. He said the area is locked and Kanu is the party of their choice.
Cheruiyot on her part said she trusts the people of Tiaty will vote for the party candidates. She noted that Gideon was an investment to the people of Baringo.
Further, Gideon told the residents to vote for him, saying the journey to changing their lives begins on the ballot. He urged them make an informed decisions and choose leaders who will push for their well-being.
He reiterated the need to ensure the issue of insecurity in the county is addressed. Locals he said must live in peace.
"I respect you the way you have always respected and supported me. Please vote for me come Tuesday, August 9," Gideon said.
He said once the elections are over he will be meeting with the locals to lay their plan and focus on development.