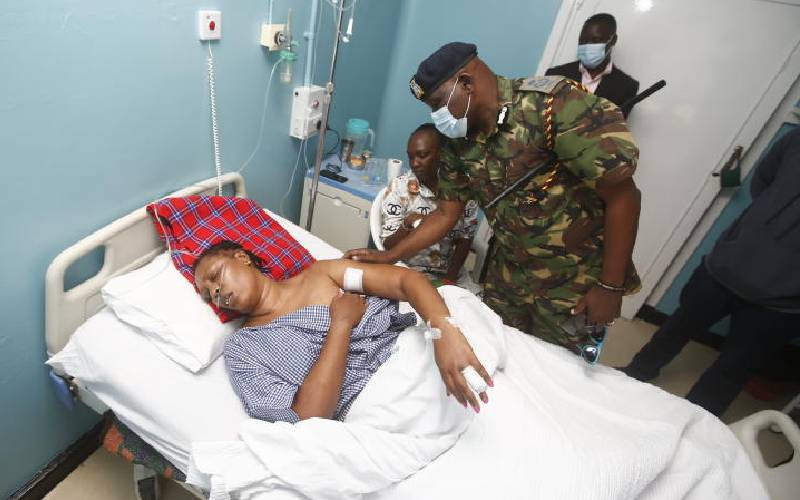 A Nakuru woman is fighting for her life at the Nakuru War Memorial Hospital after their neighbour's teenage son stabbed her 18 times in an attack reported in Teachers Estate, Gilgil.
Jane Kibe, 48 was attacked alongside Peris Wanjiru, 35 who also sustained nine stab wounds during the 2pm incident confirmed by Nakuru County Police Commander Peter Mwanzo.
At her hospital bed, Ms Kibe who started living with Wanjiru five months ago said that the minor stormed the house whose main entrance was open and headed to their bedroom.
"I was shocked when the boy stormed into the bedroom fuming with anger. He has been visiting us and I knew him as our neighbour's son. I didn't read any mischief at first," said Kibe.
She explained the 17-year-old who is a friend to Wanjiru's son whipped out a kitchen knife and announced that he had come to kill her.
"I didn't understand how I had wronged him. He pushed me to the bed and started to stab me. The boy accused me of not supporting his father who is a parliamentary candidate," said Kibe.
A shocked Ms Kibe's attempts to defend herself from the minor who is a secondary school student failed as the pain of the deep injuries took a tall on her.
"I began calling for help. He stabbed me on the arms, thighs, and back. The doctors told me that one of the cuts slightly missed the heart while another slightly injured my left lung," said Kibe.
Wanjiru explained that she was in the bathroom inside the house when she heard a commotion in one of the bedrooms prompting her to come to her sister's rescue but also fell victim of the suspect.
"The boy is a good friend of my son and even often visits us. When I got into the room I could not believe my eyes when I saw my sister bleeding and him holding the blood stained knife," said Wanjiru.
She explained that she rushed towards her sister who was writhing in pain but the minor pursued her stabbing her several times.
"He stabbed me nine times, three of which were very deep on the back and legs. He nearly severed one of my fingers. When we raised alarm, the boy dashed out of the house," said Wanjiru.
She explained that at no time had they discussed politics in the presence of the boy in a manner suggesting that they would not support his father.
"I don't understand where the allegations came from. Whatever happened is unfortunate and I would wish to know what made him to attack me. Am fearing for my safety since this is a life-threatening matter," said Wanjiru.
Nakuru police boss Mr Mwanzo visited the victims at the hospital and confirmed that the incident had been reported at Gilgil Police Station.
"We have managed to arrest the suspect who is a minor. He is known to the victims but we are investigating the matter. We intend to charge him with attempted murder," said Mwanzo.