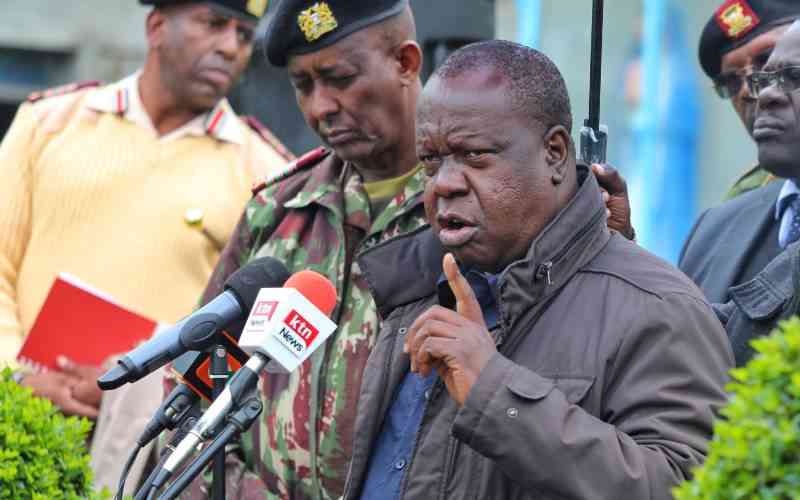 Eight people have been arrested over the distribution of leaflets profiling various communities in the Rift Valley region.
Interior Cabinet Secretary Dr Fred Matiang'i announced this on Monday when he chaired a high-level security meeting in Molo, Nakuru County.
"Eight people from the Rift Valley region are in police custody over the leaflets containing incitement messages. We are committed to ensure no chaos is witnessed in this country," said Matiang'i.
He lashed at Deputy President William Ruto and his allies over claims that the leaflets were being distributed by persons in the Office of the President.
"It is very irresponsible that some leaders have been making reckless statements at this time. None of the suspects we have in custody works in government," said Matiang'i.
He exuded confidence that the country will remain united and peaceful saying that only a few leaders were painting a different picture of the situation.
Following approval by the National Security Council for additional resources, security services will bolster deployment of personnel and equipment including aerial assets in Molo, Kuresoi, Eldoret and other areas in the country 🇰🇪 mapped out as vulnerable to disturbance. pic.twitter.com/Rq8vKWayzx — Dr. Fred Matiang'i (@FredMatiangi) August 2, 2022
He however said that the government had made plans to ensure there is no security lapse in the region which was mapped as one of the high risk zones.
"The National Security Council has ordered deployment of additional security here. The residents should expect more GSU officers and other security personnel in Molo, Kuresoi, Neissuit and Eldoret among other counties," said Matiang'i.
He dismissed claims that the security officers and the provincial administration were being used to spark chaos during elections.
"No government officer will be deployed to show aggression. Kenyans should be calm. We shall deploy enough ground and aerial resources to provide security to all," he said.
Matiang'i maintained that he will continue to meet police officers and provincial administration saying that this was part of his mandate.
"Some of these people are issuing outrageous threats against me. Whom do they want me to meet as a Minister for Security? It's like telling the Minister for Health not to meet doctors," said Matiang'i.
He cautioned politicians making inflammatory remarks saying that the security officers were keenly documenting them.
"We are doing things differently this time. We have our officers in all meetings documenting what is said. The prosecution shall follow and nothing stops it from coming even two years from now," he said.
He reiterated that the government will not in any way gag the mainstream or social media saying the Constitution stipulates the freedoms that Kenyans enjoy.
"We are a mature country. We are not a makeshift government. We shall not be intimidated or get tempted to engage in activities that claw back in the freedoms of our people," he said.