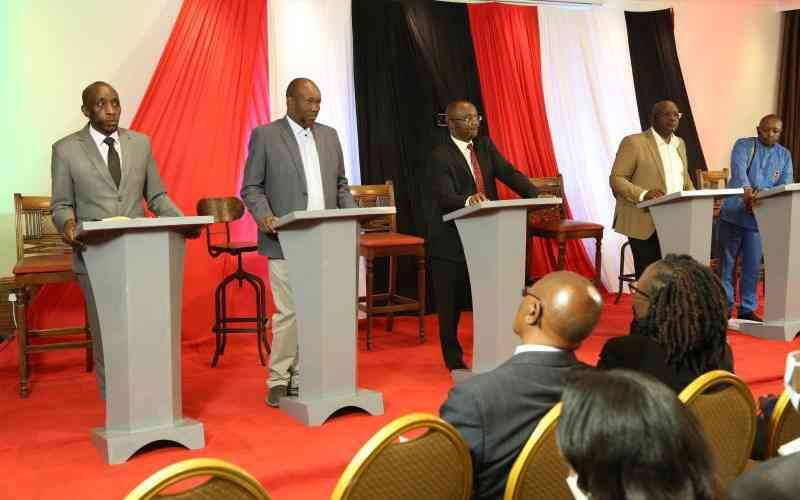 The stakes in last Sunday's debate for the next Nakuru governor were relatively low for the incumbent Governor Lee Kinyanjui, the race's front-runner.
Mr Kinyanjui, who is seeking a second term, had to withstand an onslaught of attacks from his rival candidates while making no major errors.
He appeared to achieve those modest aims. The stakes for his four rivals, who attended the debate, on the other hand, were substantially higher.
Nakuru Senator Susan Kihika, who is considered Kinyanjui's toughest rival, was not present.
Other candidates cleared by the electoral agency to contest the seat and who attended the debate were Dr Stanley Karanja, former Nakuru Senator James Mungai, Munyua Waiyaki and Elijah Chege.
The country goes to the ballot on August 9, and the debate was one of the opportunities for voters to scrutinise the candidates.
Mr Chege, a newcomer in politics, who is running on an independent ticket, tried his mightiest to land a punch.
So did Mr Mungai, a businessman who is also an independent candidate. Fellow independent candidates Dr Karanja and Munyua are campaigning on the platform of reforms and good governance.
They attacked the governor's record on employment of health professionals, water, revenue, prudent management of resources, and security.
The governor has been campaigning on the platform of his development record, which has been described by many as impressive compared to the previous administration.
He has put a lot of money into the development of health facilities but critics accuse him of not addressing the needs of doctors and health workers, most of whom are either on short-term contracts or are casual employees.
The candidates attacked his employment policy for health workers, which they linked to the frequent strikes affecting services.
Chege plans to tap on the Sh400 billion diaspora remittance that comes into Kenya which Nakuru enjoys 40 per cent. "This can make Nakuru a medical tourism destination. We will build state-of-the-art hospitals, recognisable globally to attract foreign earning," he said.
But Kinyanjui, an eloquent debater and wielding the power of incumbency, defended his decision, saying hiring workers on a contract basis is a global practice for sustained productivity.
"We gave contracts with the promise of permanent jobs after serving satisfactorily for two years. This has greatly assisted in reducing industrial action by health workers," he said.
Here is a recap of some of the most memorable moments of the debate:
A clash over employment policy
Kinyanjui's first days as governor were characterised by uncertainty among workers as he carried out a staff audit and embarked on placing some on contract for efficient service delivery.
On Sunday, KTN anchor Ken Mijungu, the moderator, asked them about the plight of health workers and services in the county.
The governor pointed out that contractual employment was a global trend that has ensured efficiency in services.
But Mungai quickly pointed out that Kinyanjui's plan had messed up health workers' earnings, hence the proliferation of private clinics and chemists owned by health workers.
"I will ensure they get the right salaries on time. The high number of pharmacies in Nakuru point at their struggle to make an extra coin," said Mungai.
On his part, Munyua said his administration would conduct an audit to establish the number of trained health workers in the county and absorb them in the understaffed facilities on a permanent and pensionable basis in his first 100 days.
"I would retain the contract basis and couple it with an exchange programme that will see our nurses and doctors secure jobs in other countries. With this, terms of employment will not be an issue," said Karanja.
Conflicting views on how to raise the local revenue base
On revenue collection, Kinyanjui came under fire as his opponents accused him of reducing the capacity of various revenue streams such as parking fees.
"Kinyanjui is doing away with parking spaces for non-motorized transport system which will reduce our revenues. We need to diversify our sources to include quarries and geothermal resources," said Munyua.
Karanja said the current streams of revenue would greatly improve if the county government was to sensitise the population and prove to them prudent utilisation of the revenue collected.
"We have underutilised revenue sources such as sand. My government will focus on empowering farmers to produce more which will translate to more cess paid to the county," said Mungai.
However, Kinyanjui said his administration had witnessed a sharp increase in revenue collection due to the automation of revenue collection. The county collected Sh2.28 billion in 2017/18 up from Sh1.96 billion in 2016/17, he said, adding that collections have increased since he took over.
He said if he gets elected for a second term, the local revenue will be much higher if members of the county and national assembly formulate legislation to allow the county to get a share of revenue generated from the Lake Nakuru National Park.
"Currently we are not getting a single penny from the national park. There is a need for a law to allow counties to benefit from such resources in the future," he said.
Water crisis in the county
On the acute water shortage that has been a major challenge to the residents of the new city, Kinyanjui said his administration may need the support of the national government to address the issue.
"We have drilled 50 boreholes in the last four months. Malewa dam project will serve Naivasha. We have made it a policy for every new building to harvest roof water before it can be opened for occupancy," he said.
As a county government, Nakuru has no funds to construct major dams but Kinyanjui is optimistic that with the help of the national government, the Itare Dam project which stalled due to corruption will be revived.
Mungai said the water shortage in the county was artificially created, adding that the county government had sufficient resources which can be invested in.
"I have a water master plan that will ensure there is sufficient water supply. I have people who are ready to invest in making this a reality in my first 100 days failure to which I will resign," said Munyua.
Agreement on tackling crime, but not on how to do it
On matters of security, ethnic clashes, and political intolerance, the candidates were in agreement that there was a need for deliberate measures by the national government to address the underlying issues.
"Security is not a devolved function but we are working together with the national government to address the issue of criminal gangs. My administration is investing in streetlights and CCTV systems," Kinyanjui said.
But Mungai said if elected his administration will hold the national government to account.
"We will ask the hard questions to those given the security docket to handle and at the same time address the underlying issues like unemployment and land conflicts to address insecurity," he said.
Munyua says his approach to insecurity will be different from the rest of the candidates. He says, if elected the next governor for Nakuru, he will avoid being reactionary and instead work on creating opportunities for the many unemployed youths. "We give opportunities to the unemployed youth by allowing them to access county resources. This will keep them busy and accord them less time to engage in crime," he said.
Karanja blamed the rising insecurity on leaders, some of whom he accused of associating with criminal gangs.
"Some of our leaders have given the criminal gangs a support base. It is like they have invested in the gangs," he said, adding that there is a need to empower the young people to stop them from joining such gangs.
Ethnicity and employment opportunities for all
Nakuru being a cosmopolitan county, the leaders agreed that it was important to ensure all ethnic communities are offered opportunities in the government.
While Kinyanjui revealed that his administration has been using the ethnic quota to ensure employment opportunities for all communities in the county, his opponents failed to effectively give concrete plans on how they will ensure inclusivity.
County pending bills and low funds absorption rate
Low budget implementation especially on development has been identified as an impediment to effective services.
For the past six financial years, the county's performance in the overall budget implementation was at an average of 65 per cent. The worst performance was in the financial year 2018/19 when the county spent only 55 per cent of its budget.
Chege, Munyua and Karanja took on Governor Kinyanjui on the low budget implementation and pending bill, saying such are reasons why Nakuru people have not realised the full potential of devolution.
"We cannot have money budgeted for returned to the national treasury due to failure to spend it on time. I will ensure proper budget planning and implementation."
Munyua said he will actively involve the public in the project they want to be initiated through public participation to avoid budget roll-overs.
Karanja said the issue of budget roll-over will be a thing of the past in his administration because he will ensure proper project planning and implementation within the set time.