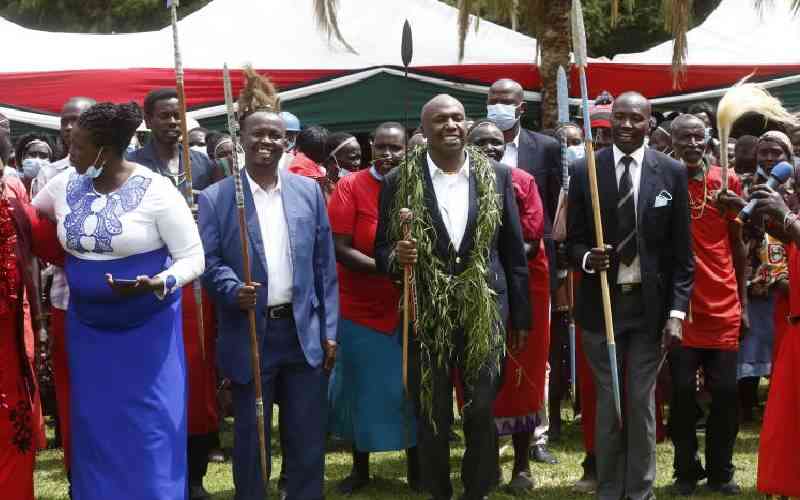 Kanu chairman Gideon Moi has launched his third bid for the Baringo senator seat in a colourful event at his Sacho home.
Local leaders and his supporters broke into song and dance as Gideon pledged to ensure that their interests were taken care of.
He was accompanied by Baringo Deputy Governor Jacob Chepkwony, Woman Representative Gladwell Cheruiyot, and Kabarak Vice-Chancellor Prof Henry Kiplagat among other leaders.
Before he outlined his agenda, a section of the excited dancers pulled him from his seat to join him in a traditional dance.
In their songs, they assured the senator of their support vowing not to replace him.
The residents warned those eyeing the senate seat that they were not ready to have anyone else other than Gideon.
Gideon, who is seeking to defend his seat for the third time, outlined his achievements, adding that he was ready to serve the people of Baringo for another term.
The senator said that he was just a servant ready to serve the locals. He said whatever he was doing at the national level, he has always put the interests of the Baringo people first and not himself.
"I am your servant and the work am doing with other leaders at the national level has everything to do with you not me," Gideon said.
He asked the residents to vote for him on August 9 General Election, vowing not to lead them astray.
Gideon said he is ready to endure the pain than have the locals suffer. To him, he said, the people of Baringo are not only voters but family.
"I am here to make sure you are safe and have your own to fight for you. You took care of me and I tried to give back. I am not boasting but telling the truth," he said.
He reiterated the need to be in government saying it is the only way residents stand to benefit.
He urged the residents not to be wooed to the opposition telling them being in government is sweet.
He added that though they were not in government, he managed to get one foot in and in less than a year, the residents are enjoying the fruits.
"I was not in government but God gave me a chance to set my foot in and in that one year, we have roads worth Sh8 billion. What happens if I am in government I will do wonders," he said.
He promised to have more youths employed and added that he does not have time to sleep as he plans and strategises on how his people will benefit.
He called on the residents to choose leaders wisely based on what they can do and urged them to offer him, leaders, he can sit down with and discuss their issues.
He said the third term is his springboard to a higher seat in the national government.
"We have a brave man. Were it not for you we would be nowhere. We know you have the key to this country. Open job opportunities and take care of our children. We had no power at Kibonjos but as we speak, the area is getting connected to the national grid," said Luka Tingos, a resident.
Boniface Kiplagat said Gideon is a loyal leader and promised to rally behind him.
Rodgers Kibowen said they will take care of Senator Gideon because of the network he has created and the work he has done.
"We will take care of you because of the network you created. You are our hero and we will not allow anyone harm you," he said.
Prof Kiplagat said Gideon is the eye of people of Baringo and no one should lie to them to shut him out.
Gladwell, besides drumming up support for the senator, called on the residents and all aspirants to conduct peaceful campaigns.
She urged the youth not agree to be used in causing chaos during and after elections.
Baringo Deputy Governor said Gideon has stood with the county government.
"He has initiated a number of projects and employed the youth. That's why I came here to say he is the man and we are supporting him," he said. "We are safe in his hands. Let's support him."