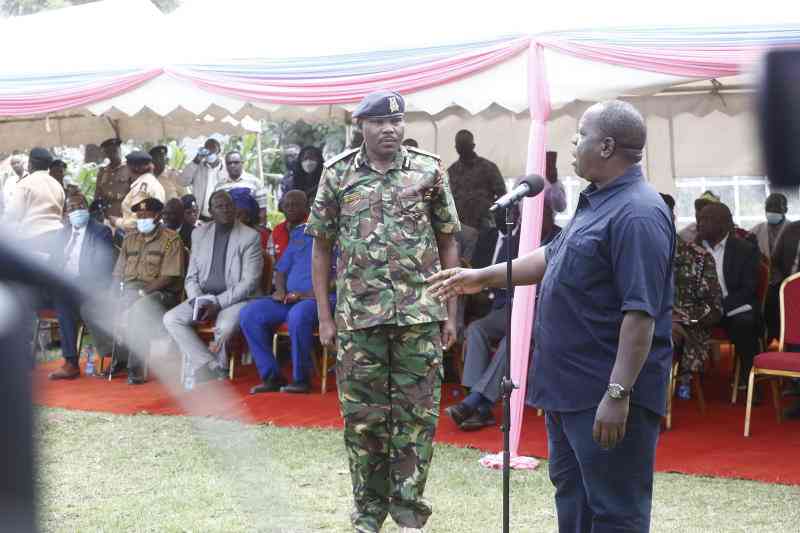 A full in-tray awaits the new Nakuru County Police Commander Peter Mwanzo as he comes to office at a time when there are heightened calls to tackle insecurity.
Peter Mwanzo, the immediate former Kasarani Sub-County Police Commander, was promoted in the new changes announced by Interior Cabinet Secretary Fred Matiang'i on Wednesday.
Mwanzo replaced Beatrice Kiraguri, who served the county for slightly over a year and has been promoted to the position of a deputy regional police commander in Nairobi.
The new county sheriff was moved to Nakuru following a spate of killings targeting women by suspected members of a criminal gang known as 'Confirm'. The group is also linked to drug trafficking.
"Mwanzo will not sleep. He has come to work. Those 'Confirm' criminals have called him here. We are here with Mwanzo to confirm that," said Matiang'i at a meeting in Bahati.
The first task given to Mr Mwanzo is to hunt down the criminals linked to the murder of three women in Mawanga Estate in separate incidents reported on June 15, June 21 and June 24.
"These criminals have made us appear like we are stupid. We shall deploy unprecedented fire and force. Let no one come to lecture me on human rights," said Matiang'i.
His statement telling activists to keep off the hunt for the criminals citing their absence and silence during the killings points to a looming radical operation to weed out the gangsters.
'Confirm' gang was declared a criminal gang by former Interior CS Joseph Nkaiserry through a gazette notice published on December 30, 2016.
Before switching to violent crimes, the gang swindled people via mobile money transfer services.
Several police bosses have been deployed to the county since the gang emerged, and it is one of the major reasons for the shakeup in the leadership of the county security committee.
In the past two months, Kiraguri led sting operations on the gang in Kivumbini and Bondeni slums of Nakuru East Sub County, forcing them to flee to Bahati and Nakuru West sub-counties. A day before the changes, Rift Valley Regional Commissioner Mohamed Maalim paraded a cache of crude weapons and hundreds of mobile phones recovered from the gang.
In fighting the gang, Mwanzo will have to unravel claims that the gang is financed by politicians and suspected drug barons.
Nakuru Town East MP David Gikaria and his Nakuru Town West counterpart Samuel Arama were earlier this week quizzed by the Directorate of Criminal Investigations (DCI) over the gang.
Bahati MP Kimani Ngunjiri was expected to record a statement this week on his claims that some leaders were habouring the criminals in his constituency.
Focus is also on how the new police boss tackle mental health among his officers some of whom have been involved in crimes of passion recently.
Kiraguri had initiated tournaments among the officers and the various community groups as a way of enhancing community policing and reducing stress in the workforce.
Mwanzo is also expected to provide leadership in the crackdown on another gang that has been linked to at least eight robberies on homes and businesses in Subukia sub-county in the last one month.
Apart from fighting crime, Mwanzo will be required to ensure security during the election period.
Nakuru has been listed among hot spot likely to experience electoral instability in the run up to the elections. Molo, Njoro and Kuresoi are among areas that were worst affected by the 2007 post-election violence.
"We are heading to an election and we must ensure our people will live and vote and receive elections results with their security guaranteed," Maalim said.
The county security team in partnership with the National Cohesion and Integration Commission has been at the forefront in peace campaigns along the volatile Nakuru-Narok border.
Meanwhile, the government has suspended leave and offs for all security personnel in the Rift Valley region.
Those on leave or off duty are required to return to work by Monday, said Rift Valley Regional Commissioner Mohamed Maalim yesterday.
"No regional commissioner, county commissioner and or their deputies, chief, and their assistant will be allowed to go on leave and or off until we are sure the security issue is dealt with and go to the elections peacefully," said Maalim.
Maalim held a meeting with the National Government Administrative Officers, Nakuru County Commissioner, Deputy County Commissioners, Assistant County Commissioners, 140 chiefs, and 290 assistant chiefs at Rift Valley Institute Science and Technology.
He said the decision will be reviewed after the elections and upon assessing the security situation in the area.
The Inspector-General of Police, he said, has sent a circular recalling all the police officers. Maalim said the taxpayer must have value for their money and their lives and property must be protected.
The regional commissioner met chiefs and their assistants from Nakuru yesterday. He said as security personnel they have a duty to safeguard the people and prevent crime .
He questioned why criminals continue to terrorise the people yet the government's arm extends to the village elders and Nyumba Kumi.
"We are the most extensive arm of the government, from the regional commissioner, and county commissioner, to the chiefs, their assistants and even village elders. We have been asked why people are being terrorised when we all over to represent the government," he said.