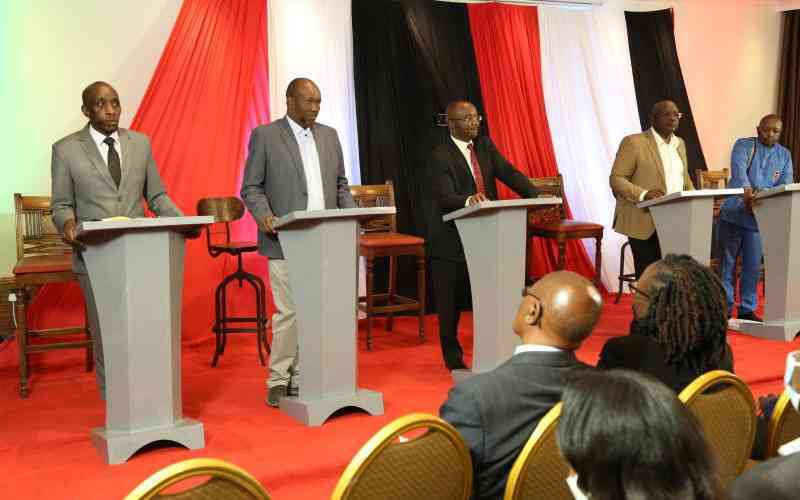 Voters in Nakuru County were on Sunday night granted the opportunity to interrogate and get an inside view of how some of the six candidates eyeing the governor seat planned to run the county if elected.
The debate hosted by KTN News in Nakuru also presented a chance for the candidates to outline their agenda and strategies for addressing the various challenges facing the constituents.
Incumbent governor Mr Lee Kinyanjui, Dr Stanely Karanja, former Nakuru senator Mr James Kiarie, Mr Munyua Waiyaki and Mr Elijah Chege participated in the debate.
Nakuru Senator Ms Susan Kihika snubbed the debate.
Mr Kinyanjui and Mr Kiarie withstood an onslaught from other candidates who accused them of doing little for the county during their tenures in their respective offices.
Mr Munyua, Mr Chege and Mr Karanja scored big from the debate, as Mr Kinyanjui and Mr Kiarie managed modest stakes through their well-calculated responses to questions.
Issues of health, water, revenue, prudence, resource utilisation, and security stood out as concerns by the residents in a county with nearly Sh20 billion annual budget.
The candidates delved into terms of hiring health workers, each avoiding making ambitious promises to the vital workforce serving tens of thousands of patients daily.
After taking office in 2017, Kinyanjui's administration conducted an audit on the workforce and embarked on hiring workers on a contract basis.
"Hiring workers on contracts is now a global practice for sustained productivity. We gave contracts on a promise of permanent jobs after serving satisfactorily for two years," said Mr Kinyanjui.
He said the mode' helped reduce industrial action by health workers, ensuring continuous service delivery to the residents and visitors from the neighbouring counties.
Mr Kiarie said his administration would offer permanent jobs, to be based on experience and age, to guarantee the workers their social growth. "I will ensure they get the right payments on time. The high number of pharmacies in Nakuru points to their struggle to make an extra coin," said Mr Kiarie.
Mr Munyua said his would conduct audit to establish the number of trained health workers locally and absorb them in understaffed facilities. "I will retain the contract basis and couple it with an exchange programme that will see our nurses and doctors secure jobs in other countries. With this, terms of employment will not be an issue," said Mr Karanja.
On revenue collection, Mr Kinyanjui came under fire as his opponents accused him of reducing the capacity of various revenue streams. "Kinyanjui is doing away with parking spaces for a non-motorised transport system, which will reduce revenue. We need to diversify our sources to include quarries and geothermal resources," said Mr Munyua.
Mr Karanja said the current streams of revenue would greatly improve if the county government sensitizes the population and proves to them prudent utilisation of collections. "We have underutilised revenue sources such as sand. My government will focus on empowering farmers to produce more, which will translate to more cess paid to the county," said Mr Kiarie.
Mr Kinyanjui said the county had witnessed sharp growth in revenue collection through automation, adding that there was need for legislation to allow counties to get a share of revenue generated from local national parks. "We have drilled 50 boreholes in the last four months. Malewa dam project will serve Naivasha. We have made it a policy for every new building to harvest roof water before it can be occupied," he said.
Mr Kiarie said water shortage was artificially created, since the county has sufficient resources.
"I have a water master-plan that will ensure there is sufficient water supply. I have people who are ready to invest in making this a reality in my first 100 days failure to which I will resign," said Munyua.
On matters of security and ethnic and political intolerance, the candidates were in agreement that there was a need for deliberate measures by the national government to address the underlying issues.
"As a county, we can only address the issue of security by cooperating with the national government since this is not a devolved function. In conjunction with the national government, we should go for the cause and not be reactive to security issues," said Kinyanjui.