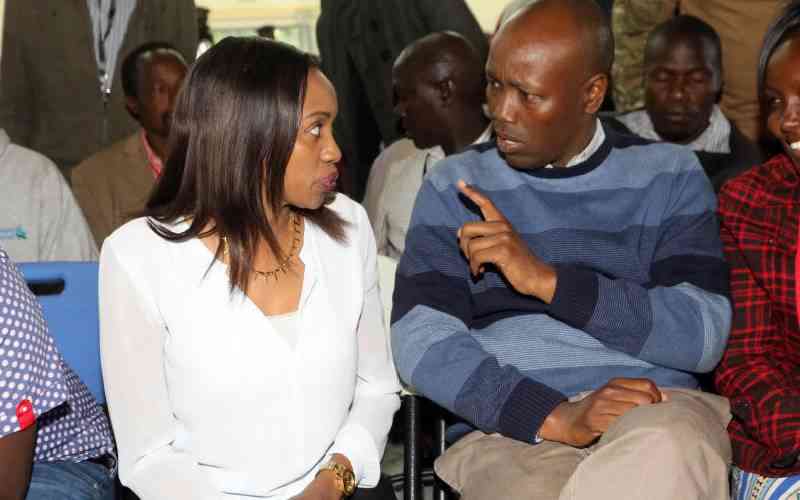 Six candidates have thrown their hats into the ring for the Nakuru governor's seat currently held by Governor Lee Kinyanjui, who is seeking a second term in office.
With the devolved units clocking 10 years since their establishment, Kenyans now know their roles on development and service delivery at the grassroots.
Other candidates in the race are Senator Susan Kihika, her predecessor James Mungai, Munyua Waiyaki and Stanley Karanja who have intensified their campaigns.
The Standard will host the candidates for a governorship debate today at Midlands Hotel in partnership with the civil society.
The partners include Midrift Hurinet, Centre for Enhancing Democracy and Good Governance, Centre for Transformational Leadership and Ashley's Events.
While the candidates are giving their own promises, the electorate have their own expectations from them.
Nakuru Business Association Chairperson Mwangi Muchemi says various sub-sectors have come up with a memorandum that they will present to the winning candidate.
Core in the memorandum is their involvement in county committees making decisions touching on economic development and any other operation that may affect their businesses.
"We expect the person who will be elected to allow our voices to be heard before they make any decision touching on any economic activity. We want to be part of the solutions," said Muchemi.
Muchemi said they expect the governor will not embrace confrontational approach in the event of differences between the county government and the traders.
"We expect the governor will seek to solve problems amicably without taking a hard line stance that may lead to bad blood between the business community and the county government," he said.
Farmers have also set their expectations of the next county government high, including supply of subsidised farm inputs whose prices have skyrocketed in the past one year.
John Njoroge, a farmer in Kuresoi North, said they are looking forward to a subsidy programme for farm inputs, especially fertiliser, during all planting seasons.
"We need an administration that will prioritise the subsidy programme. It should be budgeted for to lower the cost of production if we are to continue with agribusiness," he said.
Alice Chepkorir, a farmer in Kuresoi South, said they are hopeful the county government will bring in investors to set up value addition factories for their farm produce.
"Adding value to our produce locally is the only way to save farmers from the current exploitation by middlemen. The administration must attract investors to set shop in Nakuru," said Chepkorir.
Peter Cheruiyot, a resident of Rongai Constituency, says connecting their homes with water supply will have solved a majority of the challenges facing them currently.
Cheruiyot singled out the stalled Sh34 billion Itare Dam project, which was to serve over 800,000 households spread across Kuresoi, Molo, Njoro, Rongai and Nakuru City.
"We expect that the governor will engage the national government to ensure the project is completed and begin to serve the people who were banking on its water for domestic and irrigation purposes," said Cheruiyot.
Similar sentiments have been made by residents of Naivasha Municipality, where most natural water sources have high levels of fluoride, causing damage on their teeth.
The tourism and hospitality sector has also placed high hopes on the next administration to revamp the sector, which took a beating from the Covid-19 as the country experiences another wave.
Nakuru Tourism Association Chairperson David Mwangi said the governor should encourage more of domestic tourism, which he said supports them the most.
Mwangi said most Nakuru hotels are occupied by locals as opposed to foreign tourists on whom both levels of government have been laying more emphasis.
"It is only logical if we focus on what brings more resources to the sector and help it grow. Domestic tourists make up the biggest percentage of clients subscribing to our services," said Mwangi.
He said in 2019, Kenya received two million foreign tourists, translating to 5,700 visitors per day, the highest ever.
"If all the visitors were to come to Nakuru, they would occupy only half of our 11,000-bed-capacity hotels in the county alone. This means the local market should be the main target if we are to grow the sector," he said.
Mwangi said there is a need for the county government to come up with a working strategy that will encourage use of the available facilities optimally.