Will independent candidates spoil election party for UDA in Baringo?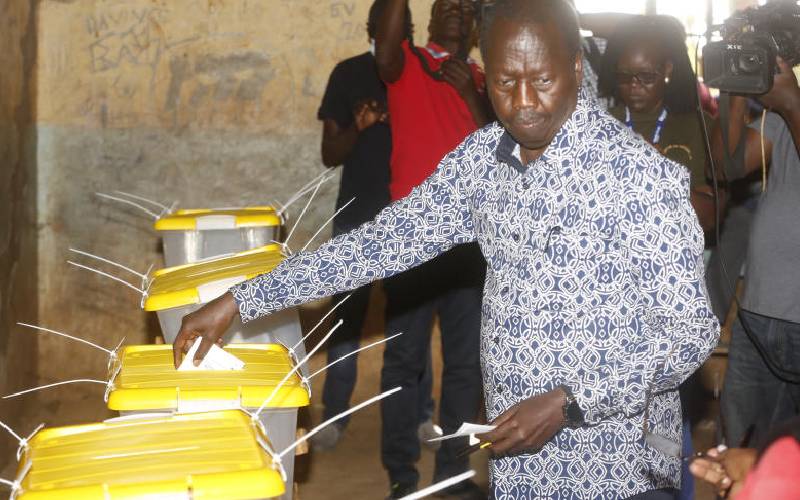 The shambolic United Democratic Alliance (UDA) party primaries may return to haunt Deputy President William Ruto in Baringo County where losers have decided to contest the governorship as independent candidates.
The governorship campaigns in the county have reached the what-if point of the election cycle.
Having lost in the April party primaries, Governor Stanley Kiptis and Eldama Ravine MP Moses Lessonet vowed not to back down.
Mr Kiptis, who is seeking a second term, disputed the outcome of the primaries after he lost to Benjamin Cheboi, his predecessor, who managed to get 45,866 votes to fly the party's flag.
Kiptis came third with 25,976 votes and Lessonet was second with 33, 588. But the duo has decided to soldier on and have a second bite of the cherry as independent candidates.
Mr Lessonet is completing his third term as Eldama Ravine MP and feels that his next political step is to become the governor of Baringo County.
He has made it clear to everyone who cares to listen, including UDA presidential candidate's deputy running mate Rigathi Gachagua, that he is determined to try his luck on the ballot come what may.
Gachagua had urged Kiptis and Lessonet to shelve the idea of vying as Independents and support Cheboi and they would be given jobs in Ruto's government if he wins the August elections.
He noted that the duo could play other roles outside the governorship position they were seeking. He also warned that when the window for negotiations closes, it would be too late for them to get appointments in the Ruto government.
"You still have time to make a decision. The time to engage William Ruto and me is now. But once you defy party and fail you will not be engaged," he added.
To shore up his chances for a second term as the county chief, Kiptis has managed to convince Richard Koech to drop his ambition for the governorship race and instead join him as a running mate.
Mr Koech, a former Baringo County Assembly Clerk, had been given the nod by the Isaac Ruto-led Chama Cha Mashinani (CCM) to fly its flag at the polls.
His choice for Koech as his running mate is informed by the clout the former clerk commands in the county after he led members of the county assembly to reject the Building Bridges Initiative (Constitutional Amendment) Bill 2020.
Koech hails from the populous Baringo Central constituency that is considered the political nerve centre of the county and mostly influences the voting pattern in the governorship contest.
Lessonet settled for Isaac Chebon also from Baringo Central Constituency which had the second-largest registered voters at 38,388.
Eldama Ravine Constituency where Lessonet comes from has the highest number of registered voters at 54,742.
His camp received a major boost when Sialo Kimiring, a businessman, who was also eyeing the governorship dropped his ambitions and threw his weight behind Lessonet.
The lawmaker is still bitter with how the UDA party conducted the primaries saying it was important for the people of Baringo to make a decision about who should be their next governor.
Lessonet is banking on his 15 years of experience as an MP which he says has prepared him for the governorship.
"I understand well what it means for people to have money in their pockets. I have demonstrated that I am committed to serving and doing things beyond National Government-Constituency Development Funds," he says.
Kiptis on the other hand says he is yet to fulfill his promise to the people of Baringo which is why he has chosen to contest as an independent candidate.
Elected in 2017 on transformational agenda, Kiptis says he is not yet done with what he started in Baringo citing the promise he made to ensure 60 per cent of the residents have access to clean drinking water.
In June 2020, his administration commissioned a Sh60 million water drilling equipment. So far, the county has sunk several boreholes in different wards.
Cheboi says he is back to restore the county's lost glory. On top of his priority list is the return of Artificial Insemination and extension officers by September if elected.
He noted that during his time the officers were there and he plans to work with the national government to ensure water from Chemususu dam is distributed to deserving residents.
He noted that the milk processing plant in Eldama Ravine will be up in 90 days if he is elected.
He said the county is rich and only the right government will see it realise its full potential.
Charles Kipkulei a political commentator says clans and regional politics are likely to play a major role in the campaigns for the governor seat.
All three candidates hail from Eldama Ravine, which has in the past two general elections dictated who becomes governor.
While Lessonet is from Lembus clan, Cheboi and Kiptis are from the Arror clan.
Kipkulei observes that the Arror clan is the most disciplined and usually votes as a bloc. He noted that the clan is a major factor in determining who the next governor will be.
"Kiptis and Cheboi originally came from Baringo North but they have lived in Eldama Ravine, they still command the Arror votes. They can also get significant support from the Lembus," he said.
"Another factor at play is the political party. UDA is popular in Baringo and hence it will be very tricky for the independent candidates to pull a surprise on August 9," says Mr Kipkulei.
The three candidates, he noted, have picked running mates from Baringo Central all coming from the Kerio Valley belt.
Professor Isaiah Cherutich also an analyst says the UDA wave in Rift Valley will play a big role in determining who will be elected as governor.
Cherutich, a senior lecturer of Communication and media trainer at the United States International University says the candidate's development track record will also determine who becomes the next governor of Baringo.