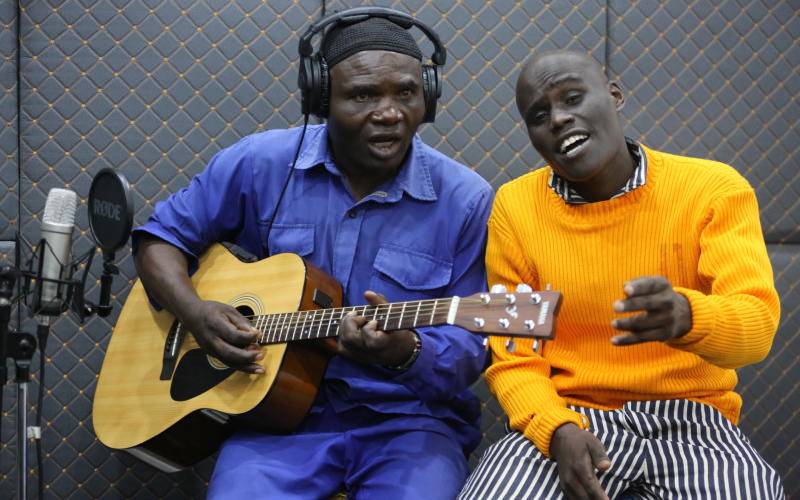 For Stephen Makhoha from Trans Nzoia, Kelvin Juma from Turbo, Uasin Gishu and Samuel Korir from West Pokot among others, Eldoret Main Prison has been more than just a correctional facility.
It has been the theatre where they discovered and nurtured their musical talents; an arena where they practice and entertain other inmates.
From rapping to dancing and playing musical instruments, the convicts electrify Eldoret Main GK Prison every mid-morning and afternoon as they practice their new compositions.
They are hopeful of a meaningful and law-abiding life after serving their full terms in prison.
In jail, they are known by their fellow convicts and prison bosses as the singing prisoners. They sing about the offences that got them arrested and landed them in jail and also about life behind bars, and they hope to use the music to inspire people, especially the youth to stay away from crime.
Makhoha, 57, is the oldest of them all and is their guitarist.
The father of 10 - two girls and eight boys - was arrested in 1999 on suspicion of being part of a six-man gang that was involved in a robbery with violence incident in Kitale town, and was convicted in 2000.
The prison inmates recorded their various compositions in a studio in Eldoret courtesy of a well-wisher.
Makhoha has composed a song titled Tamaa (greed), which explains how he found himself in prison.
He was handed a life sentence but hopes that one day, he will walk out of the prison gates a free man, to continue his music career.
"I have been in prison for 22 years because of greed. I wanted to be rich and have a lot of money. But while I was in prison, I reflected on my life and decided to tell my story through music because I want to inspire other people to avoid crime.. I long to go home to meet my family," Makhoha says after an enthralling performance at the prison.
He continued: "My children often come to prison to check on me. Almost all of them are married now, and I want to, one day, surprise them with a rendition."
Makhoha helps young music talents at the correctional facility play the guitar as they perform for other prisoners and prison officers.
For instance, when Allan Chirchir, 25, who is jailed at the Eldoret Main Prison for defilement produces an enchanting performance of his song titled Jela ni Mbaya (prison is not the best of places), Makhoha steps in with his guitar as the former sings. Chrichir, who hails from Cheptiret in Uasin Gishu, is serving a life sentence.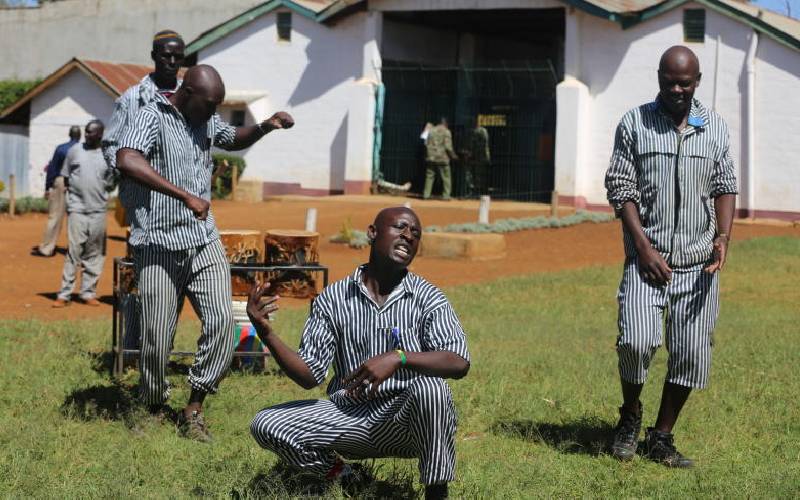 Kelvin Juma, who is serving 15 years for robbery, wants to wow Turbo residents with his rap piece titled Barua (letter) which asks youth to desist from crime.
A youthful Juma says when he was convicted in 2016, he felt idle most of the time in prison, where he was equipped with carpentry skills.
Talented rapper
"I found enough time to think about my future. In the process, I discovered that I was a talented rapper and musician," Juma says.
Juma flawlessly raps alongside David Wekesa and Samuel Korir to the amusement of other inmates.
A troop of six rappers entertained other prisoners and wardens with titles such as Wrong Number and Niko Innocent (I am Innocent).
After Barua, they smoothly switch to Korir's Chapa Kazi (work hard). Korir, 27, from West Pokot County has been in jail since 2019 for using banned substances.
Officer in charge of Eldoret Main Prison Barnabas Keino says the music will be marketed, and the proceeds will be given out to musical inmates, to venture into business after their release from the correctional facility.
"We do talent development within the prison. After serving their jail terms, they will be released back to society as rehabilitated persons," the officer says.