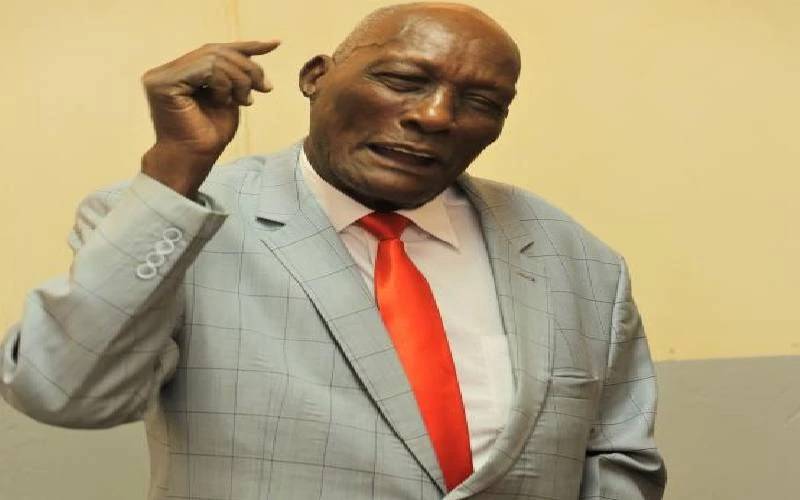 The late prominent farmer and politician Jackson Kibor's intrigues and surprises played out posthumously as his final will was read out yesterday.
Family members present during the reading of the will at a hotel in Eldoret town said Kibor, popularly referred to as chairman of the men's conference, shared his wealth equitably with his wives.
Kibor died March 17 aged 88 at St Luke's Orthopaedic and Trauma Hospital in Eldoret after battling Covid-19-related complications for two years.
Twenty-six of the late Kibor's children and three wives were either present or represented by their lawyers during the reading at Sirikwa Hotel.
His youngest wife, Eunita Chelimo, had complained late last month alleging a plot to disinherit her of the multi-million shillings property left behind by Kibor. The family said it agreed with the will "to a certain extent" and that disgruntled family members were free to seek legal redress.
The late Kibor's firstborn son, Philip Kibor, said his father surprisingly had properties that were unknown to a majority of them.
The late Kibor's properties were shared among his wives and children, but he shocked his family when he gave a grandson - Philip's son, a share of his wealth.
Kipchirchir Kibor was the only lucky grandson in the will, which was described as elaborate and which was written in February last year.
Philip said the will read out by a team of lawyers led by Wilson Kalya revealed that the late Kibor had 5,000 acres of land spread across rural Uasin Gishu and Trans Nzoia, as well as plots in Eldoret town.
He said Kibor appointed a Mr Bundotich, as executor of the will.
"We have agreed to a certain extent and I think everybody will go and think about it as the lawyers file probate. The will was typical of mzee (Kibor) and those of course who will not be happy with his will have a free hand to go and contest in a court of law," said Philip.
"We also have another window for clan elders to arbitrate if there will be any dispute," he added. Philip was accompanied by Eunita's son Reuben Kibor to the reading that took hours.
He did not reveal what each family member received from his late father's estate, only indicating that it was a confirmation of what his late father had pronounced during a family meeting one month before his demise.
During the family meeting in February, the family said hours before he breathed his last, Kibor announced that he had given all his sons 200 acres each and 100 acres each to his daughters.
The names of Albert Kibor and Joseph Misoi, the two men who had moved to court seeking to be recognised as the late Kibor's legitimate children and to be allowed to participate in the funeral plans of Kibor resurfaced in the will.
Philip said one of the two men received inheritance from the late Kibor. He, however, did not indicate who between them received a share of Kibor's wealth.
"Most of the properties have gone to his children; those are in and without the house. Generally, there is nothing new. The status quo has remained," Philip said.
He added that family members will meet to deliberate on the will.
He also noted that his siblings who were out of the country during the reading followed the meeting through a video link.
"There might or might not be people who are not contented. This was a confirmation of what Mzee had previously told us. There were a few things that had been added to what he had told us earlier," the firstborn son said.
On the recent allegation by his father's youngest wife Eunita about a disinheritance plot, Philip said the matter was addressed by the family's legal team, during the reading of the will.
"Her issues were addressed comprehensively. It is for her to say it. I think her house is okay. The wealth was divided according to the wives' houses. It is up to your mother and siblings to see if they can go about the sub-divisions (of land)," he explained.
He said his late father balanced his wealth based on the value of his properties.