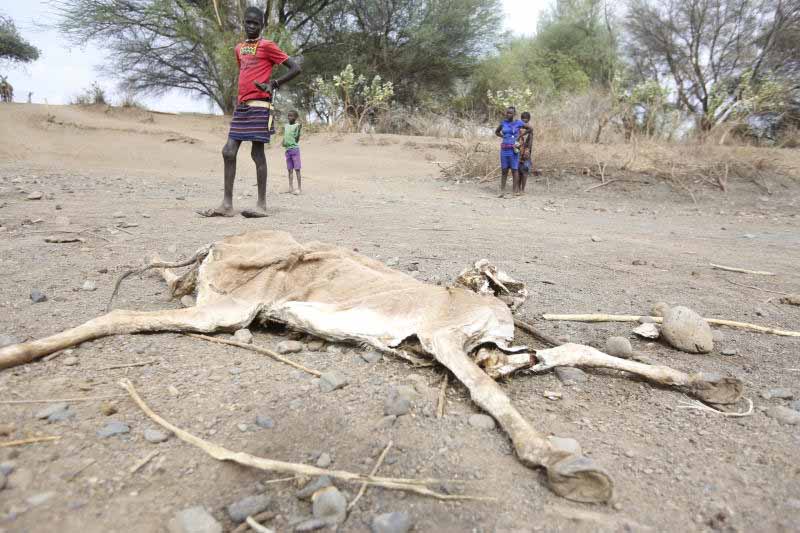 A whirlwind erupts, cutting its way through the dried-up shrubs near Katikit watering hole in Tiaty, as herders scurry to shelter under the few lone leafless trees. Katikit is the only borehole here. It is possibly the only place where livestock can be seen gathered, and one would be forgiven for mistaking it for a market. "I come from Laikipia. I had moved there because pasture is plenty, but due to the ongoing security operations, I left with my cattle. Police officers there are killing livestock," says Mr Simon Pkiyeny.
"I can bear seeing the animals die of hunger, but not being shot dead by police," says Mr Pkiyeny, as he tries to support one of his emaciated cows seemingly overwhelmed by the long wait for its turn to quench its thirst.
A messy cocktail of confusion, impatience and anxiety is evident in the faces of tens of herders that keep running up and down trying to control hundreds of their livestock waiting to drink water. Women and children are in this same mix, struggling to scoop the little water. "I have been here for the last two hours. I do not know when my turn to get water will be," Mr Chepo Semjo says.
Villages in this constituency have been hit hard by persistent drought, making even the most basic of commodities unavailable. Months of no rains have led to the drying of water pans, as rivers and taps at boreholes run dry. Several animals have died, making herders to migrate in search of pasture and water, in the process fuelling conflict among communities.
At Akwitchatis village animal carcasses are strewed all over, rotting beneath the scorching sun.
The livestock, their only source of livelihood, are dropping dead day by day, worsening the situation.
"I have lost 11 cows. The remaining are very weak. We all risk perishing if it does not rain," Mr Nyagatiang' Sigayang tells The Standard.
The village has only one functional solar-powered borehole, but it is equally insufficient for the locals, as humans and animals always fight for a share of its content.
So high is the demand for water that the storage tank hardly ever gets a drop. The population depending on the single borehole is so big that one is sometimes forced to wait an entire day to access 20 litres of water.
Not many are patient enough to wait that long, and without a guarantee that they will return home with some water, even if not potable. They have sought alternatives, digging through random spaces on an already dried-up riverbed at River Akwitchatis to search for water.
"You have seen all these dugouts. I am the one who dug them without success. It is not a guarantee that when you dig you get water... I dug at least four without reaching water, but for this one, I am lucky at least there is hope," said Mr Hassan Lomunyoteba.
A stone's throw away, James Kukat is at the top of one of the few trees that have withstood the scorching sun. He cuts the tree's branches for his cows to feed on. "I have nothing to feed them; only these trees. I do not know for how long I will be doing this, because the trees are becoming fewer," says Mr Kukat.
At the Merkalei water pan in Silale Ward, we find unguarded camels starring at an already dried-up source. Being constantly on the move, they must have left plenty of water the last time they passed through this place. This time, however, not even a drop can be seen beyond the visible dry sand.
Over 20km
"We have gone without water for three months. We trek more than 20km to fetch water at Nginynag. Some people have moved to other places. Livestock have died. We may also follow suit. We need more boreholes, and the existing ones can be improved by adding more solar panels and replacing them with larger pipes," Ms Emily Kigei, a resident, says.
In February, the Kenya Food Security Steering Group annual Short Rains Assessment report showed that there are around 3.1 million food-insecure people in pastoral and marginal agricultural areas, a 48 per cent increase since August 2021.
According to the United Nations, up to 20 million people in Ethiopia, Kenya, Somalia and Eritrea will need water and food assistance through mid-2022 due to drought, insecurity, economic challenges, and conflict.
Mr Paul Lotudo, a Pokot elder, accuses the government of slow response when addressing disasters in the region.
In April last year the government, through Spokesperson Col (Rtd) Cyrus Oguna announced to have set aside a provisional budget of Sh2.282 billion for the provision of relief assistance to 1.4 million Kenyans affected by drought across the country. That may have been a drop in the ocean, as the drought situation in this part of the country is dire.
Mr Jackson Kinyanjui, founder of Climate Change Kenya organisation and an expert in agricultural meteorology and climate change, says when there is scarcity of water and pasture, insecurity cases tend to go up, especially in the North Rift region, as communities fight for the scarce commodity.
While residents are battling acute shortage of water, the unnerving insecurity cases aggravate the situation.
In Mochongoi Ward in the neighbouring Baringo South Constituency, at least eight people, among them an inspector of police, have been killed by armed men believed to be herders from Tiaty. This has happened in a span of one month.
The same is the cases in Laikipia, Baringo North along the Kerio Valley in Elgeiyo Marakwet County; Turkana and other areas bordering Tiaty Constituency that armed herders and their cattle have occupied, displacing, killing and maiming locals, besides stealing their livestock.
The banditry menace in the region has claimed dozens of lives over the years, while hundreds of cattle have been stolen.
According to the Kenya National Commission on Human Rights, 2018 report dubbed 'Public Inquiry on Insecurity and its Impact on the Enjoyment of Fundamental Human Rights in the North Rift Region', at least 573 people were killed in the North Rift region between 2005 and 2015. Another 1,752 were injured and 589 houses burnt during cattle rustling incidents.
The report also stated that 20,013 livestock were stolen from Turkana South sub-County and West Pokot County in the same period.
Owing to insecurity, the numbers may have doubled by now.
Mr Julius Akeno, a Pokot professional and author of Patrons of Wild Suguta Valley book, says the situation in Tiaty is worsening every year. He appeals for concerted effort from state and non-state stakeholders in finding a lasting solution.
"Government and experts should visit Tiaty and find out what is causing herders to move to other areas. I personally think climate change has affected the area heavily in a different way. Some years ago, when I was a boy, the area had plenty of grass. But currently, even if it rains, nothing grows. Grass has been replaced by same invasive vegetation, save for the hilly areas of Silale and Pakka," says Mr Akeno.
He says uncontrolled livestock keeping and collapse of grazing patterns in the community have heavily contributed to overgrazing, making herders to move to other areas.
"Due to the recurrent drought as a result of climate change, pasture seeds have depleted in the soil. Also, some years back the community used to set aside some parts for grazing only during the dry season for the area to regenerate. That is no longer happening. That's why you see herders moving out of Tiaty, causing conflicts," he added.
Every year when drought hits the North Rift region around the same time, banditry intensifies.
Locals say it has been a cruel cycle, and that if the government does not find a lasting solution, the local community may be wiped out.
"If the government wants to address issues of insecurity in North Rift, it should find a solution to address drought first," said Mr Kinyanjui.