Invasive weed threatens to undo success of tree planting campaign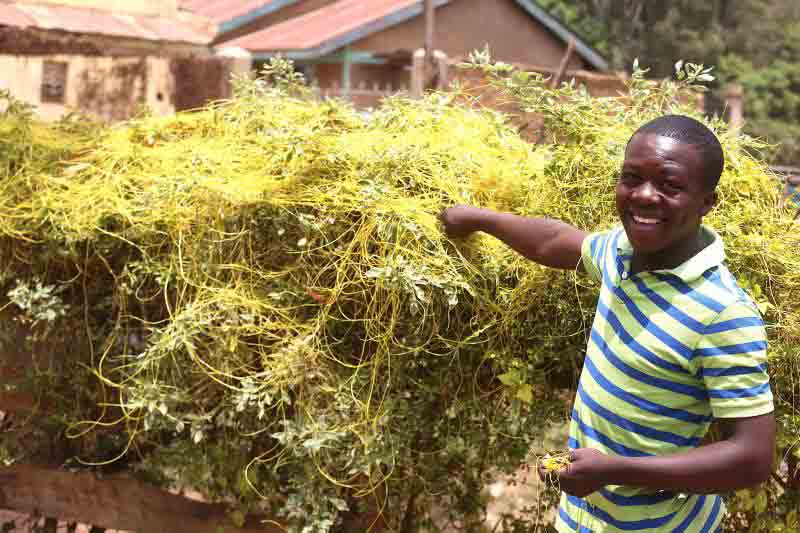 The government has started research to find a scientific method to eradicate a yellow parasitic weed killing trees and crops in parts of western Kenya and Rift Valley.
Field dodder, the aerial parasitic plant that invades and perches on host plants, has continued to spread rapidly in the region.
Scientists have likened the dreaded parasitic plant to the water hyacinth weed on Lake Victoria, which has become difficult to eradicate.
Francis Osia, a researcher at the Kenya Forestry Research Institute, said they were conducting studies that would help prevent the parasitic plant from spreading further in the expansive region.
"So far, there is no scientific method to eradicate the weed. People have been handpicking it as a temporary measure," said Mr Osia.
According to Mr Osia, the weed is propagated by birds and human beings through contaminated planting materials. "When the weed perches on the host plant, it injects it with a poisonous substance and starts forming a canopy that eventually suffocates the plant."
The researcher described the weed as dangerous and warned it could adversely affect the tree planting campaign that is meant to help the country achieve 10 per cent forest cover.
Residents whose hedges and trees have been destroyed by the weed are now calling on the government to find a lasting solution.