Where residents feed on poisonous wild fruits to keep hunger at bay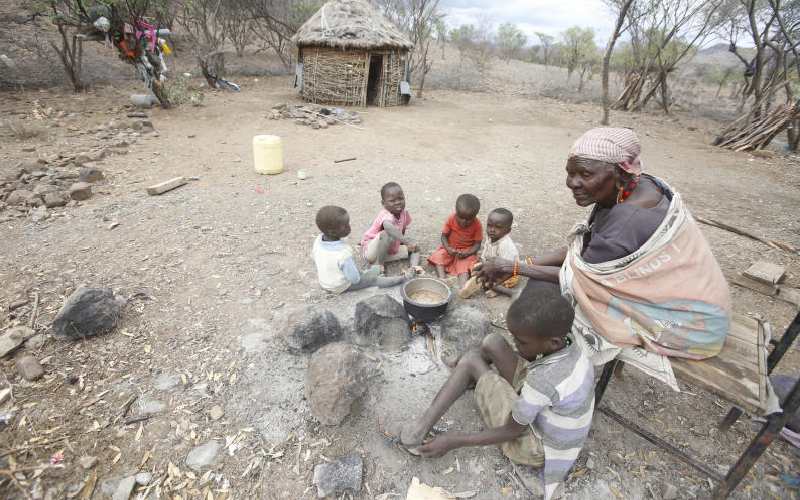 Chepartil Akoloris firmly tightens her grip on her walking stick to balance her frail, bent frame against the rocky path in Kadeli village in Ripkwo-Kositei ward in Tiaty Baringo County.
For the past two days, Chepartil is yet to eat any food, but worse, so are three children seemingly under six years, stealthily, following her every step.
They stop whenever Chepartil, their grandmother stops, constantly conversing in shy but hushed tones.
"They follow me everywhere. They are hungry. They need food. Their mothers fled and left them behind. The drought has worsened the situation," Chepartil says.
The last time the family had a decent meal, they say, was the previous week when the last goat in the homestead died.
It died as a result of drought. No greenery can be spotted, except for the Sorich, a wild, bitter poisonous fruit.
"The rains failed last year and we did not plant. The grass no longer grows and there is no water. Herders have moved their livestock across the border to Uganda in search of pasture and there is nothing left," Chepartil said.
And while pastoralists continue experiencing the impacts of drought and famine, pushing them to migrate in search of pasture, most of those left behind are the elderly, women and children.
Worsening the situation, teenage mothers fled their homes leaving behind young children with their aged parents.
"They run away when life becomes unbearable. Sometimes, the children become sick but there is no money to take them to the hospital. There is no food at school and they have to stay at home too," Chepartil said.
Among the three children Chepartil is taking care of, one of them, a girl, is suffering from hydrocephalus, also known as water in the brain.
"It has really affected her growth. At some point, we did a fundraiser and took her to the hospital but I have not been able to take her for follow-up check-ups because I do not have the money," she said.
But while the health of the child is at stake, Chepartil has to fend for the children. She collects firewood which she sells at a nearby centre ten kilometres from her home earning Sh50.
"On a lucky day, when I am strong, I gather and carry the firewood to the shopping centre to sell. If I get a seller, the children will eat," she adds.
And while Kasakon Akui, the eldest of the three children, should have started school, he is yet to since he has to look after the rest when their grandmother is away fending for them.
Akui also has to help source Sorich fruits and water alongside his grandmother.
The fruits are boiled for 24 hours to rid them of poison and bitterness, a duration that has taught most Pokot young children in Tiaty the power of patience and resilience.
While Chepartil cannot even guess where the mothers of the children are, Chebosumai Losute, despite her bent posture has to always wake up to carry her grandchild on her back as she fends for the family. Her other daughter also left behind two sons.
"These girls disappear and leave the children behind. They do not know what we go through to feed them. These children need food. Their fathers cannot help either," Chebosumai said.
Chebosumai's teenage daughter, also a mother, got pregnant last year and delivered. However, she had to leave the child behind with her mother so that she can go back to school.
But as the drought and famine rages, the grandmothers have to bear the brunt of fending for the families. The men have since migrated with livestock.
"The wild fruits are bitter and the children vomit a lot. It is very tough and we need assistance. The rains failed last year and the two rivers-Nginyang' and Kositei dried up," she said.
Although Member of County Assembly Daniel Tuwit said he has helped to register the grandmothers among the elderly to be considered for Older Persons Cash Transfer programme to ease the burden, they have never been considered.
"The sad thing is that these grandmothers who are now taking care of these vulnerable children have never even secured the money despite their ages qualifying them. Their names are registered but they have never been lucky," Tuwit said.
Tuwit said the aged, pregnant women and children are the most affected by drought and famine. Schools, he said, have also been affected as migrations affect attendance.
Paul Lotudo said besides famine and drought in Tiaty, an outbreak of diseases like malaria and diarrhea is rife as a result of a lack of clean drinking water. "This is becoming a cycle of calamities. If not floods, it is drought, famine and diseases. The health centres are scarce and we have to walk for up to 20 kilometers to access them. Both governments have to work together to improve living standards in this area," Lotudo said.
Tiaty MP William Kamket said drought situation is worsening and although there has been a promise by the government to roll out a livestock offtake programme, it is yet to take off.
"The offtake programme is yet to take place and as a result of dwindling resources, it has sparked cases of insecurity even as the majority of herders are crossing over to the neighbouring countries," Kamket said.