Fear still stalks village months after armed raid left deep scars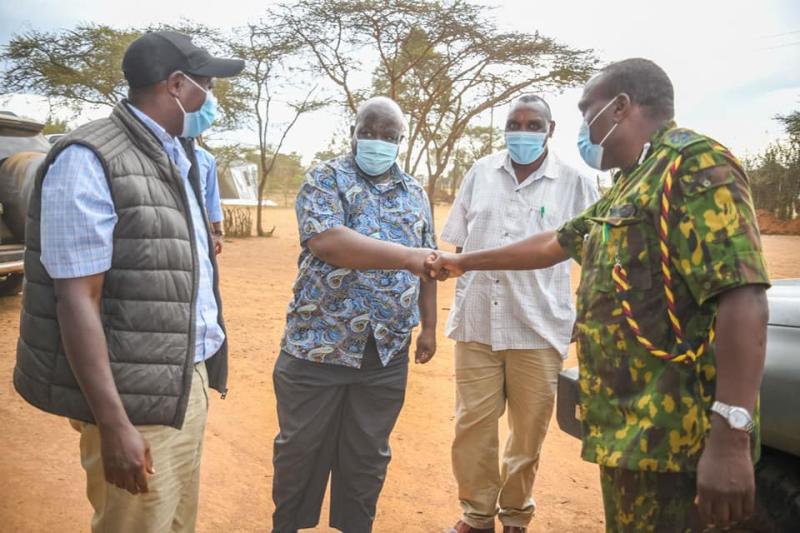 Staring at her daughter's grave, Veronicah Wawira could not help fight back tears.
Wawira, just like other residents of Kisii Ndogo village in Ol Moran, Laikipia County, still recall events of August 4, 2021.
That day while having dinner, an armed gang raided her home and ordered her to surrender the keys to her cowshed.
And as she searched for the keys, one of the attackers shot at her daughter Jane Wanjiku on the head, killing her.
"They drove away my three sheep before fleeing while firing in the air. This was the most traumatising experience. How could they kill my only daughter just because they wanted to steal my sheep?" she posed.
That evening, 17 people were killed. Many residents have been forced to live with the scars six months later. Livestock worth millions of shillings were stolen and crops destroyed by ruthless gangs.
Insecurity in the region has been made worse by drought. Armed herders searching for water and pasture for their animals displace locals at will.
Jane Muthoni, a mother of five who has been camping at Ol Moran Catholic Church, said she lost her property to the bandits on the night of September 2.
"They stole my 32 sheep and later burnt my house. I have been forced to seek shelter here with my children. They cannot go to school as a result," she said.
Muthoni said she could not go back to her three-acre farm at Survey area unless assured of her security.
"I better stay here where I am safe than risk the lives of my children and myself," she added.
Her case is similar to that of Joseph Towett who has since rented a house at Kinamba trading centre.
Towett, a resident of Kamwenje area, said bandits accosted him in broad daylight as he was grazing 45 cows.
"I watched as they drove them away. Since then, I vowed never to return there until peace was restored," he told The Standard.
Jennifer Nyaguthii, who lost her brother at Wangwachi, says she has been living at Sipili trading center with her two kids as a result of the attacks.
"I used to work as a casual labourer to support my children. Right now, I am struggling to even pay house rent," she said.
At the Laikipia Nature and Conservancy, herders invaded the ranch, destroyed the electric fence, and settled there.
"This is the worst kind of impunity that I have witnessed. How can illegal grazers settle on your farm and yet there is a government in place? They have destroyed an electric fence I constructed two months ago. The government is yet to act," said the owner, Kukki Gallman.
Kukki said she has been forced to employ private security personnel to guard her property.
Githiga Ward MCA Peter Thomi claims the decision by the government to disarm police reservists made it easy for the herders to infiltrate the area. At least 90 police reservists in the region were disarmed two years ago.
"There is no single day that passes without livestock being stolen. Why would the government expose residents to criminals by taking away firearms from reservists who were protecting them? We want the government to explain this," he said.
Thomi claimed that in the last three weeks, more than 50 cattle have been stolen from Kamwenje and Matwiku areas, leaving one police officer injured.
"They have gone to an extent of stealing our livestock during the day. The government must come to the rescue of residents," he said.
Laikipia County Commissioner Joseph Kanyiri said police officers had been deployed to man the Laikipia-Baringo border.
"There is no reason to worry since more police officers have been deployed to the area last week. We will not expose the residents to criminals. The Baringo Laikipia border has been sealed by our officers,' he said. On Tuesday, Laikipia Governor Ndiritu Muriithi toured the volatile area and launched the construction of houses for hundreds of victims who had fled Ol Moran, Matwiku, Kisii Ndogo, Kamwenje and Survey areas.
He said the programme, being carried out in collaboration with the national government, would be completed in the next three months.
"We want to end this problem once and for all. Every community is welcomed in Laikipia and they should live in harmony. That is why we are partnering with the national government to resettle all the victims," he said.
With this assurance, residents are keeping hope alive that calm will return to the region so that they go on with their normal lives.