Panic as bandits launch attacks near schools and police stations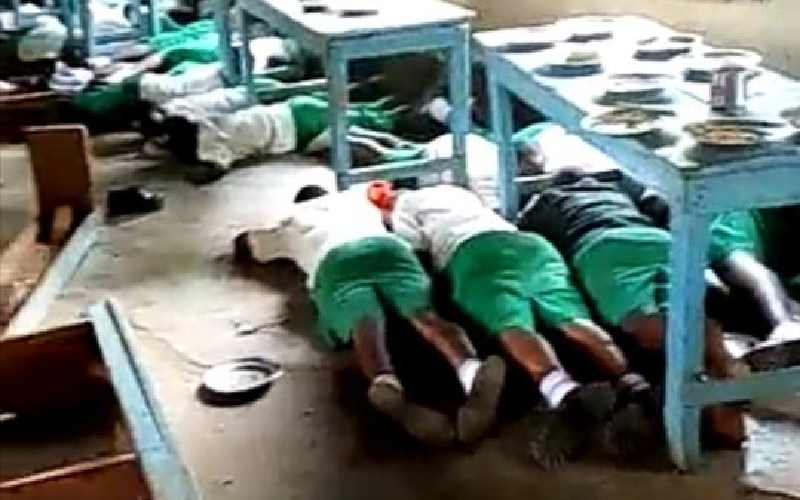 A series of attacks in several parts of Kerio Valley that left two people dead and one injured over the weekend have sent residents into panic amid fears that banditry is shifting from the grazing fields to populated areas.
The bandits launched an attack near St Benedict's Arror Girls Secondary School in Marakwet West sub-county, Elgeyo Marakwet County at about 1pm on Sunday. The school is barely a kilometre from Arror Police Station.
Students who were taking lunch in the dining hall reportedly scampered for safety.
School Principal Lucy Okumu said frightened students fled the school and hid in nearby thickets when they heard gunshots.
An online video clip of other girls cowering beneath tables to avoid stray bullets went viral, sparking a national uproar.
Authorities said the bandits had raided Chesuman area, near the girls' school, where they stole livestock and drove them towards Tiaty in the neighbouring Baringo County.
In the same region, Franklin Kibiwott, 18, was shot in another attack in Kapkobil, Marakwet East sub-county. The teenager died on Sunday evening while undergoing treatment at an Eldoret Hospital.
Marakwet East deputy County Commissioner Simon Osumba said the teenager was shot in the chest.
Osumba said Collins Kimaiyo, 19, who was with Kibiwott, sustained gunshot injuries, but was treated at Chesongoch Mission Hospital and discharged.
"Kibiwott was referred to Kapsowar Mission Hospital and then to the Moi Teaching and Referral Hospital, where he later succumbed to gunshot wounds," Osumba said.
Kibiwott's killing brings the death toll of the Kerio Valley attacks to 63, since June last year.
On Saturday, a 60-year-old herder was shot dead metres from Tot Sub-County Hospital, again not far from Tot Police station in Kerio Valley.
The victim's goats were stolen and driven towards Tiaty, according to government authorities.
The herder's body was taken to Tot Sub-county hospital's mortuary, which is near where he was killed.
Elgeyo Marakwet Deputy Governor Wisley Rotich condemned the attacks and asked President Uhuru Kenyatta to order a crackdown to end the killings.
He said students and government officers working in Kerio Valley were no longer feel safe after the killing of an agricultural officer last October.
He warned that the fatal shootings have degenerated into mass killings and asked the President to issue express orders to end the menace.
"What is happening in Kerio Valley is terrorism or genocide. No Kenyan has died of terrorism in the last few months, but more than 60 people have died of banditry in Kerio Valley alone.
"We are asking the President to declare the killings in Kerio Valley a terrorist attack so that highly trained anti-terrorism squads and more sophisticated weapons are deployed to help us track these terrorists," Rotich said.
When sought for comment, Elgeyo Marakwet Police Commander Patrick Lumumba said he was held up in a crisis meeting.