Families spend night in the cold after houses are demolished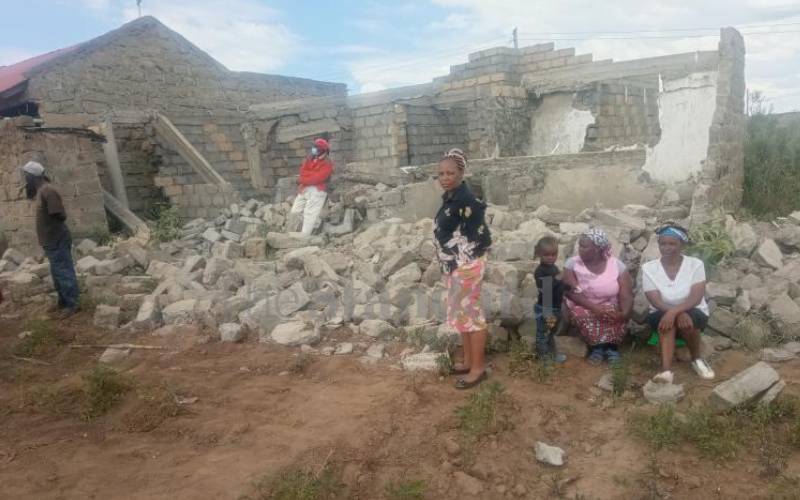 Scores of families were forced to spend the night in the cold after an investor who was backed by armed police officers demolished their houses in Kayole estate, Naivasha.
The families watched in disbelief as their homes were reduced to rubbles.
At the center of the dispute is a parcel of land that the owner claims a broker had been contracted to sell but failed to remit the money.
Lakeview MCA Simon Wanyoike Wanango blamed the landowner and security officers for the losses incurred, noting that there was a court order issued by the Environment and Lands Court in Nakuru on December 20, 2021, barring the evictions
Wanyoike said the court order had been served a day earlier. He accused them of defying the stay-order, which had stopped any demolition targeting the 84 families that had acquired the disputed land.
"This dispute started from 2005 and the owner claims the broker did not give her all the cash, while the broker claims to have settled all the dues," he said.
One of the victims, Mary Njoki, said that they had all the legal documents, which they acquired after buying the land from the broker.
She noted that she bought the land in 2005, and constructed her house without objection from the owner. "We don't owe the owner a single penny and we are asking the CS for Lands to intervene since some people want to oppress us," she said.
Bishop George Warui noted that the plots were bought by low-wage earners, who had used all their savings to construct the houses. He added that there were documents to prove that the current owners had paid all their dues and the owner received her share.