Serial killings of Molo River: Woman, son exhumed from shallow graves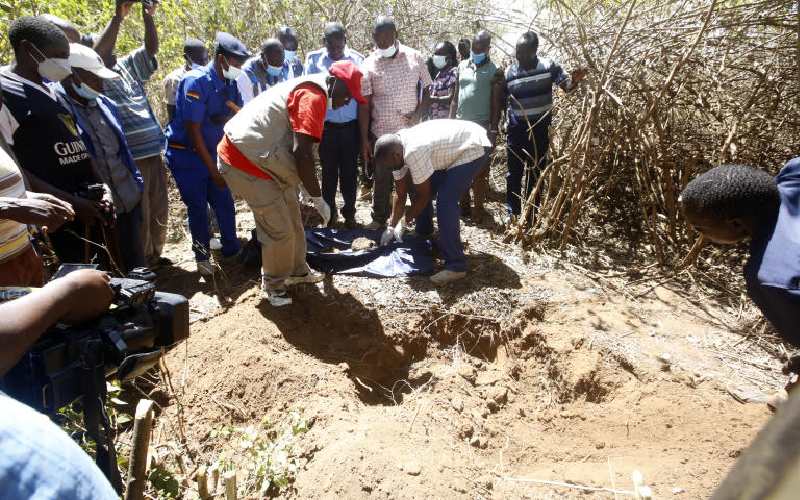 Residents of Mogotio in Baringo County are reeling in shock after learning that an area they had planned to set up a commercial tree seedbed had been secretly converted into a graveyard.
A self-confessed serial killer had between September and November killed and buried three people on the banks of Molo River, which drains its waters into Lake Baringo.
What police officers and residents had considered as a successful and calm ending to Christmas celebrations took a shocking twist that they had least expected when they discovered two shallow graves.
The suspect, Moses Kipchirchir Ruto, in his early 30s, led police officers to the crime scene after confessing to killing his wife, Purity Chebet, 24, and their one-and-a-half-year-old son only identified as Ezra.
The police arrived at the scene yesterday armed with jembes and shovels and exhumed Chebet's body, which had decomposed extensively in the two-feet deep grave.
"The suspect confessed to have strangled the woman to death. The body was buried with hands and legs tied to the back with a rope that was still intact," said Mogotio DCIO Luka Tumbo.
Shockingly, Chebet's body had been buried 10 metres from the scene where the suspect had on November 23 led police officers to exhume another body, that of a Nakuru businesswoman whom he claimed to have also killed.
Two kilometres downstream, the suspect showed police officers yet another grave where he said he had buried their son and planted three sisal plants on top.
Kipchirchir has been in police custody since November 13 when he was arrested over the murder of businesswoman Veronicah Kanini, 42, whom he allegedly abducted and killed on November 12.
The suspect's arrest was prompted by a discovery that money had been transferred from Kanini's phone to his, hours after she had made a distress call to her family.
Mr Tumbo said after the recovery of Kanini's remains, residents raised suspicion that the suspect could also have killed his estranged wife and son, reported missing months earlier.
"Chebet's family reported her and her son as missing in September. When he was linked to Kanini's murder, we started interrogating him on the disappearance of his family," said Tumbo. Chebet's elder brother Victor Rono said that his sister was married to the suspect in May 2018, but had never been formally introduced to their parents.
"We never met the suspect. He never visited our parents in Solai. We used to only speak by telephone. My sister came home after she was assaulted and returned after Kipchirchir was released from police custody," said Rono.
Rono explained that his last call with Chebet was in September 2021, only for him to later learn from residents that she had gone missing with her son. Thereafter, they reported their disappearance.
Tumbo explained that while in custody, the suspect confessed to killing his wife, with whom he had been involved in a domestic violence case that saw him jailed for a year.
"In November 2019, he cut Chebet on the head using a panga. He was taken to court on November 18, 2019, and charged with assault causing actual bodily harm. The charge was later changed to grievous harm," said Tumbo.
"He was on November 19, 2019, convicted and sentenced to one-year imprisonment. He was released from prison around March 2020 and returned to Mogotio," added Tumbo.
On his return, the suspect started working in local farms and had close ties with his other victim, Kanini, who sold seat covers at Mogotio market.
During the period, Tumbo said, the suspect and his wife were not in good terms. "He forcibly took the son away from Chebet, who reported the matter to the police. When he learned about it, he lured her for a physical meeting to discuss the matter," said Tumbo.
The suspect confessed to have strangled the woman and he was left taking care of their son. His action, however, haunted him into killing his son.
"He claims to have been worried that people would question the whereabouts of the child's mother. He then decided to kill the child and bury him a short distance from the mother's grave," said Tumbo.
The suspect is scheduled to take a plea on Kanini's murder on January 21, said Tumbo, adding that he had hinted at several other killings.
"There is a lot of shocking revelations but we shall make them public later. We are still conducting investigations," said Tumbo.
Jacob Toroitich, a resident, expressed his shock that the suspect had converted the riverbed into a graveyard.
"He has been silently converting the area into a graveyard as we were planning to convert it into a seedbed. We have never witnessed an incident like this," said Toroitich.