Families demand justice after Christmas Day shooting in Turbo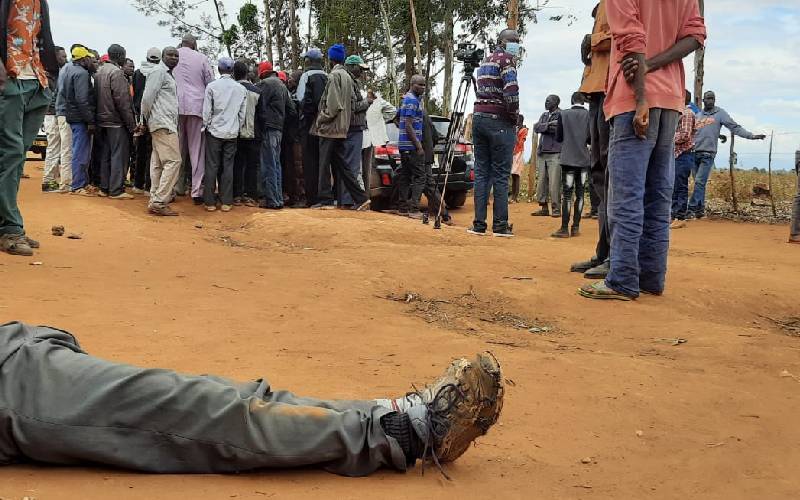 Families of the victims who were killed during the confrontation between locals of Chebarus, Turbo and KDF soldiers over a disputed parcel of land are now calling for justice.
The Christmas Day incident which left two men dead, and two others injured, happened when irate residents confronted Kenya Defence Forces (KDF) soldiers who were on a mission to demarcate the disputed parcel of land.
Joel Kibet Keter, 53, and Eliud Menjo, 47, succumbed to the injuries they sustained from the shooting.
At Kolongei village, Keter's family while calling upon the relevant authorities to ensure that they get justice said they had lost a breadwinner.
Keter's wife Dorcas Chepleting said her husband was killed on the spot, just minutes after arriving at the scene to check what was happening as tension grew in the area.
She said their Christmas celebration had started as normal with the family going about their normal routine, sharing breakfast before they heard gunshots from a neighbouring school.
Curious about what could be the issue, Chepleting said her husband rushed to the scene to inquire what was going on.
As soon as her husband got to the scene, he was shot on his legs which saw him bleed profusely.
"He died even before he could know what was going on. He died after losing a lot of blood," said Chepleting.
Chepleting said her family had lost an anchor that they all depended on, adding that the fate of their 10 children whom he has been educating now lies in limbo.
"He was our only hope since he kept our family together and catered for all of our needs. Losing such an innocent man through extrajudicial killing hurts us even more," said Chepleting.
Paul Ng'elechei, Keter's father, said his firstborn son was a kind man who went about his farming business and was responsible for his whole family.
"He was killed when he did nothing wrong. We ask the government to help us get justice for our son," said Ng'elechei.
He said the family has made no burial plans because they have no resources to facilitate a decent send-off for his son.
"We had hoped to enjoy our Christmas like the years before, but now we have been thrown into mourning," said Ng'elechei.
He said the family is wondering why the land issues have not been solved since they bought the land five decades ago
Eliud Menjo's family said they were heartbroken to learn of their kin's death through such a 'ruthless' manner.
Menjo, 47, is said to have been shot through his mouth with the bullet exiting on the back of his head, killing him on the spot.
His brother, Barnabas Birgen said the family lost a son whom they had tasked with taking care of their grandmother.
"We are hurt that the police who should be protecting us are the ones taking our lives in a very cruel manner. We hope that we get justice and an end to all such incidents that claim innocent people's lives," said Birgen.
Menjo's mother, Evelyn Ngéserei, called upon the police to carry out fair investigations to help the families get closure over the killing of their kin.
"We are hurt and will only feel better when my son's killers are arrested and arraigned in court. We know that their death would be avoided only if the police could avoid using live bullets to scare away the locals," said Ng'eserei.
The residents of Kiplombe have been embroiled in a legal tussle over the ownership of parcels of land since 2019 after National Land Commission (NLC) ruled in favour of KDF.
The Commission in its findings noted that the land was originally allocated to the ministry of Defence and reserved as Eldoret military camp where the 9 Kenya Rifles battalion(9KR) and Recruits Training school (RTS).
The ministry of defence had written letters to NLC in 2018 complaining that several parcels of and belong to the ministry and KDF had been grabbed and allotted to various people.
NLC noted that the land was compulsorily acquired by the government in 1979 and gazetted.
The genesis of the dispute between the local community and KDF stems from a directive issued by late President Daniel Moi in 2000 to KDF to cede part of the land for resettlement of squatters.
KDF is said to have agreed to surrender 1,714.39 hectares from its Eldoret land to Buheba and Kamagut settlement schemes while it was left with a total of 11,988.84 acres of land.
The process to degazette the land was, however, not done as per the law leaving the directive in limbo.