Nakuru County dotted with graves as outlawed brews claim more lives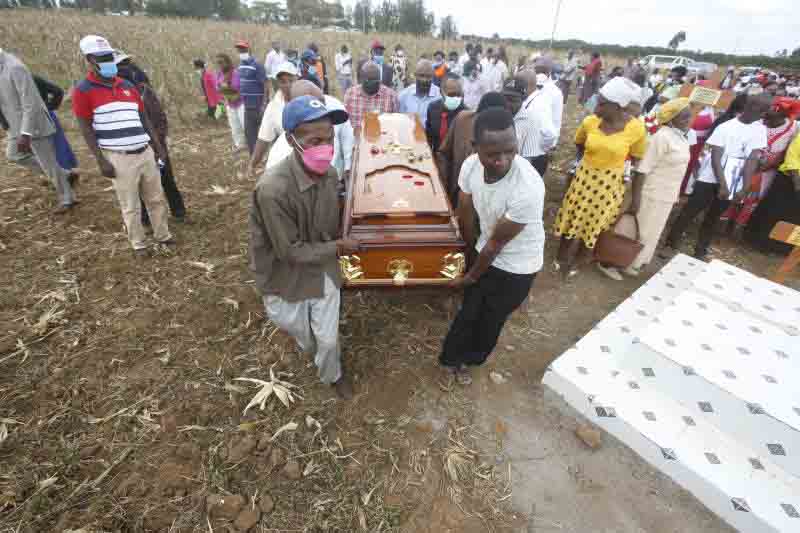 Over the years, cases of death resulting from consumption of illicit liquor have been isolated in parts of Nakuru County. This year, however, was different following two tragedies at liquor dens that claimed the lives of nearly 20 people, leaving various villages dotted with graves.
The rise in consumption of illicit brews was anticipated if the recovery of tens of thousands of ethanol, a key ingredient in chang'aa brewing, within the county is anything to go by.
On November 18, police, acting on a tip-off, flagged down a truck bound for Nakuru town from Busia and recovered eighty 250-liters drums of ethanol marked as transit goods.
"We believe the 20,000 litres of ethanol were destined for different parts of Nakuru for the manufacture of illicit brews. Two suspects arrested didn't produce documents on ownership and proof of having paid tax for it," said Nakuru County Police Operations Officer Wilson Nduati.
During the week, the police also recovered an estimated 1,000 litres of ethanol at a private home in Ngata area, which also has pockets of illicit brew dens.
On November 11, police nabbed yet another consignment of 3,750 litres of ethanol concealed in a lorry packed with millet flour within Nakuru. The driver escaped. The conductor was arrested.
Former National Campaign Against Drug Abuse (Nacada) chairperson John Mututho attributed the illegal entry of ethanol to the country to laxity and lack of goodwill by government.
"If the government decides to end this menace today, it can happen. We only need energy, integrity and commitment among our government officers to end illicit brews menace in a week. They know how it finds its way into the country and its market," said Mr Mututho.
Rift Valley Regional Criminal Investigations Officer (RCIO) Mwenda Meme said the ethanol mostly found its way to the country through porous borders. "We have intensified efforts to ensure the product does not land in the region or criminals turn it into a transit route. Support by members of the public to expose such transporters has been vital," said Mr Mwenda.
The most recent tragedy struck on December 5, when 15 people consumed poisoned liquor at a den in Jawatho Estate, Njoro. Seven died.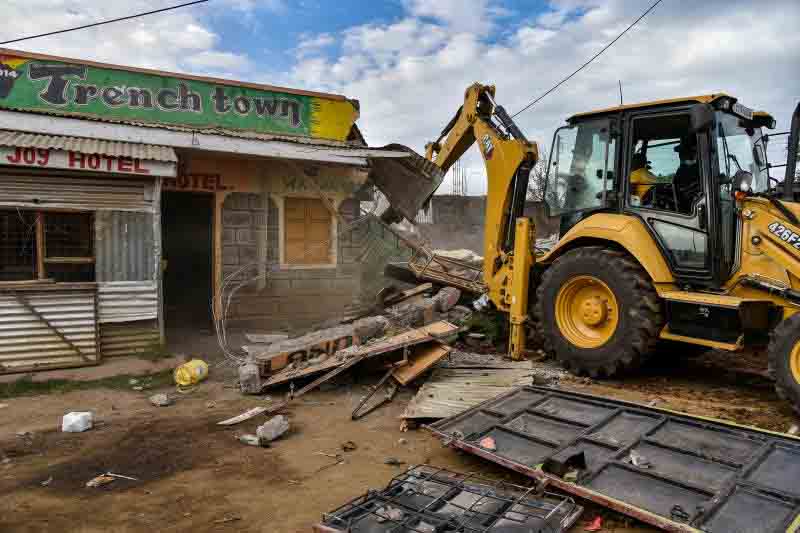 "Let us not sugarcoat this matter. These people consumed chang'aa, which resulted in their death. Some here today are walking dead," said Rift Valley Regional Commissioner George Natembeya.
Mr Natembeya said this on December 7, as he led a raid on some dens, with the death toll at four. This was a day after police, in their reports, blamed 'poisoning' for the deaths. "These people didn't drink or die at the same place for it to be blamed on illicit brew. They are natural deaths, which we are investigating," Nakuru Deputy Police Commander Joseph Tonui had earlier said.
Natembeya's words came true after three more people died a day later, bringing the Jawatho death toll to seven. The county government sponsored postmortem on the bodies.
"We must establish the actual cause of death. We all know they drank chang'aa but we need proof for legal action against the sellers," Governor Lee Kinyanjui told the families.
One of the victims was Solomon Chege, 41, who had travelled to their home on December 3 from Nairobi to drop his belongings ahead of his December 8 flight to Dubai, where he had secured a job. "I had processed all the documents he needed. He was to return to Nairobi after two days. On December 4, his friends hosted him in a somewhat farewell party," said his sister Mary Wangari.
The merrymaking turned tragic after the friends developed stomach and visual complications, before the seven died and four were hospitalised at Njoro Sub-County and Nakuru Level Five hospitals.
"The pathologist told us Chege died as a result of extensive damage to his small intestines. His liver and kidneys also failed as a result of taking a harmful substance," said Chege's uncle Evans Thuku.
Chege and his friend Joseph Karanja, 61, were buried at their respective homes in Piave village.
"In 2019, we lost four people who were struck by a thunderbolt while taking illicit liquor at a local den. The village is now dotted with graves of young and old, who have died courtesy of chang'aa," said Isaac Gitigi, an elder. Four months ago, 10 people in Hodi Hodi village, Bahati, died after consuming a concoction reportedly made of ethanol and other chemicals.
The concoction was reportedly being made at a house in Mawanga, where the chemicals were found nine days later and one of the six suspected sellers arrested.
The August 11 tragedy also left three people blind. Two have regained sight. Three suspects were arrested. The case is in court. Memories of the scene were rekindled by the Jawatho tragedy that saw Mr Kinyanjui order demolition of various buildings belonging to two suspects involved.
"It doesn't matter whether they will go to court or not, provided we get rid of illicit brews in Jawatho. The same shall be done in other notorious hot spots across the county," said Kinyanjui.